I am bearish on REITs. However, if you're bearish, the bad news is that I think REITs will go higher. The good news, if you run with the ursine crowd, is that much of the upside, I believe, is done.
I have laid out the bearish case on REITs here, here, here and here.
We will reprise the bearish arguments in a bit. But first, as with any investment, it is important to understand the risks, which, for us bearish folk, are as follows:
One method of valuation is comparing the net asset value (NYSE:NAV) of the underlying properties to the NAV implied by the REIT. A few weeks ago, money managers were arguing that REITs were trading at a 20% discount to NAV.

A key metric with valuing real estate stocks is comparing price movements to changes in a firm's operating income. Right now, Copp estimates that those levels show a typical REIT fund's net asset value trading at about a 20% discount. That value is based on how much a portfolio would generate if liquidated on the open market today.

Since REITs have risen 17% off the bottom, REITs are currently trading at, or slightly below NAV.

Net asset value is the future cash flows discounted back to the present. My bearish thesis is at least partially predicated on the belief that current NAVs are too high. I believe that lease payments will not rise as property owners expect. More importantly, the rate used to discount future cash flows is too low both as, in my opinion, both long-term interest rates and risk premiums will rise. However, if I am wrong about those assumptions, and the NAV does not fall, REITs should not fall either.

Overvaluation may be corrected by a long sideways move rather than a short downward move. This may be the biggest risk for the trade. Even though, I believe, REITs are egregiously over-valued, over-valuation could be worked off with commercial real estate prices moving sideways for many years, and the cash flows growing into asset prices. This is what occurred with residential real estate for much of the 1990s. For the short investor, this represents the risk of dead weight capital that could be used more profitably elsewhere.
The Fed is cutting interest rates. Lower interest rates are supportive of market valuations, at least in the short-term.
Real assets do well during times of inflation. I am bullish on gold and silver, in part due to the inflation being created in the financial system, if not consumer prices. However, the same phenomenon that supports gold and silver should also support all real assets, including real estate.
Commercial real estate is not yet oversupplied. Although, it is getting there, as new projects sprout up across the country. However, the current supply of commercial real estate is nowhere near as bad as residential real estate.
Money flowing into alternative asset classes. Real estate is an alternative asset class. Commercial real estate has seen a large inflow of funds from institutions that have increased their allocations to alternative investments, including commercial real estate. It is my belief that those investors will be sorely disappointed by their returns over the next five to ten years as the trade is getting very crowded. However, in the near term, liquidity may be the single most important driver of asset prices, as near-term liquidity flows are inured to valuations. The flow of funds into commercial real estate could whipsaw the shorts.
Irrational buyers, especially foreigners, are snapping up trophy properties. This is what happened in 1989 when Japanese investors purchased the Rockefeller Center in New York. Today, that risk arises from Middle Eastern oil wealth. The Mid East has literally hundreds of billions of dollars to invest, and they are putting it to work in America. So far, the national investment funds, which are staffed by trained investment professionals, have not been making irrational investments (unlike American investors). However, even if they do not make irrational trophy purchases, they may buy at current levels, which could support the market for years.
Spreads on commercial mortgage back securities, and although they are still high, they are are falling.
Near-term technicals are strong.
Once October is over, the market will enter what historically been the strongest time of year, usually lasting until Spring.
The REIT short is a crowded trade. There is - or at least was - tremendous short interest in the IYR. A few months ago, the short interest represented nearly 100% of the volume outstanding. I'm fairly certain that the recent outperformance of the REIT group is being driven by the unwinding of that position.
The Fed sandbagged the shorts in the financial sector. Financials as a group are cheap, trading at 11x 2008 earnings. REITs are not. However, REITs are a component of the Financial Select Sector SPDR (NYSEARCA:XLF), which was being heavily shorted by the hedge funds. Many funds were caught short financials going into the Fed meeting. With valuations cheap, and the Fed supporting the market, that trade is being unwound, taking the REITs up with it.
Despite all the above reasons, I am still short REITs, and intend to get more short in the future.
Valuations have not changed. REITs, as defined by 96% of the REIT universe in the Russell 3000 (NYSEARCA:IWV)(119 trusts in total), currently trade at 13.5x funds from operation, which is the preferred multiple used on Wall Street. The S&P 500 trades at 9.4x, while REITs trade at a 44% premium to stocks. The P/E multiple on 2008 earnings for REITs is 29.2x, a 99% premium to the S&P 500, which is trading at 14.7x. Historically, stocks have traded at a higher multiple than REITs.
Capitalization rates remain at all-time lows. In fact, office cap rates may still be heading lower.
Capitalization rates drifted lower in August. For central-business-district office properties, average cap rates declined to 5.86% in August from 5.90% in July. Average cap rates for apartment buildings declined to 6.08% in August from 6.15% the prior month.
The market was manic and irrational, and investors were doing stupid things.
Harry Macklowe has ridden the booms and busts of the New York real-estate market for 40 years, with brash bets that paid off big or cost him millions. But his ability to survive this year's bet on seven Manhattan skyscrapers -- with almost no equity, huge short-term debt and rental income that doesn't cover his interest payments -- could either be the crowning achievement of his career, or a disaster that cripples his company and wipes out most of his personal fortune.

It all began in February, when Mr. Macklowe and his son Billy paid $6.8 billion to buy seven New York buildings from Equity Office Properties Trust. The deal was stunning for its speed -- the contract was signed less than two weeks after talks began -- and for its stratospheric price, at about $1,000 a square foot. It also looked like a coup for Mr. Macklowe, allowing him to complement his already sizable New York property collection with seven buildings in prime locations in Midtown Manhattan.

Much of his fortune is on the line, including a $1 billion personal guaranty by Mr. Macklowe on a short-term equity loan from Wall Street, according to debt-offering documents on some of the properties issued earlier this year by Deutsche Bank AG's Deutsche Bank Securities Inc., which were reviewed by The Wall Street Journal.

Macklowe Properties financed nearly $5.1 billion in debt that must be paid back by February, the documents show. That total includes a $1.2 billion "bridge" loan that provides most of the equity on the deal from Fortress Investment Group and Deutsche Bank, as well as nearly $3.9 billion in another type of short-term debt. ...

At a purchase price of $6.8 billion, the sale was one the most expensive real-estate deals in U.S. history, symbolizing the skyrocketing prices paid for buildings at a time of cheap debt and demand for office buildings.

The transaction was emblematic of the lax underwriting standards of the real-estate boom. Macklowe Properties put in only $50 million of equity and borrowed $7.6 billion, according to the documents. (Mr. Macklowe borrowed more than the purchase price to cover closing costs and other fees.) The deal also had "negative debt service," meaning that the rents from the buildings weren't expected to cover the debt payments for five years, according to someone involved in the sale.
Sound familiar? Lax lending, little equity, peak prices. Is this Manhattan office space, or Sacramento tract land?
In fact, it seems the Greater Fool theory of finding an even bigger sucker to buy your office building was the primary investment strategy at the top of the market.
Investment firms who agreed in May to buy apartment landlord Archstone-Smith Trust are now arranging financing and are pricing the deal as if the last six months never happened, some investors contend. ...

Lehman and Tishman are putting just $500 million of their own cash into the deal, according to sources familiar with the deal, giving them minimal downside if the business struggles. ...

Archstone's annual debt service payments will be well above current adjusted cash flow -- although the company may pay down debt by selling assets, according to a potential investor. ...

But the company will carry about $16 billion in debt, according to people familiar with the deal, which only adds to investor concerns given the more risk-adverse current climate.

Archstone projected its annualized cash flow, including expected growth, at about $700 million, which is 70 percent of its projected interest expense of about $1.04 billion, according to a potential investor.
Despite the Fed cut, the commercial real estate market remains stalled.
"While the interest-rate cut by the Federal Reserve definitely helped restore investor confidence in the near term, it will likely have little fundamental effect on commercial mortgage lending," said Alan Todd, executive director and head of CMBS research for JP Morgan Securities, a unit of J.P. Morgan Chase & Co. ...

"I think we're far from out of the woods yet," said Mike Kirby, chairman of Green Street Advisors, a Newport Beach, Calif., real-estate research company.

One reason is that the federal-funds rate has a greater impact on shorter-term financing, such as construction loans. Most long-term commercial mortgages are tied to the 10-year Treasury note, not the federal-funds rate. And the 10-year Treasury yield moved up in the past week (it typically moves independently of the federal-funds rate) increasing the cost to borrowers.
But at least one really, really smart guy recognizes what a market top looks like.
[Ken] Heebner, known for his rapid moves in and out of stocks, has steered the CGM Realty Fund to a 25 percent return this year to rank as the No. 1 property fund tracked by Bloomberg. ...

Heebner said he started selling shares in real estate investment trusts late last year after Blackstone Group LP agreed to acquire Equity Office Properties Trust. The New York- based buyout firm paid $39 billion, including debt, to purchase the office landlord in February after first agreeing to pay $36 billion in November.

``We were predominantly invested in REITS at that time and we sold most of them because we felt the valuations got excessive,'' Heebner said.

Heebner, who had two-thirds of the real-estate fund in homebuilder stocks at the beginning of 2005, sold his entire stake by the end of that year. Homebuilder shares peaked in July 2005 and have since tumbled an average of 67 percent.
Finally, I believe this recent rally is nothing more than a dead cat bounce. Once the shorts are done selling, I expect weakness in the group, though when that occurs, I have no idea.
Rallies in bear markets are quite common. Bear market rallies can retrace 40%-60% of their decline before heading lower. Look at what happened to the Nasdaq during the year it peaked.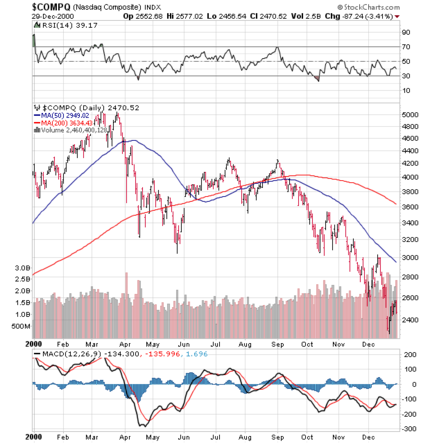 The Naz fell from about 5000 in March 2000 to just above 3000 in May before rallying 40% to above 4200 a few months later. The market moved sideways for several months before collapsing downwards.
More recently, look at the homebuilders.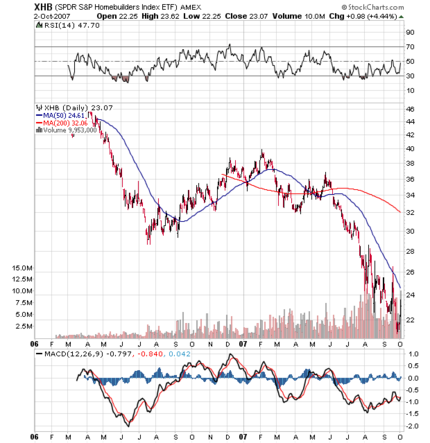 The XHB fell from $46 to $29 before rebounding to $40. It moved sideways for about a year, then collapsed. (The homebuilders actually peaked in July 2005, before the XHB ETF was created. If it had been trading at the time, it would have topped out around $55.)
I expect a similar pattern in the IYR. It peaked at $95 in January before falling to $67 in August. It is now in the process of retracing 40%-60% of the decline, which would put the IYR in the $80-$84 range.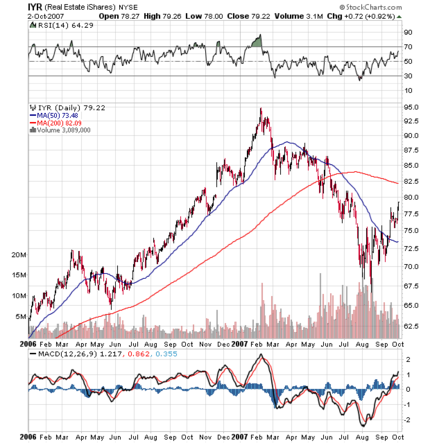 I would expect it to move sideways into the first few months of next year as the market moves higher as it normally does into the winter. Then, I expect REITs to continue to their descent.
As a strategy, I would avoid owning near term puts on the IYR. Instead, I would buy the UltraShort Real Estate ProShares (NYSEARCA:SRS) when appropriate. I still own some IYR puts that expire in January, and plan to liquidate the position at some point. I also own the SRS ETF. I will add to that position in the future.
I expect the IYR to bottom somewhere in the $50s. It has been my intention to liquidate my position in the high $50s, though I may change my mind along the way.
Of course, it goes without saying that this is what I'm doing. This is not necessarily what you should do. You should do your own homework, and come to your own conclusions based on your own risk/reward profile.
Use this post as one reference in your own decision, but nothing more.