We talk about the likes of Merck (MRK), Pfizer (PFE) and GlaxoSmithkline (GSK) when we talk about major pharma, and unfortunately, about the patent cliff confronting these large pharmaceutical companies scrambling to fend off competition from generics who have a lower cost base and practically identical product. And then we have companies such as Valeant Pharmaceuticals (VRX), which has a solid pipeline of promising drugs, including Trobalt (which just received authorization) and the drug for Onychomycosis, which completed phase III trials with more than just 'promising' results.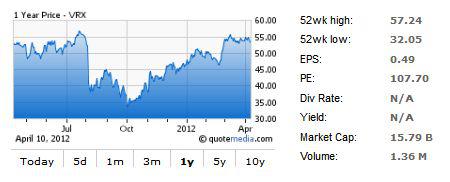 There are several things I like about Valeant, apart from the pipeline of drugs in development. For one thing, it is globally active, particularly in major emerging markets such as Russia, where it recently acquired major drug maker Natur Produkt, thereby gaining a strong foothold in a rapidly growing market. Per the most recent financials, non-U.S. sales accounted for nearly half, or about 43% of total revenues, up from just 25% the previous fiscal year.
Notably, share of non-U.S. branded generics nearly doubled in Latin America, not to mention more than tripled in the European region. Fundamentally speaking, the solid mix of generic and proprietary drugs is worth relying on for the long run. The company is hot on the heels of acquiring pocket-sized companies with niche products across the globe, including PharmaSwiss SA in calendar year 2011, for $459 million.
Despite the failed acquisition of ISTA pharmaceuticals, which fell through even after the bid was raised to $7.50 a share, the company has managed to absorb newly acquired companies well, almost doubling its revenues (+98.5%), with net profits at $159 million compared to a loss of $208 million in the previous fiscal year. This is considering the substantially higher interest expense of over $4 million compared to about $1.3 million in the previous fiscal.
I am not concerned with the overall higher debt in the capital structure. In fact, most companies around the world repurchase stock to issue more debt in a low interest rate environment, which may not last longer than 10-12 quarters on the higher side. As such, companies such as Valeant may find themselves sitting on an extremely profitable capital structure, benefiting shareholders in the long run.
Furthermore, technically speaking, the company offers robust financials. Looking at the income statement, I find that most investors will be deeply concerned about the net profit ECG of a roller coaster rider. This stock is therefore not for the value investor, especially after the management has cancelled the dividend payment and hinted at the likelihood that it will not be resumed anytime soon. That said, if you're willing to risk it, this stock is one of the few with a solid pay package for some time coming- at the very least.
Another thing that may bother most conservative investors, as well it should, is the high price earnings multiple of 111 times. This, when other competitors in the industry such as Elan (ELN) are trading at a mere 15 times. Rather than worry about all this, I'd like to bring your attention to the income statement for the latest fiscal year and suggest that it's still got plenty of upside to go. In fact, the reason it's so 'expensive' is that investors are chasing after it before the horse runs out of the stable.
I now bring your attention to the solid financials. One key comparison here is between operational and non-operational items. Even in the previous fiscal year, when the company suffered a huge $208 million loss, two key items, which are one-time in nature, namely, restructuring and litigation costs, were the key factor behind the tremendous loss making position. In addition, the sales growth for the company exceeds 18% over 5 years, whereas the industry averages only about 8%. Elan Corporation only about 17%. In addition, capital spending has exceeded 5% growth in the last 60 months, whereas the closest peer, Elan has a negative capital investment growth rate.
In summary, the company has taken on a substantial amount of debt, but it appears to be channeling it correctly by taking on new market positions in emerging areas and buying small companies with huge potential for growth. As such, the management's decision to cancel the dividend seems well placed with its intent to grow the company through turbulent economic times and focusing on reinvesting earnings in the company itself.
Investors should not look for quick profits, rather sustained profits over a long period of time. The valuation may be high now but it is for good reason: The company is headed for a high growth period, especially in the backdrop of an industry headed for a patent cliff.
Disclosure: I have no positions in any stocks mentioned, and no plans to initiate any positions within the next 72 hours.