"You win some, lose some, and wreck some." -- Dale Earnhardt

The late Dale Earnhardt, one of motor racing's fiercest competitors, had an aggressive style that brought out more than one red flag the officials wave when a crash or other incident turns the track unsafe.

But if Dale Earnhardt drove a car resembling our latest ChangeWave consumer survey results, there's no way he'd draw a red flag.
Yes, our mid-September survey of 3,856 consumers -- which looked at spending and shopping patterns for the next 90 days -- found a slower consumer spending growth rate heading into the holidays.
And yes, just 36% of respondents said they'd be spending more during the next 90 days compared to a year ago, down four points from the previous survey, while an increasing number (26%) said they'll spend less.
And yes, at first glance you might wonder if this is enough of a slowdown to bring on the economic wreckage and red flag of recession.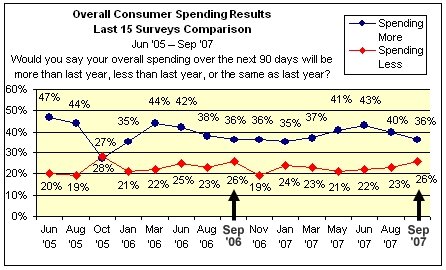 But a closer look at the above chart shows the current spending growth rate is exactly the same as a year ago (September 2006) during the peak of what was then being called a "soft landing," and from which the economy subsequently staged a dramatic recovery.
So, while the current results signaled a spending dip, there was no sign yet of any red flag.
There were, however, legitimate concerns.
A Few Surprises
While going forward the dip in consumer spending growth appeared across all income levels, of particular concern were the results among wealthier respondents -- households earning more than $150,000 per year.
Only 38% of these households said they'll spend more during the next 90 days, down from 44% previously. This means that the biggest spending dip could well be occurring among the biggest spenders -- which ain't great news for the overall economy.
But there were bright spots.
For the first time this year, spending on consumer electronics showed improvement -- 26% of respondents said they'll spend more during the next 90 days and 31% said they'll spend less -- one point better than in August, though still down compared to a year ago.
And for the second-consecutive survey, Best Buy (NYSE:BBY) -- up three points to 56% -- had the momentum as the favorite place to shop for home entertainment and computer/networking products.
Moreover, traditional office supply superstores also showed improvement in the home entertainment market. Office Depot (NYSE:ODP) and Staples (NASDAQ:SPLS) were both up two points to 9%.
In sum, while consumer spending did show a dip in the growth rate as we enter the final lap of 2007, there were few signs that consumers have begun to wave the red flag.
We'll continue to keep you posted. Our holiday spending survey comes up later this month, and the results should definitively tell us whether consumers will end 2007 with a whimper or a bang.
Paul Carton co-wrote this article.
-----------------------------------------------------------------------------------
This article summarizes the results of a recent ChangeWave Alliance survey. The Alliance is a research network of 11,000 business, technology and medical professionals who spend their everyday lives working on the front line of technological change. For more info on the ChangeWave Alliance, or if you are interested in joining, please click here.