I recently reviewed the Consumer Discretionary sector, highlighting the large number of stocks that were extremely oversold at quarter-end. I received many emails from readers interested in obtaining the complete list of these stocks (email me and I will send it) and even a few questions about names I might be interested in buying if I were a bottom-fisher during this tax-loss/window-dressing season (CHS sure seems overdone).
As I do believe that the fundamentals for the sector should remain under pressure, I have interest in shorting those names that aren't particularly oversold and still have potential downside. One group that stands out as being oversold but not extremely so is the Auto Parts Retailers, which include, in descending market capitalization, Autozone (NYSE:AZO), O'Reilly (NASDAQ:ORLY), Advance Auto Parts (NYSE:AAP), Pep Boys (NYSE:PBY) and the beleaguered CSK Auto (CAO).
As one can see in the table below, the group is up slightly year-to-date on a median basis. In some ways, the group would seem insulated due to the not-so-discretionary nature of their products. After all, people need their cars to be in working order. Still, though, I wonder if their customer is that same guy facing the hike in his mortgage cost who might defer ordinary spending. These companies, for the most part, sell entirely into the domestic market.
Click to enlarge:

The stock that I want to highlight is ORLY (33.45, $3.85 billion), which I am short. While its performance last quarter, like so many retail-oriented names, was substantially lower than the S&P 500, I believe that it could break to new lows soon. While I concede that it has a better capital structure than its peers, its valuation (EV/EBITDA) is a substantial premium to the group. Clearly it has performed better this year as well, as it remains up about 4%.
Historically, ORLY was a better run company than its peers – this shows up in the margins. One of the main factors was that it was a pioneer in distributing to commercial entities, but it appears that most of its peers have copied this rather brilliant business practice. ORLY operates 1700 stores, with a lot of the growth coming from store-openings. In addition to competing with the 4 other publicly-traded companies (combined 8600 stores) and Wal-Mart, privately-held NAPA and Carquest operate an additional 9400 stores. The industry has been challenged by high gasoline prices and the perennial weather excuses, and earnings estimates are falling.
With so many suppliers, it would seem that a risk for the industry would be price-competition. As ORLY is opening up almost 200 stores this year, I took a look at the locations of some of them. One that popped up is Arlington, TX, which isn't exactly an uncrowded field. A quick perusal of Google Maps indicated heavy saturation. Same story with Charlotte, El Paso and St. Louis. They listed 25 other places – to be fair, I did the same exercise with Moorhead, MN, which I never knew existed (it is a suburb of Fargo, ND). Sure enough, there was already a NAPA and a Carquest. The company is expecting 3-5% same-store sales growth this year, so most of the growth is coming from store-openings (10-14% top-line is the overall guidance).
Investors need to be careful that the company doesn't overextend itself in order to "grow". Here are some other things I see:
Recent negative EPS revision for 2008 (after company lowered 2007 guidance)

String of negative EPS revisions continues

17 PE is close to median valuation past 5 years

Margins unlikely to expand further

2 of top 3 holders reducing stakes (Select Equity and Wasatch)

Recent Insider Sales (O'Reilly family members) after large purchases (???)

Technicals poor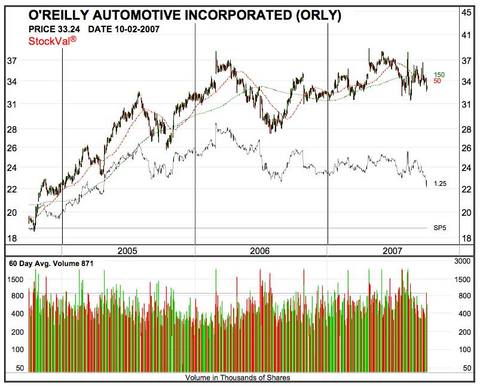 I believe that there is support just above 32, but I expect that the stock will decline to 28.50 over the next three months. That level is not only the 2006 low and a level of high volume in 2005, but it also represents a more realistic PE of 15 off of the below-consensus $1.91 that I expect for 2008 (10% growth).
While one might expect that a material EPS short-fall this quarter could send the stock even lower, I would warn those considering shorting the stock to be aware that it is already quite crowded: 12 days of volume and 7% of the float.
Disclosure: Author is short ORLY