Last week we saw that the SPDR Homebuilders ETF (NYSEARCA:XHB) was hit for a sizable loss while most groups remained unchanged. This week we see a continuation of the Fed-induced rally (click to enlarge):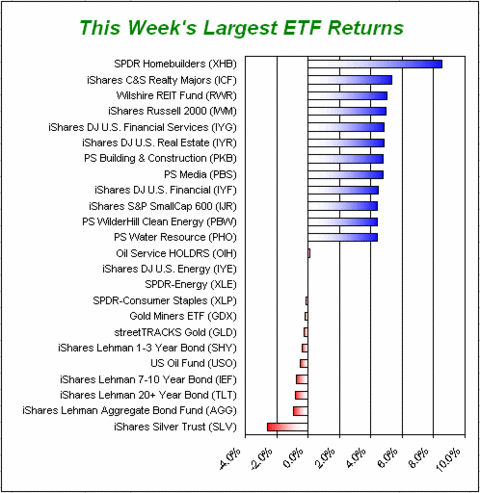 Most groups showed a gain on the week, as nearly 90% of the ETFs on my list are higher. Last week's weakest area, the SPDR Homebuilders ETF (XHB), took the lead as it recouped almost exactly the same amount that was lost.
Outside of housing, the returns were very close with those 11 ETFs showing gains between 4.4% and 5.3%. In other words, the buying this week was widespread and not focused on just a few areas. I tend to view this as an encouraging sign that market players are generally looking to put money to work.
A look to the lagging list shows a mild decline in silver while the rest of those funds remained near breakeven. As a whole, it looks like commodities, bonds, consumer staples and energy funds didn't participate.
In last week's column, I looked at the breakout in the streetTRACKS Gold ETF (NYSEARCA:GLD) as it pushed above the peak from last May. The GLD may have lagged this week, but it still remains above that peak.
Index performance this week (click to enlarge):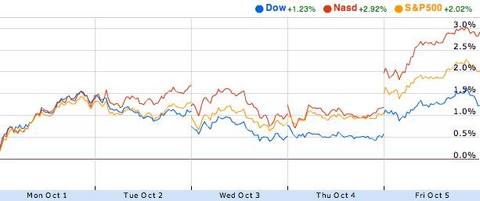 Index performance year to date (click to enlarge):