When it comes to investing in private placements, the opportunity is almost always kept to the professional investors - hedge funds, mutual funds, family offices, etc. Most Private Investment in Public Equity (PIPEs) fundings, aka registered direct offerings, are done through an investment bank. In turn these banks need to generate fees from the companies and must allow for some paper gains so the investors are happy.
Plug Power (PLUG) recently went through such a funding on March 28, 2012:
..the previously announced underwritten public offering of 13,000,000 shares of its common stock. The shares were sold at a price to the public of $1.15 per share for gross proceeds of approximately $15.0 million.

Net proceeds, after underwriting discounts and commissions and other estimated fees and expenses payable by Plug Power were approximately $13.6 million.
The funding was so popular that the underwriter, Roth Capital, excercised its over allotment.
announced that it has completed the sale of 1,950,000 additional shares of common stock, pursuant to the underwriter's exercise of its over-allotment option in connection with Plug Power's recently announced public offering, resulting in additional net proceeds to Plug Power of $2,085,525 after underwriting discounts and commissions and other offering expenses. After giving effect to the shares issued in the offering, the Company has 37,767,541 shares outstanding.
In total 14,950,000 shares were sold for $1.15 per share, $17,192,500 was the gross proceeds. Net proceeds were $15.7 million which means Roth pocketed a nice fee of $1,492,500 on the whole funding.
It should not come as a surprise that the stock took a nose dive from $1.61 per share close on March 21st. Technically the announcement of the funding came after the close on March 22nd but clearly the news was out beforehand. Without being accusatory there's a chance...cough cough...that some funds shorted the stock to cover on the drop or to cover from the registered direct.
However, it is extremely impressive that the stock has traded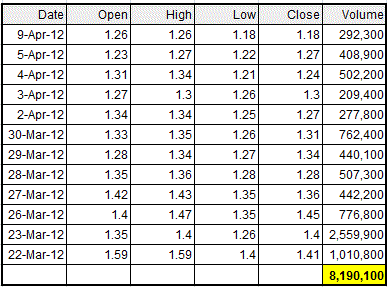 There were 8,190,100 shares above the offering price of $1.15 per share once the deal was announced. It is impossible every share that has traded is from the recent funding but our point is to illustrate the strength in the stock relative to most registered direct fundings. This now leaves just 6,759,900 shares which hypothetically has not been turned over from the funding. We find this to be extremely bullish!
We don't doubt that PLUG management did an incredible job speaking to the Roth investors, and we are betting that there will be some sort of catalyst in the near term. Having sat through corporate presentations from many companies I can tell you that for a company of PLUG's size to sell 14.95 million shares is no easy task. We think there is some sizzle coming so we decided to take a dip.
The $1.21 support level has held up twice but was broken on April 9th. This is not that worrisome to us as the $1.15 mark reflects a true point of concentration. At this point we have our core position and will add if the $1.15 support level is met or broken.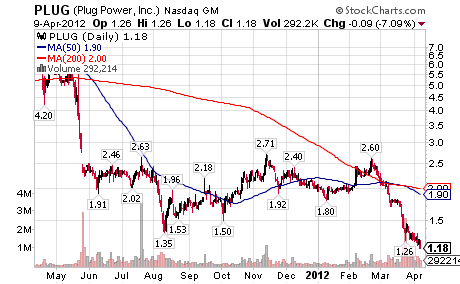 Mitch Vine who is a contributor on Seeking Alpha has done a great job of describing what PLUG actually does so we are going to leave the fundamental analysis to him. From looking at the chart we believe that the next level up is the $1.50s and then to the $1.75-$1.80 levels.
In conclusion
We have been waiting patiently for Plug Power share to drop and have decided to start building a position at the $1.21-$1.24 range. If the stock falls to the $1.15 support we will consider adding to the position. The Roth Capital investors, which are mostly institutions, that subscribed to 14.95 million shares at a $1.15 per share, are looking for a catalyst. The deep value we recognize is being able to invest alongside these funds at almost the same level. Keep in mind PLUG is at all time lows so there are no shares out there in the market with a lower cost basis right now.
Disclosure: I am long PLUG.