I was perhaps not as clear as I wanted to be, when I wrote Is Gold Ever An Investment?. Yes, gold is speculative by nature, since one is reliant on some other trader buying it, to get returns out of it. But I was too soft explaining this. Not only is gold speculative, but there has been an incredible amount of speculation already, as seen by the accumulation of gold in the Gold ETFs [(NYSEARCA:GLD), (IAU)]. I wrote about this in Are Gold And Silver Being Unwittingly 'Cornered'?. Not only is gold speculative, but it presently constitutes a very one-sided trade, as I wrote in Am I In A One-Sided Trade?' Gold, Silver Longs Just Might Be.
It gets worse
However, it doesn't stop here. During the early 1980s, there was a famous corner in silver (SLV), conducted by the Hunt brothers. The speculation was so wild it drove the silver price up from $5 dollars an ounce to $49.95 an ounce in about a year. This huge silver bubble ultimately led to the bankruptcy of the Hunt brothers, but it also had some consequences outside the trading pits. Just read this small description of what happened, by an ebay seller today:
I cleaned out all my scrap silver at that price and amassed more than $900 dollars from just the scraps laying on my bench. FAR more than I paid for it. I stood in line and watched people "scrapping" their tableware, their grandmother's silver tea sets and many other items. MANY valuable antiques went into the melting pot back then - lost forever.
So there were lines of people waiting to sell their silver into the speculative frenzy, for prices they could only dream about, before (source for chart: Safehaven.com).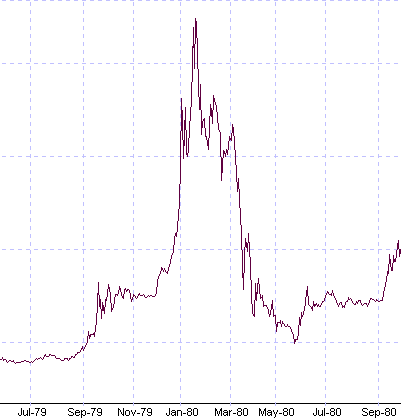 And what does this have to do with gold today?
A lot. Basically, would you believe if I told you people are, again, lining up to sell their gold? They are. Just in Portugal, there are now more than 5,000 stores buying up jewelry, gold coins, gold watches, medals even. This is all being bought essentially based on its weight in gold; it's all being melted and delivered into the speculative frenzy, just like back in the 80s on that silver run.
I am not making this up - I have direct family in the business, the business has been booming for more than a year. And it isn't just Portugal either, this is a worldwide phenomenon. As in many other speculative bubbles, one of the problems is that new supply hits the bubble as it is growing, so if the bubble just pops to the point where it started from, more money is lost by the participants than gained. And this same thing is also happening to gold today.
Conclusion
Not only is gold speculative, not only has there been a tremendous amount of speculation already and the trade is incredibly one-sided, not only this, but the world at large is melting its gold and selling it into the market. This is the kind of anecdotal evidence that, in hindsight, stories are made of - "people were melting their gold at the top".
I see incredible risk in being long gold today, given these observations.
Disclosure: I have no positions in any stocks mentioned, and no plans to initiate any positions within the next 72 hours.