Cooper Tire & Rubber (NYSE:CTB) is a real wheeler-dealer. As its name indicates, the company makes and distributes tires and rubber products for the transportation industry. Through its North American Tire and International Tire divisions, Cooper makes tires for passenger cars, light trucks, and medium-duty trucks. It also makes tread rubber and related equipment for the retread industry. Cooper's primary customers are independent tire dealers, wholesalers, and retailers. The company sold its Cooper-Standard Automotive subsidiary late in 2004, and has used the proceeds to fund assorted pension plans, reduce debt, and buy back a large amount of the company's stock.
Cooper is the ninth largest tire maker in the world, the fourth largest in North America. They don't depend on the new car market for business. It's the rolling stock on the road where they make money. So even if new car sales are weak, it doesn't affect Cooper.
The last 2 years have been tough in terms of earnings. They've been negative, a loss of 24 cents in 2005 and a loss of 54 cents in 2006. This year analysts are looking for a positive $1.30 and then $1.60 next year. Over the next 5 years, some analysts believe profits will grow on average by 8.5% a year.
On the revenue side, there's been a steady progression higher, going from $2.081 billion in 2004 to a current run rate of $3.0 billion for 2007. Over the next 5 years, look for growth of 10.5% a year, on average.
Last year, unit volume of tires in the company's North American efforts was down 1%. This year, volume is up 5% through the first 6 months. One of the reasons: a new touring tire called CS4 is flying off the shelves and rolling down the highways. Another help: Goodyear Tire is out of certain tire businesses this year such as private-label tires. That helps Cooper gain market share. Furthermore, Cooper's product mix and tire pricing are getting better.
Efficiencies are kicking in. Almost 60% of a $170 million annual cost savings and profit enhancements are on track to help the bottom line this year. For example, 2 of Cooper's major distribution centers are melding into 1, located better strategically. Cooper is cutting back on the number of tire brands it offers which helps marketing and production costs. It's also running a new flex-production program where 3 of its 4 facilities are pumping out tires round the clock while the other has flexible capacity.
One problem: high oil prices. Oil influences 2/3 of a tire's raw materials cost due to carbon black or synthetic rubber components. Furthermore, drivers are paying higher and higher prices at the pump for gas, causing them to drive less or push the limits on their existing tires before replacement.
Cooper's stock has been on a strong upward move, starting in the middle of 2006 when it started at $7.70. This year, it hit $28.50 before settling back a little. That's a lot of movement, absolutely and in percentage terms. The company has improved dramatically, in terms of earnings, over the last year, and looks to continue the trend next year. Investors may want to watch for a better entry point while traders may find this one an interesting stock for now.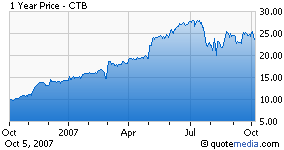 Disclosure: none