With Chinese markets being closed all week for a holiday, one would have expected Hong Kong stocks to have a slow week. However, reality proved that this past week was as far from slow as imaginable for the Hang Seng index.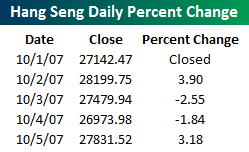 In addition to its largest negative intraday reversal in nine years on Wednesday, the Hang Seng index had a move of at least 1% every day last week (Monday the market was closed).
The last time the index had a week where it moved at least 1% every day was in September 2001. Below we highlight the Hang Seng's performance following similar weeks going back to 1990. Based on the results, when the index is up during a volatile week like it was this past week, it has tended to follow through over the next week and month.