This article breaks from our typical analysis in that we will simply make some concise comments to highlight an opportunity whose timing may be shorter term in nature. On Tuesday April 10, Power-One (PWER) closed at $4.06 per share and may be forming a bullish technical pattern that coincides with strong long-term fundamentals and a favorable risk/reward profile.
PWER is a maker of power supply products for a variety of energy industries. Its products convert, process, and manage AC and DC currents. The company is divided into two units: the Renewable Energy Solutions Unit and the Power Solutions Unit. Most of the data for this article was taken from the company's most recent annual report.
The decline in Europe's fiscal health has hurt the company and the uncertainty hanging over the continent is the reason why the company is trading at a depressed multiple. European sales (60%) for the company overall in FY12 were $396M in Italy, $108M in Germany, and $160M in other European countries. PWER has prospered in Europe and now with subsidies expiring, we expect business to decline significantly. PWER has been punished enough and is deserving of a higher multiple than the current one given by the market.
PWER is no longer a growth stock, but when one considers that it is trading at a total market capitalization of $500M, with $200M in cash, it can certainly be considered a value play. Let's assume that European sales are cut by 75% for FY13 and are around $165M. Now assume all other business in other areas decline 25% in FY13. That would leave PWER with 400M in sales during a very tough economic period.
Net profit margins for the past two years have been over 13%; let us assume PWER can manage 10% profit margins in FY13, which leaves us with $40M in net income. If we strip out the cash on the balance sheet, the business is trading for $300M. Paying 7.5X net income during a very depressed period is a very attractive price for the long-term investor. PWER is a great way to play the alternative energy sector if you don't want to pick which technology will win out, as PWER is a supplier to many alternative energy industries. The Renewable Energy Solutions unit represented 69% of the company's total sales in FY12.
Consensus earnings estimates for FY13 are currently $0.55 per share, or close to $70M. This means shares are currently trading at 7X forward earnings. If PWER were trading at a more reasonable multiple of 12 it would be trading closer to $7 per share, rather than $4 it currently trades at - 68% higher than where the shares trade now. We realize shares may be undervalued for some time and that is why we like to use technical analysis to determine whether or not now is an opportune time to invest in PWER.
Technical Analysis
Click to enlarge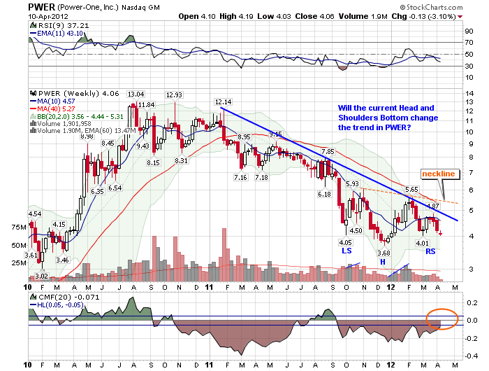 Within the sustained downtrend on the weekly chart, PWER may be forming a Head and Shoulders Bottom. There are some bullish signs as the advance that completed the formation of the head briefly traded above the downtrend and each advance within the pattern has come on increasing volume. For the pattern to be confirmed, we will need to see a convincing break of the neckline accompanied by significant volume. To measure any increase in buying pressure, we're using Chaikin Money Flow (CMF). As the indicator is currently approaching the zero line from below on the weekly chart, it has been in positive territory on the daily chart as we await the outcome of that timeframe's symmetrical triangle. If the daily pattern is to breakout, it may serve as the catalyst that takes us through a breakout of both the long term trend line and the neckline of this weekly pattern - and ultimately complete the reversal.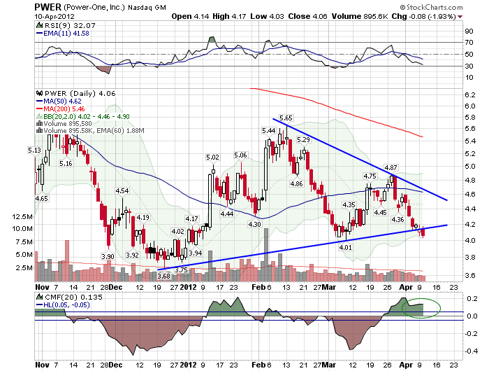 The daily chart shows PWER at a critical point within its current formation. While Monday and Tuesday's trading violated the lower trend line of the symmetrical triangle, it occurred on relatively light volume and could prove to be a false break of the pattern. Buying pressure has recently increased as CMF is well above zero and has remained bullish even during the recent pullback. If price should advance back into the current pattern on increased volume and sustain any positive momentum, we may finally have the technical conditions that support our longer-term fundamental outlook for PWER.
Disclosure: I have no positions in any stocks mentioned, and no plans to initiate any positions within the next 72 hours.