"Chains of habit are too light to be felt until they are too heavy to be broken."
Warren Buffett
If you still have doubts that this bull market just might be over, than you have not been paying attention. When it comes to the stock market, I have always been an optimist by nature. After all, most people tend to appreciate the quality in others that look to the bright side of things. But recently, I have decided that it's much better to be smart than fight the power of negative sentiment. I arrived at this conclusion at the first sign that gas prices were starting to creep up. However, my bearish persona took off to a new level when the Fed hinted that QE3 was going to be kept on the shelf until further notice.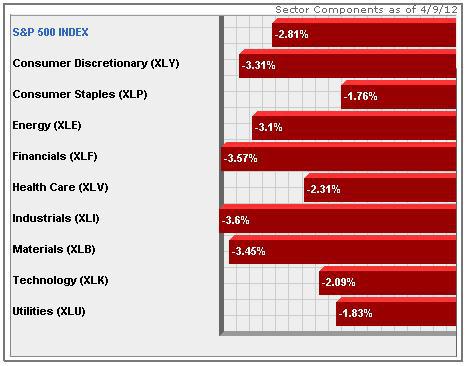 From the chart above depicting the market movement over the past five days, there is strong evidence that "caution" is now the new mantra on the market and it has now kicked "optimism" to the curb. The questions are, how far has it been kicked and will it return? I have to think that part of these answers may lie with the Fed's decision to possibly re-instate QE3. But investors betting on this may have some tough decisions to make going forward. Instead, I have taken the proactive approach and last week I recommended several stocks that investors should have considered selling ahead of this week in an effort to lock in profits. Let's see how they have fared so far.
Sirius XM (NASDAQ:SIRI)
When it comes to Sirius XM, you can call me Mr. Maytag as I've been labeled by my good friend Josephcjjl because of my instinctive ability to predict the stock's movement by suggesting that one can easily "wash, rise, repeat" for some quick and easy profits. At the close of trading last week, I provided the blueprint on how to profit hand-over-fist on this stock. Upon trying to secure an extra penny with my short limit order that was set at $2.36, I was disappointed to find out that the order didn't fill as the stock topped off at its pivot point of $2.35. But upon doing so, I offered the following advice:
"So instead, the stock topped at $2.35 where on Monday of next week it is a sure bet to fall below $2.30 on average volume. The chart below is one such example of how the stock has done this time and time again."
While some bulls chose to do their readers a disservice by calling higher highs this week, I on the other hand opted to save my readers some money by exercising some intelligence. On Monday, as was predicted, the stock hit $2.29 which only angered me slightly for being greedy and wanting that extra penny when I could have established a quick short trade at $2.35 and could have covered on Tuesday as the stock tanked to $2.19 before recovering moderately to close at $2.22.
The stock continues to be a haven from traders as evident by its wild swings. Although I don't encourage trading in and out of this stock as often as I do because as they say, "results may vary." But if one has an decent appetite for risk and is already in the money, following what I have now called "the 15 cent pivot pattern" can prove to be extremely rewarding.
Amazon (NASDAQ:AMZN)
Another trade that I recommended last Thursday was with online retail giant Amazon, a stock that I have long considered to have been considerably overvalued based on its enormous P/E and outrageous growth expectations. That said, I do appreciate that Amazon has always been able to meet these expectations and simply looking at its high P/E is not enough of a qualifier to suggest that it's a bad stock since it has the description of a stock that is able to grow into its valuation. However, even with this realization, I offered the following advice:
"But it seems that was not the case in the first quarter of the year as several stocks such as Amazon continue to throw valuation metrics out of the window while reminding investors that its P/E of 142 is low in spite of what we may want to believe. But I know better than that. And at a current price of $195 it is one that I would consider selling in the near term and look for a re-entry possibly below the $188 level."
On Tuesday the stock hit a low of $186.57 below the entry level of $188 that I had predicted. This is now the perfect entry point for the stock as it is now at its 50-day moving average as well as some pretty solid areas of support. Doing this trade would have been the easiest $10 you've ever made on Amazon - and you didn't have to wait for shipping.
Salesforce.com (NYSE:CRM)
Salesforce.com traded at $157 upon my sell recommendation and closed on Tuesday at $153.73. Granted this is nothing to write home about. However as part of a solid trading portfolio this could prove pretty significant depending on the number of shares you are dealing with. Clearly the stock remains incredibly expensive, but the company has always been able to get investors to say "so what." It has been expensive for years. But to its credit, it has been able to convince investors not only to focus on the future of the cloud, but it has already placed an imprint in that future that it will be a leader in that market. You have to admit that it pretty impressive for a company with yet negative earnings.
Research In Motion (RIMM)
Research in Motion has been in the news quite a bit recently and as has been the case over the past 12 months, none of it has been good. Although the stock has not suffered the declines to the extent that the others above have, it still remains one of the best short plays on the market. Last week during when discussing the state of the company, I said this:
"I continue to think that the prudent thing to do is to take profits before the market realizes that not only does this company have no business, but even worse, it has no business trading above $10. I really don't see a scenario where it will not drop to the single digits at some point this year. I think the company has one and at most two years remaining before it suffers the same fate as Palm, the company that was "RIM before RIM."
It seems at least one analyst agrees with me as Shaw Wu of Stern Agee recently took some time to fully appraise the intrinsic value of the company and arrived at some pretty glaring numbers. In the report, the analyst came to the determination that RIM's valuation was in the range of $5B-$7B, for a stock price of $9.50-$13.50 - current market cap is ~$6.6B while noting that non-tangible items such as the company's patents might not be all that valuable. What was interesting in that report is that the low range of that valuation was in the single digits - the lowest that I have seen so far. Remarkably, it may yet be a tad too conservative.
Netflix (NFLX)
It goes without saying that Netflix is in deep trouble. As great of a run as the stock has experienced since the start of the year, questions still remain about the company's management and its ability to run its business effectively. But I have also given the company credit for its ability to think outside the box by trying to forge deals with its competitors. As noble of an effort that it may be, I am not prepared to say that Netflix will be able to survive any degree of success. Last week, in discussing the streaming movie giant I said the following:
"Selling shares in Netflix has been the biggest no-brainer on the market over the past year. Ever since the stock reached its high of $304 it has been a series of mistakes one right after the other. The company's growth potential has been a topic of discussion of late. But more importantly, so has the stock price. And this is where the uncertainty comes in. I have become quite uneasy of how to value the company. However, seeing that it has surged over 80% on the year, investors should take profits now - without a doubt."
At the time of the article the stock traded at $111.61 and as of Tuesday's close its shares were down to $101 - or right on the cusp of that magical $100 mark. Should it fall below that level of support, chances are it will likely also fall below $90. As great of a service I think Netflix is, the weaknesses in its business are what continue to cause it the most problems. Being smart means staying away from the company at the moment and possibly taking a temporary short position since it seems that its upside potential is also capped.
Summary
Being bearish on stocks does not often invite a lot of friends. However, if done smart and executed correctly it often brings along some great protection as well as a decent amount of money.
Disclosure: I have no positions in any stocks mentioned, and no plans to initiate any positions within the next 72 hours.