Philip Morris (PM) competes with U.S. domestic tobacco plays for investor dollars. Do you allot your cigarette stock buys to Philip Morris or to Altria (MO), Reynolds American (RAI), or Lorillard (LO)? Buy the growth-charged Philip Morris or go with Vector Group's (VGR) giant dividend checks each quarter?
In short, Philip Morris needs to win the hearts and wallets of its American fan base, the primary buyers of U.S. Tobacco stocks. Investor have ample reasons to pick Philip Morris over domestic tobacco: growth, more conservative payouts, and well-timed, robust buybacks.
So what? Philip Morris does not compete with any other American company. Just about every article forgets that fact, and ignores the real competition.
Philip Morris doesn't sell anything here in the U.S. - not a single smoke. Reynolds American and Altria don't try to outsell them; they aren't competitors. Philip Morris markets outside the U.S.: Indonesia, Japan, Europe, and the rest of the world.
While Philip Morris wants your investor dollars, it needs foreign consumers. The Philip Morris investor must broaden his world to include British American Tobacco (BTI), Imperial Tobacco (ITYBY.PK), and Japan Tobacco (OTCPK:JAPAF), Philip Morris' arch rivals. If Philip Morris wants to thrive, it must take market share away from these international tobacco companies.
The players:
British American Tobacco: Brands - Dunhill, Kent, Lucky Strike, Kool, Viceroy and Pall Mall. Market cap: $98 billion.
Imperial Tobacco: Brands - Davidoff, Gauloises Blondes and West. Market cap: $39 billion.
Japan Tobacco: Brands - Winston, Camel, Salem. Market cap: $57 billion.
How have their businesses performed? Philip Morris leads in earnings and revenue growth this year.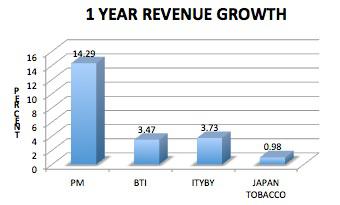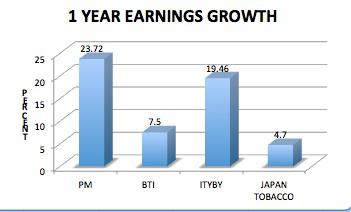 Philip Morris beats international and domestic tobacco plays in FCF/sales.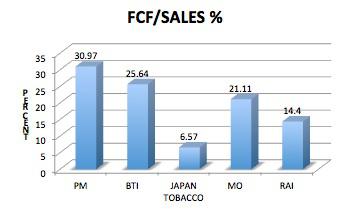 Further, Philip Morris trounces the others on ROIC.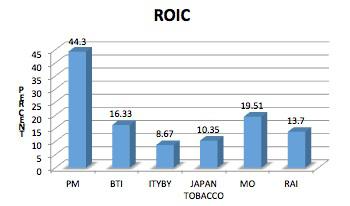 Philip Morris is a strong competitor in its international market. It should be in your tobacco portfolio.
Disclosure: I am long PM.