There is a quiet rally going on in stocks in the processed and packaged goods sector. For instance, here is the chart of Inventure Foods (SNAK) with it's rather appropriate ticker symbol:
Click to enlarge.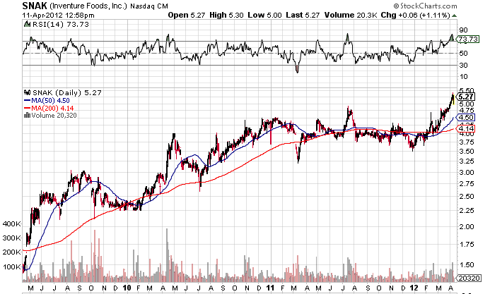 From a low of $3.60 per share in late December, it has risen, almost in a single streak, to over $5 today. What's going on? First, what is Inventure Foods about?
Inventure Foods, Inc. manufactures and markets healthy/natural and indulgent specialty snack food products. The company's healthy/natural snack food products include the Rader Farms brand frozen berries; the Jamba brand frozen smoothie kits; and the Boulder Canyon Natural Foods brand snack chips, including kettle cooked potato chips, rice and bean snack chips, hummus tortilla chips, multi-grain puffs, and vegetable crisps. Its indulgent snack food products comprise the T.G.I. Friday's brand snacks; the Nathan's Famous brand snacks; the BURGER KING brand snacks; the Poore Brothers brand kettle cooked potato chips; the Bob's Texas Style brand kettle cooked chips; the Tato Skins brand potato snacks; and the O'Boises potato snacks. The company also manufactures and distributes private label and co-branded fruit and snack chip products for grocery chains and natural stores. [Yahoo]
Much of that is in the health food sector, for which we expect there to be long-term demand growth. Here are a few fundamentals from Yahoo:
Market cap $97M with 18.31M shares outstanding (float 12M)
Revenue $162M
Cash $664.5K
Debt $$27.65M
Cash flow isn't great (quarterly swings in accounts receivable and inventories make it a bit difficult) but in the past they don't generate enough cash to finance capital expenditures, if only just.
What do analysts think?
They expect 29 earnings per share (EPS) this year (doubling from last), rising to 40 cents next year (2013)
Sales are growing at 10% a year, although the latest quarter growth was 22.3%, which could explain the take-off in the share price
Certain sectors, like frozen foods (Jamba) grew much faster still, at a 50% rate
No doubt the rise in the share price is deserved. The shares are still quite cheap, with an expected p/e for this year of 20 and 13 for next year. However, with an RSI of 73, the shares are also still overbought and will threat water for some time, we feel.
We see some consolidation in the short-term from which you could profit by selling some short-term out of the money calls (but note that if you don't have the shares, this is risky). On a pullback, the shares are a pretty good buy.
John B Sanfilippo & Son (JBSS)
Another company in the packaged and processed food sector with stocks on a tear. What exactly do they do?
John B. Sanfilippo & Son, Inc. engages in the processing and marketing of tree nuts and peanuts in the United States. It offers raw and processed nuts, including peanuts, almonds, Brazil nuts, pecans, pistachios, filberts, cashews, English walnuts, black walnuts, pine nuts, and macadamia nuts. The company provides nut products in various styles and seasonings, such as natural, blanched, oil roasted, dry roasted, unsalted, honey roasted, flavored, spicy, butter toffee, praline, and cinnamon toasted. It also offers peanut butter; food and snack products comprising snack mixes, salad toppings, natural snacks, trail mixes, dried fruit, and chocolate and yogurt coated products; baking ingredients; bulk food products; sunflower seeds, almond butter, sesame sticks, and other sesame snack products; and toppings for ice cream and yogurt. [Yahoo]
Some key statistics:
Market cap $138.2M
Revenue $684M
Cash $3.56M
Debt $80.9M
They did generate cash the last couple of years, but quantities hardly worth mentioning.
Their business is somewhat cyclical, with Q2 as the best quarter, and the last Q2 has been better than the previous one, basically down to cost cutting, as revenues were stagnant versus Q2 2011 (see Google for quarterly development). There were volume declines, but this was compensated by higher prices (and some loss of customers as a result of that).
The lower sales volumes were also the main driver of lower cost, so we're not quite sure this is actually a healthy development. It is difficult to argue that the company is expensive, as it's trading at a considerable discount to book value and even more so to revenue, but then again, growth is absent and margins are low.
The single analyst following the stock expects $1.40 a share in profits, rising to $1.61 next year. We would argue that the shares are due for a breather, though. They have been overbought for some time and have nearly doubled from the lows at the end of last year, while the underlying business development doesn't suggest such a dramatic turnaround.
Yes, if the analyst is correct and profit hits $1.40 per share this year (their fiscal year ends in June), it is more than a double from the 60 cents in fiscal 2011, but not that much higher than the $1.34 in fiscal 2010. And is there more growth in the pipeline? We have our doubts.
While outright shorting will yield limited results (we don't expect a dramatic fall), selling out-of-the-money calls looks like a profitable idea to us.
Disclosure: I have no positions in any stocks mentioned, but may initiate a short position in JBSS over the next 72 hours.