We recently profiled Waste Management (WM), comparing it to seven waste services-related companies. Our analysis confirmed our view that Republic Services (RSG) is a more attractive play on waste services.
The following table shows our comparison data:
Click to enlarge.
High-Profile Investors
Two of the largest investors in the world have given their stamps of approval on Republic Services over the years. Bill Gates, with his personal investment vehicle Cascade Investments LLC, maintains over 65 million shares today, and while Warren Buffett's Berkshire Hathaway sold out its position in late 2010, it had previously owned over 11 million shares of RSG. Despite the admittedly mixed message coming out of Buffett's camp, Gates and Buffett's one-time stakes - especially Gates' continued outsized investment - bolster our confidence in the merit of Republic Services' business model and management.
Valuation
Republic Services is trading at 19.7 times current earnings and 13.7 times 2013 earnings, relatively low multiples among its peer group but right in-line with primary competitor Waste Management. Meanwhile, Republic Services' price to book ratio of 1.5 is one of the lowest in the sector and significantly lower than Waste Management's price/book of 2.65.
Additionally, while Waste Management's key valuation ratios are in-line with their five-year averages, Republic Services' ratios are historically low. Specifically, Republic Services' five-year average P/E and price/book ratios are significantly higher than current levels, and its five-year price/sales ratio is moderately higher. These historical discrepancies imply Republic Services is under-valued at current levels, particularly given its expectations of future growth.
In our view, the only other company profiled that is a purer value play than Republic Services is French utility Veolia Environnement (VE), as it trades at a fraction of both its sales and book value. But investing in Veolia carries significant risk. It is heavily exposed to European economic tides and is over-leveraged. A recovery in Europe would likely translate into big returns, but the company's future is not secured. Additionally, its outsized risk profile deviates signficantly from those of the larger waste management companies in the U.S., which tend to be more defensive. We recently profiled Veolia.
Cash
Republic Services has $66.3 million in cash on its balance sheet compared to $6.9 billion in debt. This equates to a meager $0.18 per share, or about 0.5% of the current share price. With $258 million in cash on hand, rival Waste Management has the equivalent in cash of $0.56 per share, or 1.6% of the current share price. That is slightly better than Republic Services, but Waste Management also carries a larger debt load of $9.8 billion.
Republic Services has a healthy free cash flow of $830 million.
Growth
Republic Services had a profit margin of 7.19% in 2011, which is nearly identical to Waste Management's and among our identified peer group bested only by Stericycle's net margin of 14% and Waste Connections' (WCN) net margin of 11%.
As for earnings growth in the fourth quarter of 2011, Republic Services' grew 29.4% yoy. Revenue growth, meanwhile, came in at 0.2% yoy.
Republic Services has grown substantially the last three years, coming out of a bleak earnings year in 2008 and annualizing EPS growth of 61.55% since. Earnings are projected to grow 29% in 2012 and 12% in 2013.
Meanwhile, Waste Management has annualized EPS growth of -2.3% the last three years and has projected growth of approximately 10% each of the next two years. Clean Harbors (CLH) also has an impressive growth profile, reporting 24% annualized EPS growth the last three years with projected 8% and 18% growth this year and next, respectively. Casella Waste Systems (CWST) and Progressive Waste Solutions (BIN) are both projected to report declining earnings this year, while Waste Connections and Stericycle (SRCL) show healthy growth trends.
Market Cap
Republic Services' market cap is $11.27 billion, while Waste Management's stands at $16.20 billion. While it is by no means a hard-and-fast rule, when comparing companies in the same industry, it is common to view companies with smaller market caps as having higher growth potential.
Performance Analysis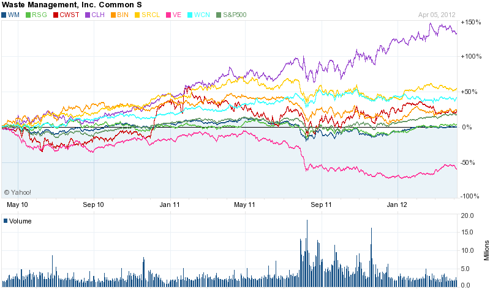 Chart from Yahoo Finance.


Data from Morningstar.com.
Note that the first chart above shows price action among the companies without taking into account dividends. The performance data in the table, meanwhile, uses total return.
Republic Services has consistently outperformed Waste Management, and we expect this trend to continue. The caveat is that Republic Services is more correlated to the market - and therefore less defensive - than Waste Management. RSG has a beta of 0.83, while WM's beta is 0.63. Waste Management is certainly the more conservative play, but the upside is limited - WM's 10-year annualized return is only slightly higher than its current dividend.
Clean Harbors, meanwhile, with a 10-year annualized return of 27.5%, is the best performer of the group. Waste Connection, Inc, which has shown a positive return every year since 2007, has been the most consistent. Veolia and Casella have shown significant under-performance.
Dividend Analysis


Data from Morningstar.com.
Republic Services' projected dividend yield of 2.86% is less than Waste Management's 4.04%, but RSG's payout ratio of 54% demonstrates a healthy payout (compared to Waste Management's 67% payout ratio, which we see as only moderately healthy). Republic Services' track record of growing its dividend lends further support to our view that its dividend is sustainable, and we expect RSG to continue to increase its dividend in the future.
Our View
We like Republic Services on the basis of its historically low multiples and its impressive growth - and we like the waste services sector. The primary headwinds we envision surround pricing pressure from increased competition and the potentially declining financial health of the public sector in developed economies. Additionally, growth of waste services in developed economies may be relatively slow. Yet, the growth potential for waste services in emerging economies is outsized, and while Republic Services operates in the U.S., we envision future growth could eventually come from global expansion.
With higher expected growth and a cheaper valuation, Republic Services is our pick over Waste Management in the waste services industry.
Disclosure: I am long RSG.