This monthly report series began in December, as dog dividend methodology was applied to each of eight major market sectors. In alphabetical order, those sectors were: basic materials, consumer goods, financial, healthcare, industrial goods, services, technology and utilities.
The ninth sector, conglomerates, according to Yahoo Finance, contained just eight firms, five of which paid dividends. Thus the reporter declined to apply dogs of the index metrics to such a small group.
Dogs of the Index Metrics Selected Ten Top Consumer Goods Stocks
Two key metrics determined the yields that ranked these sector dog stocks: (1) stock price (2) annual dividend. Dividing the annual dividend by the price of the stock declared the percentage yield by which each dog stock was ranked. Investors select portfolios of five or ten stocks in any one index or sector by yield to trade. They await the results from their investments in the lowest priced, highest yielding stocks selected and pray that the price of every stock they now own climbs higher (having locked in a high yield percentage at purchase).
This Dogs of the Index strategy, popularized by Michael B. O'Higgins in the book "Beating The Dow" (HarperCollins, 1991), revealed how high yielding stocks whose prices increased (and whose dividend yields therefore decreased) could be sold off once a year to sweep gains and reinvest the seed money into higher yielding stocks in the same index.
Comparative Methods Used
First, the entire list of consumer goods sector companies was sorted by yield as of April 5 using Ycharts.com to reveal the top thirty. Market performance of these thirty selections was then reviewed using four months of historic projected annual dividend history from Yahoo Finance along with annual divided projections adjusted for market realities.
Thereafter, this article assessed the relative strengths of the basic materials sector top ten dividend dogs as of April 5 vs. the Dogs of the Dow March 13 stock list. Annual dividends from $1000 invested in the ten highest yielding stocks in the sector and index were compared to the aggregate single share prices of the top ten stocks in each.
Consumer Goods Dividend Dogs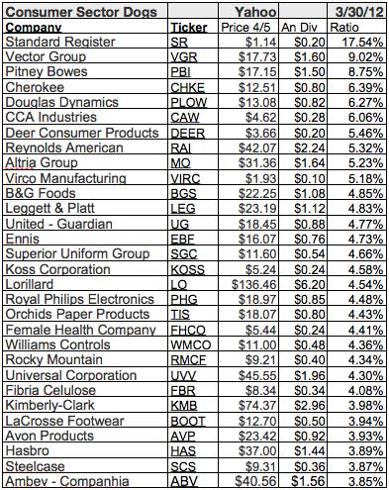 The top ten consumer goods stocks paying the biggest dividends in March represented seven industries. Top stock Standard Register (SR-OLD) was from the office supplies Industry. Second dog, Vector (VGR) was from the cigarettes industry. Three of the top ten basic materials firms were in the same cigarettes industry group, Altria (MO), and Reynolds (RAI) are the other two. Two equipment firms were Pitney Bowes (PBI) and Virco Manufacturing (VIRC). There was also one personal products industry firm, CCA Industries (CAW), and one home furnishings and fixtures firm Deer Consumer Products (DEER). The balance of the top ten are: textiles - apparel clothing, Cherokee (CHKE); auto parts, Douglas Dynamics (PLOW).
March Consumer Goods Dogs Vertical Moves
Going back four months, Vector claimed the top of this list by yield. In February SR became top dog with a yellow tint by virtue of a share price slump of 22.92%. Standard Register held the tint in March.
Color code shows: (Yellow) firms listed in first position at least once between December 2011 and March 2012; (Cyan Blue) firms listed in tenth position at least once between December 2011 and March 2012; (Magenta) firms listed in twentieth position at least once between December 2011 and March 2012; (Green) firms listed in thirtieth position at least once between December 2011 and March 2012. Duplicates are depicted in color for highest ranking attained.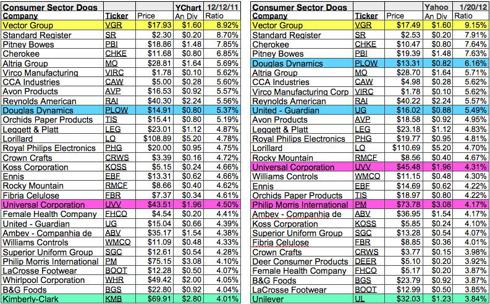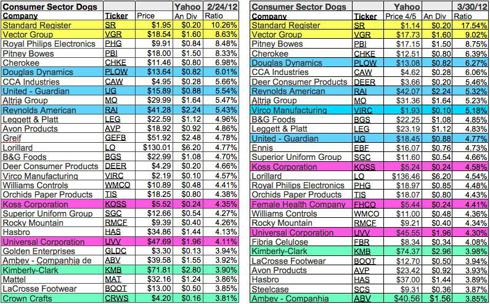 Bullish vertical moves made since February 24 included: Cherokee which booted a share price increase of 9.16%; United Guardian (UAN) exited the top ten by yield when it pushed up a 16.11% price gain; Altria Group smoked a 4.57% increase; Reynolds American puffed out a 1.91% price gain.
Bearish moves for the same period were experienced by most of the top dog pack: Standard Register wrote out a 41.54% price decline to put its price at its lowest point since 2009, when SR cut its dividend 78%; Vector Group exhaled a 4.37% decrease; Pitney Bowes cranked out a 4.72% price slump; Douglas Dynamics slipped 4.1%; CCA Industries wiped out 6.7% in price; Virco Manufacturing climbed back into the top ten by yield by posting a .818% decline; Deer Consumer Products leapt into the top ten consumer goods pack by yield as it dropped 14.69% in price.
Dividend vs. Price Results vs. Dow Dogs
A graph below of the relative strengths of the top ten consumer goods dividend sector stocks by yield as of February 24, 2012 allowed comparison to those of the Dow. Four months of historic projected annual dividend history from $1000 invested in the ten highest yielding stocks, and the total single share prices of those ten stocks created the data points for each month shown in green for price and blue for dividends.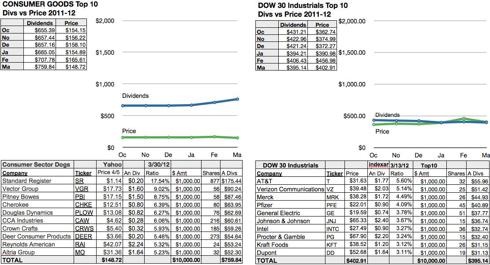 Conclusion: Consumer Goods Dogs Ripped by a Bear
The March consumer goods collection of ten top dividend payers shows dividends rising 15.9% as price dropped 3.5% since October. In the past month, projected dividends from $1k invested in each of the top ten popped up 7.36% as aggregate share price tumbled 10.2%. The bear was out for dog meat.
Meanwhile, the Dow index moved back to near convergence as dividends from $1k invested in the top ten came to within $8 of their aggregate total single share prices in March. As of April 5 consumer goods sector top ten dogs now show $365 more dividends (with equally bigger risk) at a $254 lower aggregate share price than those of the Dow.
A monthly summary will soon compare results in yield and price for all eight sectors reported in this series: basic materials, consumer goods, financial, healthcare, industrial goods, services, technology, and utilities.
Disclosure: I have no positions in any stocks mentioned, and no plans to initiate any positions within the next 72 hours.
Disclaimer: This article is for informational and educational purposes only and shall not be construed to constitute investment advice. Nothing contained herein shall constitute a solicitation, recommendation or endorsement to buy or sell any security. Prices and returns on equities in this article are listed without consideration of fees, commissions, taxes, penalties, or interest payable due to purchasing, holding, or selling same.