Market Recap: The market strengthened on Wednesday as the market turned itself around on the back of good earnings from Alcoa (AA), strength out of Europe as yields in Spain and Italy diminished, and the market geared up for earnings season. The market had traded "risk-off" for the past two days, but Alcoa really set the table as the company outperformed expectations, released a profit, and had positive commentary about the state of China, which was helpful as they have been weak as of late.
We have been adjusting our portfolios to be more neutral over the past several days adding more bearish positions, and we continue to think that being neutral is the best way to go in this market. Here are two things we like for upside and downside moving forward.

Two Trades
One stock we like for upside is Sempra Energy (SRE). One stock we would expect to remain weak is Amazon.com (AMZN). Sempra broke a key resistance at 62.50 and had strength all day today. The company also was one that did not decline during the latest market downturn despite a bit of overvaluation on the technicals and being overbought. The stock held well to its uptrend, and it looks to be ready for another breakout. Analysts are getting behind the stock as they are looking attractive right now with natural gas sales. Upgrades helped push the stock higher, and they seem to have great support right now. We entered the position long. We have been short AMZN with a bear call spread since last week, and today's movement was another sign that AMZN just does not have it right now. The company could not get much of a rally on a strong day and when they announced their in-app development for Kindle devices. The overvaluation on PE may be finally catching up with them. We like opening bear call spreads for May.
Trade #1: SRE, Long
Trade #2: AMZN, May18, 210/215 Bear Call Spread
(Click to enlarge)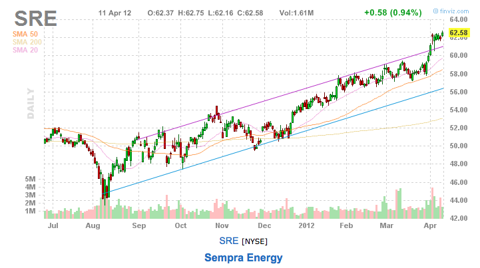 Tomorrow's Outlook
The market got the surprise from Alcoa that ended the losing streak but will it last? We believe that the market's drop was overdone for limited reasons, but a lot of charts are looking pretty broken. Tomorrow comes down to a couple of things: Europe, jobless claims and run up into earnings. Europe ... if positive, we're positive. The only major report for Europe is the eurozone Industrial Production report. If yields stay down, we will most likely continue to recover some. Additionally, the weakness from NFP last week has weighed on the market. That is why initial claims could be crucial tomorrow as well. If they come out above expectations, it could create more employment concerns that came up around this time last year. Finally, Google (GOOG), JPMorgan (JPM) and Wells Fargo (WFC) all go Thursday evening/Friday morning. It will be intriguing to see how the market moves into those earnings.
Analyst Moves
The interesting moves we saw for analysts was a downgrade of Gamestop (GME) to Hold from Needham. We continue to believe that GME offers a compelling service that is very tied to gamers. The company has done a lot to develop offerings that can work with the digital revolution. We have them Buy-rated with $32 PT. Additionally, we saw Goldman upgrade Melco (MPEL) today. That upgrade was interesting to see as the company rated high on our earnings analysis for this quarter. They are looking at a big quarter, and they could be primed for a big move.
Commodity Talk
Crude had a good report from the weekly inventories report that came in above what we had expected for the company. That surprise helped support prices, and they will remain supported at $100 until equities lose more ground and/or the dollar strengthens. Many believe sub-$100 oil is inevitable. Rumors brewing about Iran doing another arm flexing move that could keep prices at $100 for some time. We went long gold yesterday with a bull put spread in SPDR Gold (GLD), and we maintain that gold is attractive here.
Our Moves
We had a day of adding positions as we closed several things yesterday. We added a long on SRE we discussed for our Equity Portfolio. We also added Verisign (VRSN) to that portfolio as well today. We added some June18 $535 sold puts in our Apple (AAPL) portfolio as well.
We have the following positions. In our Short-Term Equity Portfolio we are long VRSN and SRE. In our Options Portfolio, we are long GLD, AAPL, Visa (V), Starbucks (SBUX), Ralph Lauren (RL), Google and IBM (IBM). We are short Apollo Group (APOL) and Johnson Controls (JCI). We have a reverse iron condor in Direxion Financial 3x (FAS). In our Earnings Portfolio, we are long Ace Limited (ACE), Ulta (ULTA), Canadian Pacific (CP), Ashland (ASH), Coinstar (CSTR) and Goldman Sachs (GS). We are short Amazon.com.
Chart courtesy of finviz.com.
Disclosure: I am long GOOG.