Professionals frequently advise investors to rebalance their portfolio regularly in order to maintain the initial objective and risk to reward profile. But just how does an investor go about rebalancing his portfolio, and which method is right for you?
Rebalancing Based on Target Allocation
One approach is to have a certain percentage assigned to each asset class or stock type. For instance you may choose the following portfolio weightings:
33.3% Large-Caps
33.3% Mid-Caps
33.3% Small-Caps
When any one group deviates by more than a certain threshold, say 5%, the investor rebalances the entire amount. This is a fairly common approach that keeps your risk balanced, but it is not my favorite, as laid out above. Why not?
Because you are hindering your winners and feeding your losers. If small-caps fall twice as hard as large-caps, you will be forced to sell some larger stocks to feed the negative momentum losers. And you'll be miffed if small-caps continue to exhibit negative momentum.
Or if mid-caps are ripping up the investing arena, you will need to keep siphoning off gains and putting them in under-achieving groups to keep your ratios normalized. I view this type of rebalancing as slightly contrarian and it runs counter to my philosophy of investing most heavily in stocks with strong price action.
But perhaps the fault lies with the generalized groups of assets rather than the rebalancing concept.
Rebalancing Based on Strategy
Instead of merely rebalancing based on broad assets types, you can also rebalance based on a mechanical trading strategy which should alleviate some of our issues with the simplistic strategy outlined above.
For instance, you may have filtering criteria that requires the company to have certain metrics as regards growth, value, quality and momentum. When a company no longer meets these criteria you remove it and replace it with one that does. Of course, you will still need to juggle funds around so all of your money doesn't pile up in one stock. The upside is that you remove potential losers instead of pouring additional funds into them. The 'replacement stock' has the same potential as the other winners.
This leads us to the next concept of 'equal weighting' within a portfolio. Provided that all of your stocks have the potential to be winners due to their meeting your strict filtering rules, you should feel more comfortable distributing capital equally among your stocks within that portfolio.
When to Rebalance?
Some portfolio managers recommend re-balancing every year or 6 months. Others rebalance weekly or monthly. Which is better? That depends a lot on what your strategy is. For instance, if you are targeting a small pop in a 52 week low or price drift upwards due to a large earnings surprise, I would recommend rebalancing every week or two at the most. On the other hand, if you are a dividend growth investor targeting defensive companies, rebalancing more than 3 to 6 months would erode capital in slippage and trading fees.
How can you know what your optimal rebalancing period is for a specific strategy? For that you will need to use the stock screening and backtesting platforms of Zacks or Portfolio123 while experimenting with a few different periods. Don't get too hung up on splitting hairs when data-mining preferred rebalancing periods - I would stick to the monthly, quarterly, semi-annually and annually while accounting for slippage and fees.
Trading Costs
Are you worried about the trading costs of frequent rebalancing? There are brokerages out there that cater to these specific needs. Folio Investing allows you to 'window trade' twice a day with an unlimited amount of portfolios for $29/month flat fee. Of course, they likely make it back if they buy for their own books first and waiting for prices to rise to fill your order. Although I can't use their services in Canada (US only), I would have no problem allowing them to scalp a small day-trading spread to cover their costs if it allowed me to trade unlimited for $29/month.
Putting it into Practice
As the new Equity Model Associate Editor at Portfolio Café (models soon to be available through Folio Investing), I will be introducing various strategic models over the next couple of months. The first one that was just released is a sub $15 small-cap model. We do the following
Rebalance every 4 weeks
Only stocks meeting all of the filtering criteria are held (growth, momentum, margins, etc.)
A maximum of 15 companies are bought
Market timing filters are added
At the beginning of each 4 week period we remove any stocks that do not meet our strict sub $15 criteria. Thus we cut the losers and only include potential winners. Each company receives equal-weighting in the portfolio at time of rebalancing. This systematic technique works well with these carefully screened stocks that have a high jumping potential. Below is the list screened on March 5th and held until April 2nd and the gain or loss during those 4 weeks.
| | | | | | |
| --- | --- | --- | --- | --- | --- |
| Ticker | Name | Start | End | Gain/Loss | MktCap |
| (IMOS) | ChipMOS Technologies (Bermuda) Ltd | 12.17 | 17.58 | 44.45 | 335.61 |
| (FPP) | Fieldpoint Petroleum Corporation | 3.83 | 4.51 | 17.89 | 43.91 |
| (MNTX) | Manitex International, Inc. | 6.2 | 7.3 | 17.74 | 71.31 |
| (CONN) | CONN'S, Inc. | 13.5 | 15.35 | 13.7 | 434.83 |
| (STC) | Stewart Information Services Corp | 12.74 | 14.16 | 11.15 | 247.01 |
| (CKSW) | ClickSoftware Technologies Ltd. | 11.5 | 12.69 | 10.35 | 351.37 |
| (PARL) | Parlux Fragrances, Inc. | 5.15 | 5.64 | 9.51 | 107.17 |
| (BEBE) | bebe stores, inc. | 8.98 | 9.19 | 2.34 | 758.89 |
| (DWCH) | Datawatch Corporation | 13.13 | 13.17 | 0.3 | 83.34 |
| (CYS) | CYS Investments Inc | 13.06 | 13.09 | 0.2 | 1516.73 |
| (ANLY) | Analysts International Corporation | 5.51 | 5.43 | -1.45 | 27.33 |
| (NYSE:DRD) | DRDGOLD Ltd. (ADR) | 7.67 | 7.25 | -5.48 | 307.98 |
| (INOD) | Innodata Isogen, Inc. | 6.01 | 5.4 | -10.15 | 146.91 |
| (HK) | Halcon Resources Corp | 10.84 | 9.61 | -11.35 | 288.82 |
| (USHS) | US Home Systems Inc | 11.2 | 9.05 | -19.22 | 81.53 |
The total retention on this portfolio was 5.33% - which was 2.49% higher than the S&P 500. It doesn't always work out this way, though. How well has this strategy performed over the past 11 years? I will include 0.5% slippage for every transaction for the next 3 calculations.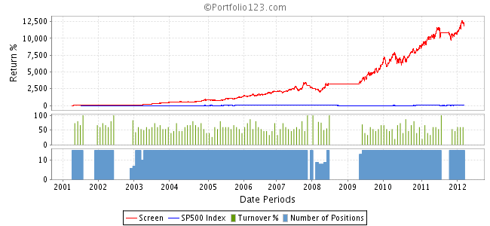 A bit on the staggering side. Even after taking half a percent every 4 weeks for slippage, or 6.5% annually, we still get a 55% compound annual rate of return.
Take out market timing your gain drops in half - but 6,000% gain over 11 years is still a high 45% annual return rate.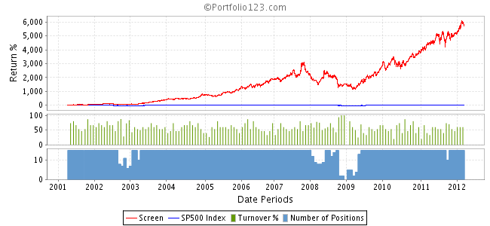 Only rebalance annually without market timing and you only beat the market by 3% over the entire 11 years.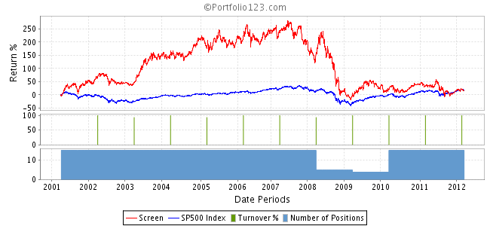 While many investors take a more passive approach to investing, I find that by strategically rebalancing you can achieve higher gains with lower downside risk even after you account for trading fees and slippage. That's the approach I am taking at Portfolio Café.
Disclosure: I have no positions in any stocks mentioned, and no plans to initiate any positions within the next 72 hours.