A good page-turner does not lack for suspense. So it is with Courier Corp. (Nasdaq: CRRC), the country's third largest book manufacturer. Its consistent growth, financial strength and strategic market selection soothe investors, but macro forces raise a few goose bumps.
Courier's plot is to focus on markets with above-average growth. Its characters are in two divisions: book manufacturing for other publishers, which dominates sales at 82% in 2006, and specialty publishing of its own properties.
As a manufacturer, Courier made and distributed more than 175 million books last year, focusing on the growth segments of education, religion and specialty trades. The company's strongest category is education, where Courier has distinguished itself by growing sales at virtually twice the industry's pace over the past 10 years: 11.5% versus 6.0%. A push toward higher education standards, a need for new textbooks and a strong trend toward four-color printing are all to Courier's benefit.
As specialty publisher, Courier has three main segments with more than 10,000 titles. Dover Publications' subjects range from paper dolls to Milton's Paradise Lost. Creative Homeowner's yield includes information on beading, crochet and faux flower design; magazines on plumbing, crown molding and landscapes; and home plans for those seeking curb appeal and/or living on a hillside. Research and Education Association [REA] makes test preparation materials, including software. Each of these three businesses has been added since 2000, with Creative Homeowner the newest addition in April of 2006.
Courier's tactics have paid off. Ten years ago, the company earned $0.42 per share and its revenues were $131 million. This year, it expects earnings between $2.15 and $2.20 per share, and total sales between $303 million and $307 million. The five-year return on Courier is 17.2%, compared with a decline of 1.7% for the publishing industry.
A diverse family of publications helps to calm macro-market tensions. The company posted 4% growth in revenues to $73.4 million in the third quarter ended June 30. Earnings rose 10% to $0.53 from the same quarter in 2007. This performance came despite a chilly climate for book sales and a lapse in religious sales, which fell from grace on timing issues. Ongoing housing market anxiety dampened sales of Creative Homeowner.
To the rescue: education sales, which were up 23% in the quarter. "All told, both sides of our business were able to offset weakness in specific markets by taking advantage of strength in others, resulting in a 10% profit improvement across the company," said Courier's CEO James Conway in announcing third-quarter results.
Still, the company lowered expectations for fiscal 2007. Courier's expectations for earnings per share between $2.15 and $2.20 compares with earlier guidance for $2.20 to $2.30—still an increase of 10% to 13% from 2006. Sales expectations between $303 million and $307 million are down from $304 million to $311 million previously—but up13% to 14% over the previous year.
The lowered guidance, while mild, is yet one bump in the night. As Courier says, there are more than 80,000 U.S. publishers, some very small but a few much bigger than Dover, REA or Creative Homeowner. Newer competition has emerged as large retailers start or expand publishing operations, and new Internet publishing businesses are launched. Courier seeks to quell its competition by offering a wide variety of books at modest prices through Dover; high-quality study guides, test preparation books and software through REA; and top-notch photographs and illustrations through Creative Homeowner.
In the book manufacturing segment, consolidation over the past few years in both customers and competitors has pressured prices. Some competitors have greater sales, assets and financial resources. These factors can pressure profit margins and result in a loss of customers and market share, Courier says in its annual report.
Two major buyers accounted for 40% of Courier's 2006 revenues, leaving the company vulnerable to a reduction in orders from either one. Other bugaboos are paper costs and availability, and the cost of energy to run production equipment and facilities.
North Chelmsford, Mass.-based Courier has managed to fend off these forces, with share values rising to Friday's close of $38.91 per share, from close to $5 per share 10 years ago. But prices have faltered since reaching $45.85 in April 2006. So far this year, shares are down 0.15%, compared with a loss in the publishing industry near 22%.
R.R. Donnelly and Sons Company (NYSE: RRD) is the dominant competitor in book publishing with 21% of total sales, dwarfing Courier's 3% share. Donnelly, valued at $8 billion, is continuing the industry's consolidation trend with two purchases this year. Shares are up 6% year to date.
Courier, with a market capitalization of $488.76 million, carries a modest P/E of 16.54 based on the middle of management's 2007 earnings guidance. That, plus its dividend yield of 1.9%, should put most investors at ease. So should its tidy debt-to-capitalization ratio of 8%; long term debt is a scant $17.2 million.
Like a hero, Courier is doing all that it can to continue to reward investors, remaining committed to successful strategies and its bottom line. It may be a bit of an adventure, but at today's share valuation, Courier could cool a potboiler of a portfolio.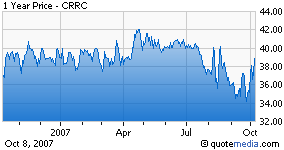 Disclosure: none