At a time when a dramatic August correction on gold stocks has almost been forgotten, the junior mining and exploration companies continue to lag behind.

Especially notable is the underperformance of the RSG Gold Junior Index consisting of 15 small gold producers. The ratio between junior gold producers and the HUI Gold Bugs Index is now at its lowest level in almost two years.
Chart 1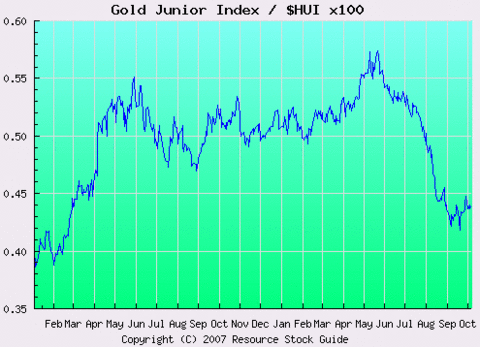 Two other groups of small/micro cap gold stocks also continue to underperform. One of the groups, Exploration I (consisting of gold stocks with established resources), recovered only 2/3 of the August losses to date.
Chart 2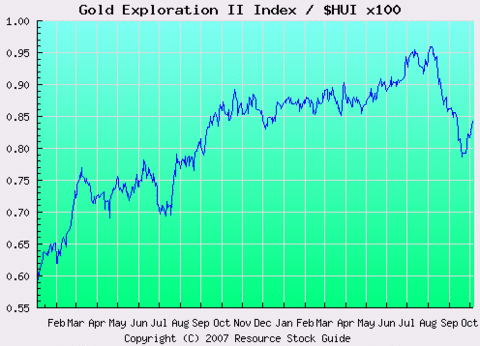 The Exploration II group, (consisting of companies with established resources having demonstrated economic viability), although not at its highs set in July, continues to be the strongest among the small cap. In the last 24 months it has returned 110% compared to about 63% return by HUI and 55% return by gold itself.
Chart 3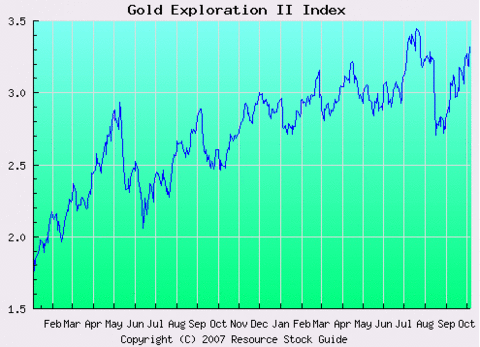 As the HUI index is fluctuating at an all time high, valuations for major mining companies are not improving despite the gold price uptrend. In fact, these stocks are starting to look expensive due to the rising production costs caused by increasing labor, oil and other input prices. Although the big money continues to flow into the major producers with positive earnings and cash flow as well as into the gold bullion, history shows that rotation within the sector is inevitable – a spectacular opportunity for savvy investors.

Below is a chart of Enterprise Value Per Unit [EVPU] for various groups of gold stocks classified by Resource Stock Guide. The EVPU simply shows how many dollars an investor is paying for each underground ounce of gold defined by a company.

We have tracked the valuation levels for the five groups below for several years now. Our conclusion is that the two groups on the right are relatively expensive, while three groups on the left (Junior Producers, Exploration I and II) are a bargain.
Chart 4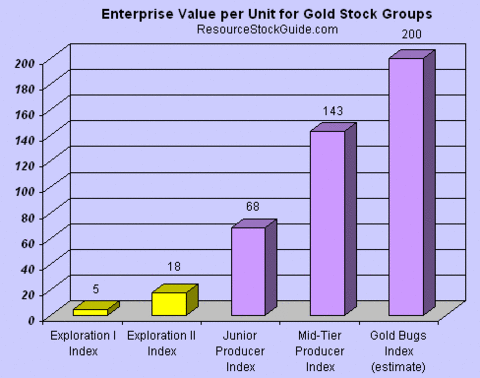 The potential for upward revaluation of many Exploration I and Exploration II companies is enormous as they reach major milestones and move closer to production. (See Milestone Calendar offered by Resource Stock Guide)
History of the gold bull markets shows that small gold stocks will become major beneficiaries as investors look down the food chain for better value. At these low valuation levels, downside appears to be limited but upside prospects are very exciting. We, at Resource Stock Guide, strongly believe that there are still many years of profits left in this gold bull market, which is yet to transition from an infancy phase.