The appeal of technology stocks to growth investors is that of almost unlimited possibility. Technology is everywhere, and is constantly growing and changing. In fact, the rich valuations of many technology stocks - both past and present - can be justified by their explosive growth potential. Many investors will recollect the period during the 1990's, where that potential was reflected in the astronomical increases in stock valuations of tech companies.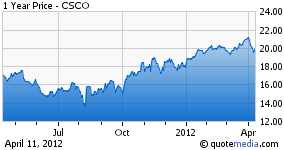 One of the high-flying high-tech stocks of that era is Cisco Systems (CSCO), the world's largest manufacturer of networking and communications equipment. The company makes the high-speed devices that allow for everything from streaming movies over the Internet to corporate email communications. As far as technology growth companies go, Cisco may have been the poster child for the red-hot technology sector as a whole. Then the tech bubble burst and anything in the segment was obliterated.
But now, more than ten years later, and with the share price of Cisco Systems at nearly the same place it was then, I firmly believe the time has come to re-evaluate this tech bellwether. After all, Cisco is still an enormously profitable company, and still incredibly important in supplying network infrastructure equipment to public and private, as well as government-sector clients.
Let's face it, the economy has dealt a nasty blow to a lot of companies in a variety of industries. When things finally do turn around, it's the companies who make things that help businesses grow, that will prosper. And make no mistake; the world's economies are turning around. Cisco and other technology companies are set to experience the first significant growth that they have seen in more than a decade. And it's coming soon.
Cyclical Growth in Tech
We all understand the growth cycle of traditionally cyclical sectors such as industrials and basic materials. When the economies of the world begin to grow, demand for these building blocks takes off. Well in our highly computer-driven world, the same is true for the technology companies that make the building blocks of communications. Tech has become the new cyclical engine of expansion in our connected world.
Cisco is at the forefront, and is perhaps the best positioned to take advantage. Past performance aside, Cisco has grown its revenue in the past year by 10.8% and has seen quarterly earnings per share (EPS) growth of nearly 44%. And this is within an environment of anemic business expansion and heavily curtailed bank lending. Not to mention a near halt to government spending on infrastructure equipment. (Government spending accounts for nearly 20% of Cisco's sales)
Cisco is not the only maker of network routing and switching equipment, its just the biggest. The company also has better margins than any of its close competitors. Juniper Networks (JNPR) currently boasts a profit margin of 10%, compared with Cisco's 16%. A smaller, but not insignificant competitor, Aruba Networks (ARUN), has a profit margin of 13%.
Solid Fundamentals
Cisco's total cash on hand has also risen in this past year by almost 80% to around $8.6 billion. Some of the uses for this cash can be found in a share repurchase deal of nearly $500 million and also the purchase of privately-held NDS Systems. The NDS purchase, announced in mid March, gives Cisco a strong position in the "end-to-end" software market for the cable and satellite TV providers. With revenue from its cable business up 23% this year, it looks like this was a smart purchase.
At the current stock price of around $20 per share, Cisco's forward P/E is under 11. This compares with Juniper at around 22 and Aruba Networks at nearly 32. Analysts expect a growth rate for Cisco of around 13% this year and close to 9% for the next five years. For those doing the math, this leaves Cisco with a P/E to growth (PEG) ratio of less than one, which is very favorable.
With a current market cap of more than $100 billion and shares outstanding of nearly 5.4 billion, Cisco is a huge company. Still, EPS has been growing and current year estimates sit at $1.84 per share. Cisco also pays a dividend, which is somewhat of a rarity among high-tech companies. The current dividend is around 1.6% and Cisco has said that it is committed to returning value to shareholders, so expect that rate to increase over the next few years.
Catalysts for Continued Growth
Cisco's fortunes tend to rise and fall with that of the global economies. When things are good, companies spend on infrastructure. After having gone through such a prolonged period of restraint due to economic conditions, Cisco's clients are now behind in the upgrade cycle. As it begins to make capital expenditures once again, Cisco will reap the benefits of all the pent up demand. This has the probability of increasing revenue at the company by up to 15% more than analysts currently expect.
Cisco also has a track record of making solid acquisitions. The company is committed to being number one or two in any segment of the market it competes in. Recent acquisitions such as that of the previously mentioned NDS Systems have been made during a time of depressed valuations and cheap borrowing costs. As these purchases begin to pay off, the results to Cisco's bottom line growth will be highly leveraged.
Finally, the adoption of mobile devices and smart phones that are able to stream large amounts of video and audio require networking equipment that can handle the higher volumes. Mobile device providers and carriers will be forced to upgrade their networks to keep up with the demand for more bandwidth for these devices. The build out of 4-G networks and testing of even faster speeds will lead to sales of more network equipment for Cisco.
Disclosure: I have no positions in any stocks mentioned, and no plans to initiate any positions within the next 72 hours.