Like we were saying yesterday; "markets need fuel to maintain bullish momentum." That can only come from news generally. Positive earnings is generally the spark markets need, but the good news today came from a bullish reading of minutes from the Fed's last meeting. Bulls interpreted them to conclude the central bank is ready to keep cutting interest rates. Wow! Who knew?!?
Getting the correct volume and advance/decline data has become more of a challenge lately. Here are three supposedly reliable sources. The only conclusion is that volume remains relatively light no matter the data vendor. Another thing is when times are good no one cares if the data is right or not.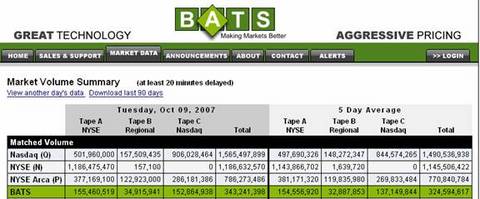 Wall Street Journal





Yahoo Finance




Okay, enough quibbling over correct data…on with the show.






Moving on to other sectors we'll start with Uncle Buck.







Let's look around the ol' BRIC-yard to see what's happening overseas.






This evening heavyweight companies Chevron and International Paper warned, sending their shares lower in after hours trading. Alcoa reported earnings and one will have to spend some time dissecting them. The bottom line is a profit and a slight rise in after hours trading.

As we've stated repeatedly, "the news follows the trend" and for bullish trends to continue positive news is the reinforcement. And, never mind any bad news like the suspension of redemptions on $5.2 billion [we think] New Ellington Credit Overseas Ltd. and New Ellington Credit Partners LP hedge funds. And did you know despite all the negative press hedge funds pulled-in $8.8 billion in August? You can't stop 'em!

Have a pleasant evening.