Sirius XM (SIRI) investors have been on quite the roller coaster ride lately, and at 32x earnings many investors think the stock is too expensive and risky to own. In my view, however, the stock is too cheap to short, based on cash flows as well.
You see, Sirius has managed to stage an impressive come back over the past three years. Back in 2009, Sirius XM posted a $329MM loss. In 2011, the company posted an impressive $426MM profit. Clearly, this is not a utility stock and is not for the faint of heart. Sirius bears will point to the Pandora revolution, the lack of a need for the service thanks to Apple's I Tunes, the slowdown in subscriber growth etc, as reasons for the stock to tank, but some of these fears are already factored into the price of the stock.
What I think the bears are missing is that Sirius is still growing and the stock is arguably cheap based on enterprise value to EBITDA. Sirius has an EV/EBITDA of just 11x - which is the type of multiple given to a boring oil stock like Exxon or a staple stock like Procter & Gamble. While Sirius XM may be in trouble because of technological advances, the stock is still a growth name trading at reasonable multiples. Unless the bear case plays out perfectly, the stock could squeeze unsuspecting shorts and move substantially higher over the medium and long term even with all of the headwinds and uncertainties the company faces.
The best argument for shorting SIRI, however, is the company's large tangible deficit and shaky balance sheet. That said, Sirius managed to pay off some $550MM of debt last year and the momentum on the bottom line is starting to tick up. With a negative tangible book value of $3.7 Billion, however, Sirius XM is a serious candidate for bankruptcy protection at some point in the future if it can't spit out large profits and cash flows over the next few years.
In conclusion, Sirius is a heavily leveraged bankruptcy candidate that is producing large amounts of near-term cash flow. If the cash flow growth is sustainable, at some point the shorts will capitulate and shares could trade for substantially higher prices. While I wouldn't buy the stock, I certainly wouldn't short it until Sirius posts additional quarterly losses in future periods. While only 7% of the float float is sold short, the stock can move quickly in either direction and a $2 price tag means that the downside is far less than the potential upside should things actually work out for the company in 2012.
The main reason the company won't go bankrupt in 2012 is that the banks who lent them the money won't get anything back unless Sirius makes a major turnaround and earns it's way out of the $3.7 billion dollar hole that it's in currently. Don Corleone put it best when it comes to bankers letting over-leveraged players stay afloat: "never underestimate the other guy's greed." The banks need Sirius to turn around, and many a time bankers get their way.
Another Don, namely Donald Trump, shows just how much future cash flows mean to lenders. After all, he was worth negative one billion at one point before climbing out of the hole himself in the 1990s. In other words, comebacks are not always probable, but with enough hard work they are possible.
Technicals suggest SIRI is going to sell off substantially. In fact, the chart looks to making a major triple top and could break down significantly in the short term.
Click to enlarge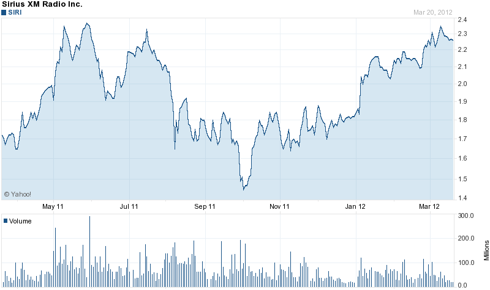 All in all, I would rather be short Sirius than long the stock, but it's tough to short a $2 name.
Disclosure: I have no positions in any stocks mentioned, and no plans to initiate any positions within the next 72 hours.