Since just after the July 4th holiday, SanDisk (SNDK) has struggled to hold on to its lofty rise in CQ2, and what a great run it had been. However, last week the whole sector took a belly punch with Micron's (NASDAQ:MU) poor showing in their Fiscal Q4 report, revisions from the sell side flew like feathers at a chicken fight. It all seemed pretty straight forward. Supply/demand imbalance, pricing tanking (spot prices have been running well below contract prices), and huge capital demand, all are weighing against the sector, not mention the "whither goest the consumer" conundrum weighing on everything. A surprising exception was Baird who kept their 'Outperform' rating on Micron, with analyst Tristan Gerra saying its business has started to recover. He expects the company to return to profitability in the next May quarter. But in a note to clients on Friday Baird advised that SanDisk's SD card pricing was down 3 percent and its miniSD card pricing was down 1 percent on average this past week. As usual, however, the market's rationale is more complex than the stories we read in Forbes. Monday morning, researcher Avian Research, in delivering one of the more insightful comments we have seen on the subject wrote:
With semiconductor shares massively decoupled from a roaring global stock market, the first time ever chip stocks in their forty year history have "missed" an economic upsurge, indeed the strongest world economy in a century, the weekend after Fairchild Semiconductor's Fiftieth Anniversary reunion, why not play the memory stocks? After all, one downtrodden, commodity group after the other has roared these past five years, regardless of how poor the earlier fundamentals. Why? Global Integrated rowth, begun five years back in the depth of stock market depression. 1) Massive Asian capital flows, the incredible profits of their boom being put to work, just like Japan, Inc did 30 years ago to stem the Oil Shokkus, in high volume memory chip production. Rate of return bogies are much lower over there than here, secularly compressing US memory valuations.

2) Weak pricing in the seasonally strong point of the year, following substantial over-trend capital spending throughout the preceding 18-24 months. Even reduced from its year ago "peak", memory capex remains way above the average rate of the prior 30 years. Not good!

3) Memory ASPs across the mix are downward biased entering the seasonally strong Q4, with Micron reporting that if DRAM and NAND contract prices hold flat from their H1Oct levels, respectively down 5-8% and flattish from H2Sep, that pricing for their November quarter would be DOWN 10% and 20-25% vs their August level.

4) Because memory prices almost certainly drop for seasonal reason[s] every year following Thanksgiving, this means a sharp downward bias for the December 3 month period such as SNDK and SPSN serve.

Our conclusion is the pricing hole is right now too severe to tackle, that the season is moving to work against you and the demand drivers for 2008 are already identified by those making the supply creation decisions in terms of new capacity. Avoid.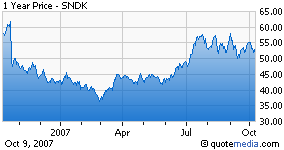 Disclosure: The author doesn't currently hold any solid state memory stocks, but sold SNDK at 46, and has been watching on the sidelines with his hands in his pocket jingling the change ever since.