Today's stock is Innerworkings (NASDAQ:INWK), another highly rated IPO that debuted in the 4th quarter last year and broke out of a long base to a new all time high on Tuesday.
ABOUT:
InnerWorkings, Inc. is a provider of print procurement solutions to corporate clients in the United States. The Company creates bid processes to procure, purchase and deliver printed products as part of an outsourced enterprise solution and in individual transactions.
Its applications and database, PPM4, creates an integrated solution that stores, analyzes and tracks the production capabilities of its supplier network, as well as quote and price data for each bid the Company receives and print job it executes. Through its network of over 5,000 suppliers, the Company offers a range of print, fulfillment and logistics services. It procures printed products for clients across a range of industries, such as advertising, consumer products, publishing and retail.
In October 2006, the Company acquired Applied Graphics, Inc., a provider of print management and print-on-demand services. In March 2007, it acquired Spectrum Printing Systems. In July 2007, the Company acquired Brown+Partners, Inc.
FUNDAMENTALS:

Innerworkings (INWK) is in the publishing business, so it doesn't receive some of the hype that the hot China or solar IPO's receive, but it is one of the highest rated IPO's that I track with a fundamental score of 27/30. The small company has been profitable since 2003 and has been roughly doubling profits ever since.
Growth is expected to moderate a bit, but the company is still expected to post earnings growth of more than 50% this year and next. If the company has a negative, it's the low margin printing business that it works in with net margins around 5%. Return on Equity is an excellent 24% so management is strong and they own a good portion of their company with 25% ownership. Both are key characteristics of a big winner.

TECHNICAL:
Below is a look at the weekly chart and shows a long cup with handle base (handle a bit steep) with a subsequent breakout around 17.50 from the large handle. This offered the first chance at an entry in the stock. It wasn't long before the stock tackled all time highs around 19 which it cleared on Tuesday with above average volume and remains in a buyable entry for a 2nd entry point.
You should be paying particular attention to top IPO's breaking out of bases with volume and INWK is no exception. The only thing I'd like to see is more volume come into the stock. It's been a little weak during the rise over the past couple weeks. Considering the overall market is overbought and looking tired, the best course of action is to probably wait it out on INWK and get on a pullback to the first entry around 17.50 if it does so with light selling volume.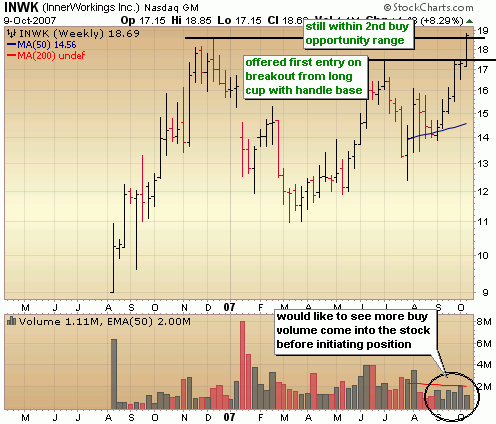 Full Disclosure/Disclaimer: I currently do not own a position in INWK.