Investors have become giddy over Chinese stocks, reminiscent of their collective enthusiasm for Tech stocks famously crystallized by Alan Greenspan as "irrational exuberance." Then as now investors seem to be convinced that the old measures of value simply no longer apply.
Back then the justification was that the "new economy" heralded the start of an era of unprecedented growth, particularly for Tech stocks, and so earnings no longer really mattered, at least for the foreseeable future. Today we constantly hear about how the Chinese economy—and virtually everybody else for that matter—won't be affected by a potential slowdown in U.S. economic growth.

Yes, yes, we know: the size of the U.S. economy relative to the rest of the world isn't as large as it once was. And maybe it's even true that should U.S. demand for China's exports slacken it can be replaced by domestic consumption from China's millions of new middle class consumers.
But then as now, valuations do matter. And that's where Chinese stocks run into trouble. After rising some 200% in just the past two years, stocks in the $8 billion iShares FTSE-Xinhua China 25 fund (NYSEARCA:FXI) are now trading at a whopping 26.0x forecast 2007 earnings, compared with a price-to-earnings ratio of 15.9x for stocks in the iShares MSCI Emerging Markets index fund (NYSEARCA:EEM).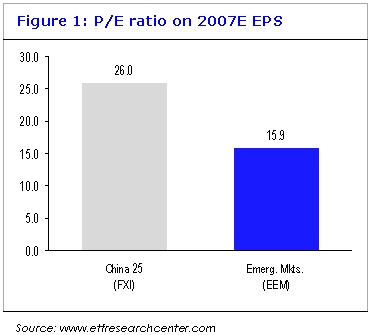 Presumably, rational investors are anticipating far better earnings growth for that kind of premium valuation. But in reality there is very little to support that multiple. Over the past five years, companies in FXI have delivered compound annual earnings growth of 26.8%, compared with a rate of 26.3% for companies in EEM—essentially a rounding error. What's more is that both this year and next, EPS growth for FXI is actually expected to lag that of EEM (Figure 2).
Further, some investors may be surprised to find out that, unlike EEM or the S&P 500, the China 25 index doesn't include any Tech stocks, but rather is dominated by the Financials, Energy, and Telecom sectors (Figure 3)—all sectors that would typically garner a low P/E ratio elsewhere.
Think about it: U.S. Financial firms let credit standards slip and make some bad investments; they get hammered as a result. Meanwhile Chinese banks—all models of prudent lending, of course—trade a nose-bleed level of 31x 2007E EPS.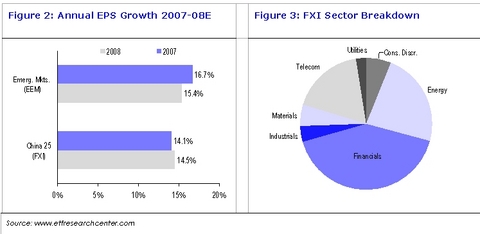 Greenspan was right, of course, when he made his now-famous comments back in 1996, although the bull market still had another four years to run. We honestly have no idea if the current bubble in Chinese stocks is akin to 1996 or somewhere further along; it was 1998 that the S&P 500 first surpassed a P/E ratio of 23.5x twelve-month forward earnings, where FXI currently trades. All we can say for sure is that when the bubble ends it won't be pretty. Now, what's the Chinese translation for Alka-Seltzer?