"Water, taken in moderation, cannot hurt anybody" – Mark Twain
Our latest ChangeWave Alliance water survey served up such a reservoir of positive data on the industry that we've written two reports on the findings.
In the first report (Aug 2007), we looked at broad industry trends, and found that spending on water infrastructure projects in North America and China were the biggest drivers of growth. GE Water was the easy winner.
Now our focus turns to the sector level and zeroing in on the best prospects among mid- and small-cap companies.
Sectors Attracting the Most Spending
Having completed our second water survey of the past year, we now have the benefit of comparing changes over time -- in this case 7 months.
Water Infrastructure Repair and Replacement is again seen as the sector attracting the most spending over the next 1-2 years, but Water Filtration and Desalination show the greatest momentum.
Tunneling Down
We also turned our attention to the specific treatment technologies that will be most widely deployed over the next two years. Here's what we found:
Focusing on specific treatment technologies, which of the following do you think will experience the most new deployments over the next 12-24 months? (Choose No More Than Two)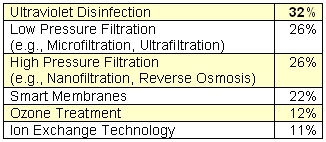 A surprising one-third of respondents believe Ultraviolet Disinfection (32%) is the specific treatment technology that will have the most new deployments over the next 12-24 months. Two filtration technologies -- Low Pressure Filtration (26%) and High Pressure Filtration (26%) – were tied for second place.
We also wanted to learn which sectors would experience the biggest technology breakthroughs:
Which water sub-sector do you think will experience the biggest new technology breakthrough in the next 12-24 months?

Industry respondents believe the Desalination sector (31%; up 6-pts) will see the biggest breakthroughs, with Water Security & Monitoring (17%; up 10-pts) coming in second.
Taking the Dip
Finally, we asked industry respondents which water-related companies should be on our radar screen over the next 12 months. Here are the highest ranked companies: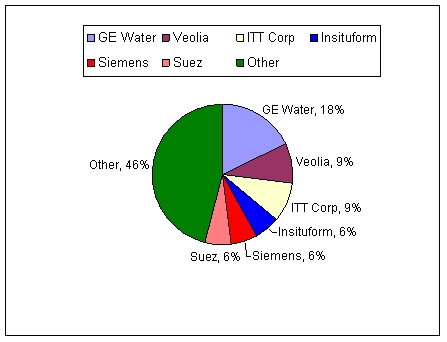 GE Water (NYSE:GE). No surprise here – respondents rank GE Water (18%) as the top company in the industry. But, GE's water unit accounts for less than 2% of overall revenues, so the impact on their business will be minimal.
As one industry respondent puts it, "GE has become a major player in this industry. They can provide the technology, engineering, financing and the manpower to operate these infrastructures."
Veolia (VE) – an environmental services company – captured 9% share in our survey. By providing water and waste management services for municipal and industrial customers, they are responsible for nearly 117 million people over five continents.
According to one Alliance member, they have even more room for growth. "Veolia is very active in all segments of the market, with ongoing discussions to expand through acquisitions."
ITT Corp. (NYSE:ITT) (9%) is one of the largest global producers of pumps and water treatment equipment, with a presence in more than 130 countries. The bulk of their business comes from North America, followed by Europe and Asia-Pacific. One industry member applauds their acquisitions, and notes their "broad product lines and well integrated strategy."
I also want to mention Basin Water (BWTR) – as it's one of the very few microcap candidates in this sector. This California-based company designs, builds and implements systems for treating contaminants in groundwater.
As one respondent writes, "Basin Water's patented Ion Exchange process has the lowest wastewater percentage and a low capital cost of equipment. They also have the fastest order to market timeframe (3 mos.) – which eliminates the need for a test plant. "
Riding the Wave
I suggest every investor ride the global water wave. Of course, it can be a daunting challenge to sort through the myriad companies. One way to participate is to invest in an ETF with a water focus, such as PowerShares Water Resources (NASDAQ:PHO).
Yet no matter how you choose to invest, it's crystal clear that the water industry will see above average growth well into the future. Now's the time to dive in.
-----------------------------------------------------------------------------------------------------------
This article summarizes the results of a recent ChangeWave Alliance survey. The Alliance is a research network of 11,000 business, technology and medical professionals who spend their everyday lives working on the front line of technological change. For more info on the ChangeWave Alliance, or if you are interested in joining, please click here.