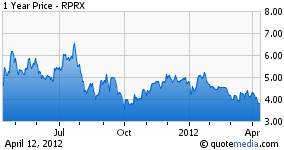 Kay Nakae, at Ascendiant Capital Markets initiated coverage of Repros Therapeutics (RPRX) with a "STRONG BUY" rating and a price target of $6.
Repros Therapeutics is a small-cap biotech company that is developing two key products. The first, Androxal, is a once daily, oral therapy for the treatment of low testosterone due to secondary hypogonadism. The second, Proellex, is an orally administered selective blocker of the progesterone receptor in women for the treatment of uterine fibroids and endometriosis.
Nakae expects the Company to advance both drugs into Phase III studies this year and believes the market opportunity for each drug exceeds $1 billion.
Although the opportunity for RPRX's products are large, it does not come without a competitive market from established pharmaceutical and biotechnology companies that are too developing products that directly compete with products being developed by Repros.
Competitors in the treatment of testosterone deficiency are AndroGel, marketed by Abbott Laboratories (ABT), Testim, currently marketed by Auxilium Pharmaceuticals (AUXL), AndroDerm, marketed by Watson Pharmaceuticals (WPI), and Axiron, marketed by Eli Lilly (LLY), and most recently receiving FDA approval, Biosante's (BPAX) Bio- T-Gel, which will be marketed by Teva (TEVA).
This will require significant capital and according to Nakae's report, in addition to the $12 million of cash the company has on the balance sheet, Repros will need to raise approximately $40 million to get its products to market.
Repros has demonstrated resiliency after a couple of setbacks with the FDA in 2007 and 2009. Since, management has worked diligently to resolve matters with the FDA and is now positioned to move forward having successfully completed its Phase 2 trials with positive results.
Nakae values the RPRX's twelve-month price target at $6.00, which is based on a forward P/E multiple of 31x net income FY2020 estimate of $196 million, which is driven by royalties from sales of Androxal and Proellex, discounted back 7 years at 65%.
This compares to analyst Matt Kaplan of Ladenburg who rates the company as a BUY with a $10 price target.
Disclosure: I have no positions in any stocks mentioned, and no plans to initiate any positions within the next 72 hours.