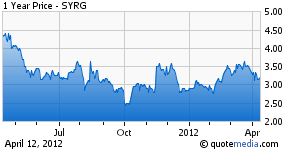 Synergy Resources Corporation (SYRG) reported financial and operational results for its fiscal Q2'12 and six-month 2012 periods ended February 29, 2012. For readers not familiar with the SYRG story, the company is a domestic oil and natural gas E&P company with its core area of operations in the Denver-Julesburg Basin (D-J Basin). SYRG's main drilling operations are focused in the Wattenberg Field in the D-J Basin which ranks as the 7th largest field in the U.S. in terms of proved gas reserves and 9th in production. We note that SYRG's acreage is targeting the liquids rich portions of the play with 56% of the company's fiscal Q2'12 production coming from oil.
Synergy Reports Record Growth on a Number of Fronts
SYRG reported record net income during fiscal Q2'12 of $6.1 million, or $0.13 per share, compared to a fiscal Q2'11 net loss of $11.7 million, or a loss of $0.55 per share. Revenues during the fiscal Q2'12 quarter totaled $6.2 million, an increase of 206% from fiscal Q2'11. Net production averaged 1,091 BOEPD, an increase of 183% from fiscal Q2'11.
For the first six months of fiscal 2012, SYRG reported net income of $7.7 million, or $0.19 per share, compared to net loss of $12.9 million, or a loss of $0.73 per share, during the first six months of fiscal 2011. Revenues totaled $10.7 million during the first six months of 2012, an increase of 208% when compared to the first six months of 2011. Net production averaged 986 BOEPD, an increase of 179% from the first six months of 2011. SYRG ended the quarter with production in excess of 1,250 BOEPD.
Click here for the news release.
100% Success Rate on Wells Drilled
The Wattenberg Field in the D-J Basin was first discovered in the 1970s. In the early 1990s, the Wattenberg was most actively drilled field in the conterminous U.S. The field's overall rank in reserves and production will give you some idea of how proved the region is for drilling oil and gas wells. The company said in the news release: "As of February 29, 2012, Synergy Resources had 157 producing wells, a comparative increase of 101 wells, which consists of 64 wells added through acquisitions and 37 wells completed since February 28, 2011." These strong operational results are driving the company's overall revenue and earnings growth. SYRG plans to drill and complete a total of 52 vertical wells in fiscal 2012 adding to the success achieved in the first part of 2012. While the Wattenberg Field has been vertically developed over the years targeting liquids rich natural gas in the Niobrara, Codell and J-Sand formations, the introduction of horizontal drilling to the field has opened up new oil and liquids rich windows within the Niobrara formation.
Horizontal Drilling in the Niobrara
Horizontal drilling certainly adds a future catalyst for growth at SYRG. During the first six months of 2012, SYRG participated in its first two horizontal wells with Noble Energy and PDC Energy, two seasoned horizontal drillers targeting the Niobrara formation in the Wattenberg Field. Sourcing PDC Energy's latest presentation, estimated ultimate recoveries (EURs) on PDC's last eight horizontal Niobrara wells are estimated at 500 MBOE per well, compared to the first seven horizontal Niobrara wells of 300 MBOE. OAG360 notes that the well cost remains the same at approximately $4.2 million per well.
Noble Energy reported in its latest presentation that the average EURs of its most recent 18 horizontal Niobrara wells were 355 MBOE per well. All in all, SYRG's Wattenberg Field horizontal well participation should make a meaningful impact to reserves and production growth. Noble reports in the presentation that in one year, the company has increased its production 3-fold and expects to be producing in excess of 32,000 BOEPD net to Noble from the horizontal Niobrara.
Source: SYRG March 2012 Presentation
Final Thoughts
While SYRG continues to drill and develop the Wattenberg field vertically, the company will seek to invest in opportunities such as drilling more horizontal wells through its participation with notable operators in the Wattenberg Field.
Click here for the previous write-up on Synergy on Oil & Gas 360.
Disclosure: I have no positions in any stocks mentioned, and no plans to initiate any positions within the next 72 hours.
Disclaimer: Oil & Gas 360® did not receive compensation for the publishing of this company note. Although Synergy Resources pays Oil & Gas 360® a monthly fee to be a profiled company on the website, Oil & Gas 360® reserves the right to publish notes and observations on any company that is sees fit to distribute.