Time Warner (TWX) is an operator of cable television stations and a producer of television and feature length film content operating in the U.S. and around the world.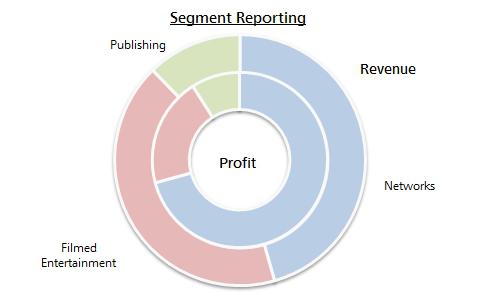 Networks is the company's largest business segment in terms of operating profit with a 71% share. The TBS, TNT, Cartoon Network, Tru TV, HBO and CNN channels are included in this segment. Revenue is generated from a mix of advertising sales and subscriber fees.
For the week ending April 8th, TBS was tied for number one as the most watched prime-time basic cable channel among ages 18-49, drawing about 1 million viewers. TNT was ranked number nine using the same metric with about 600,000 viewers while Tru TV was tied for number 20 with about 410,000 viewers. The Cartoon Network was the fourth most watched basic cable channel based on total day average viewers (the best metric for this type of programming) for the same week. HBO is a premium subscription channel with about 93 million paying subscribers.
CNN is consistently ranked number two or three in terms of total day average viewers, often trading spots with MSNBC, although both are far behind Fox News. For prime-time, CNN consistently is ranked number three behind MSNBC and Fox News.
Filmed Entertainment produces feature length movies under the Warner Bros. and New Line Cinema banners. Popular films released historically include Batman and Harry Potter. The company typically produces about 20 feature length films a year and has a back catalog of over 6,000 films. The segment also produces content for television, including such popular series as The Big Bang Theory and Two and a Half Men as well as numerous other scripted and unscripted productions. The segment represents 20% of operating profit, but also is responsible for content aired on the company's own channels.
Publishing produces 21 magazines for publication in the U.S., including People and Sports Illustrated and produces numerous titles for international distribution. The segment is also responsible for producing a number of websites, including CNNmoney.com and People.com. Publishing represents 9% of total operating profit.
For the total company, about 34% of revenue is derived from subscription fees, 21% from advertising, 43% from sales of content and 2% from other sources.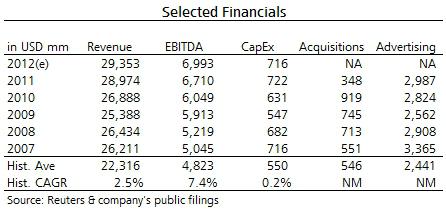 Revenue has grown modestly since 2007, with average annual compounded growth running at about 2.5%. EBITDA has grown more robustly at a rate of about 7.4%, outpacing revenue growth as margins have expanded. Some of the expansion has been due to decreased investments in advertising spend. Revenue and EBITDA have both been relatively stable having grown in each year over the period. Capital expenditures have grown modestly overall, although they declined quite significantly in the recession.
Over the historical period, the company has spent about $550 million per year on acquisitions including purchases of non-wholly owned HBO subsidiaries and investments in content production in developing markets. During the period, the company also spun-off Time Warner Cable and AOL. The financials reported above exclude results from these two operations.
For 2012, analysts polled by Reuters expect modest growth in revenue and EBITDA of 1.3% and 4.2%, respectively leaving the latter at $6.9 billion, translating to expected EPS of $3.20. Given these estimates, Time Warner should produce gross income of $8.9 billion.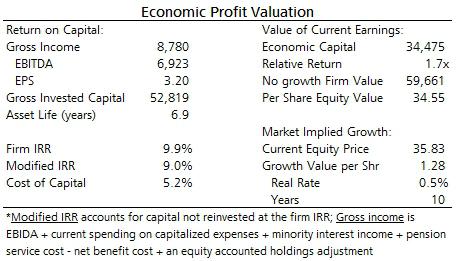 The company is currently employing about $52.8 billion of gross capital with an asset life of 6.9 years. A large proportion of Time Warner's capital is in the form of intangible assets including the impact of capitalizing advertising expenses over five years. Based on the above level of profitability, this translates into the company generating an IRR of 9.9% on its invested capital. Given the company's reinvestment rate, this implies a modified IRR of 9%, about 1.7x the cost of capital.
On economic capital of $35.5 billion, the value of the Time Warner's current income stream is about $59.7 billion, translating to a per share equity value of $34.55. The company's shares trade at a slight premium to this level, implying some growth. In my view, the level real growth needed to justify the current equity valuation in the market is 0.5% per year for ten years.
Having established a baseline valuation, it is worth thinking about the future of the business. The challenges Time Warner faces include a shift in entertainment away from television and movies toward internet based activities such as casual online gaming, user-created video (YouTube) and general web browsing. The company also faces changing viewing habits which are moving towards streaming and video on demand which may have less advantageous profit streams. Historically, the company has made strong profits on the sales of DVDs while competitive viewing methods carry less profit.
Trends should materialize slowly and allow the company to slowly grow new revenue streams while older streams stop growing and eventually come into decline. Other parts of the business, such as publishing, are certainly more likely to deteriorate in the near-term, but represent only a small portion of profit and have the nevertheless continued to perform well.
In my view, Time Warner's shares are fairly valued and may constitute a reasonable core holding for those comfortable with the future prospects of cable television-based entertainment and filmed entertainment in general. In the near term, the company will likely not show strong organic growth; a situation that should continue until digital revenue streams become more fully developed and a new revenue model for that space is firmly entrenched. Although it may take many years, once that occurs, the company's shares should start embedding growth expectations again and trade at a slight premium, although investors should expect equity-like returns excluding any multiple expansion.
Disclosure: I have no positions in any stocks mentioned, and no plans to initiate any positions within the next 72 hours.