Howard Lindzon of StockTwits is a sophisticated investor. So don't take his YouTube speech as that of a knee-jerk contrarian. 14 minutes in, he explains why he is selling Apple (AAPL) after riding the trend.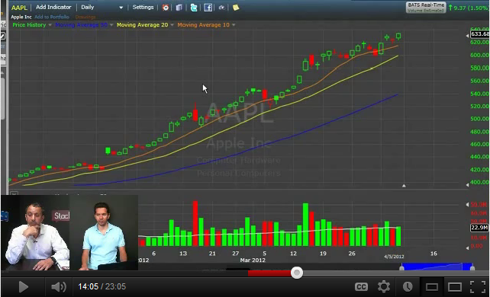 Apple. Let's talk about why I sold Apple. [...] Stock's going to go higher. [...] Just being a little contrarian. [...] 30% upside, 20-30% downside, 1 to 1 risk. [...] looking for new ideas with better risk/reward.
Howard is basically saying
Apple is an old idea with no alpha left in it
Pardon me, but here's an unnecessary reminder on where alpha comes from... it rarely comes from knowing exactly what will happen, or in which direction markets will move. Alpha comes from buying the probabilities of the uncertain movements at a discount. That's all. We may not know exactly what number these probabilities should be tagged with, but that needn't stop us from exploiting numerical ranges when something seems off about the risk/reward.
The upside number, $1,000 per share, is not particularly controversial. Let's talk about the downside. I agree with Howard, who says Apple is executing very well right now, but needs to stay ahead of competition. In other words, making great iPhones isn't enough to sustain the current price.
Components like iTunes need to be protected from competitors, like Spotify (stake owned by DST/Naspers (OTCPK:NPSNY)). Gaming, music, entertainment...a couple strong successes by emerging competition could conceivably form the catalyst for a downward correction.
All prices are relative. The decision to sell AAPL implies Howard thinks cash is worth more. But let's consider in turn what shares Howard thinks are worth more than his cash.
There are four major themes that currently capture my interest as an investor: [...] Fashiology [...]Mobile Payments[...] Biotech[...] Software
These are the new ideas that make AAPL an old idea, at least to Howard, whom the moody market may trail:
Fashionology
Howard sees a bullish incorporation of technology into fashion. I agree with him, especially on Nike (NKE). The impermeable brand, plus the technology, equals incredible, sustainable margins. They're not printing money--they're knitting it.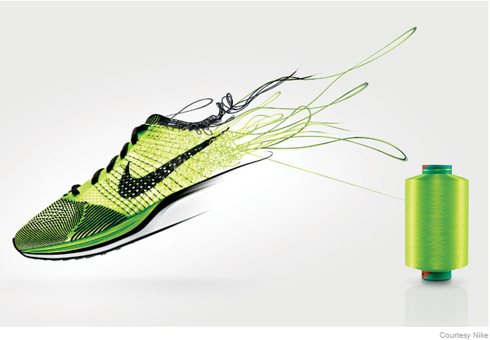 Apple has great margins, but not like this; and one could argue Fashionology is strongly priced in to Apple shares already. Everyone knows Apple is cool. A newer ideas is that traders are underestimating the coolness of Google Glass (GOOG) -- Google's minimalism, well known in software, can also sell as an accessory, because understatement is an enduring aesthetic in fashion.
Mobile payments are a compelling thesis, as cash loses its relative advantage over credit cards in terms of ease of use. I agree with Howard that in this wide trend, Ebay (EBAY) is no longer a particularly compelling direct play on growth. Especially with a brewing PR problem at Paypal. Instead, look at Visa (V), which is a "sleeping giant" according to Howard.
Biotech investing often requires dealing with uncertainty. The market is overpricing familiarity right now. This creates relative discounts within pockets of biotech, which as a infant sector is nearing all-time highs. So Howard isn't fighting the "trend" on biotech, while he is on Apple.
Software is not a monolithic category, and is easily disrupted, so you shouldn't just buy and sell it cyclically like financials. Howard likes a lot of smaller names, which is in line with my views on the cloud making innovation more scalable for the little guys.
Intuit (INTU) appears to be Howard's favorite, because like Apple, it incorporates fashionable hardware with mobile payments, which synergizes with standalone software.
But Intuit is a new idea for alpha. Apple is an old idea. That's why Howard took his profits off the table. Risk/reward is deteriorating. Don't get too greedy as the upside gets smaller.
Disclosure: I have no positions in any stocks mentioned, and no plans to initiate any positions within the next 72 hours.