In December of last year there was a big concern that China would stop importing gold (GLD, PHYS) due to lack of demand. This was derived from the fact that gold imports from Hong Kong to China dropped 62% in December 2011. As a consequence, the gold price plunged from $1,700/ounce to under $1,600/ounce.
Lately though, the gold imports from Hong Kong to China have stabilized around 40 tonnes/month (Chart 1). This drop of 62% seems to be huge, but when we look at the long term chart, the overall picture is entirely different.
On Chart 2 we see the long term chart for China gold imports. China's hunger for gold exploded just after the financial crisis of 2008. In 2011 China noted a 4 fold increase in imports.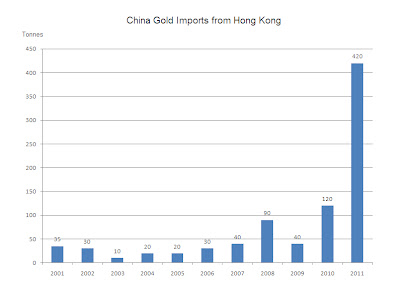 Chart 2: Yearly China Gold Imports from Hong Kong (Hong Kong Census and Statistics Dept.)
China's gold output was 361 tonnes in 2011 a 5% increase from 2010's output of 345 tonnes. China's gold production is rising rapidly, but amazingly their gold imports have surged even faster.
While China's gold output increased 5% year on year, China's gold imports increased 4 times from 2010 to 2011.
In 2001 China's gold imports from Hong Kong were only 25% of China's gold output (Chart 3). In 2011 though, China's gold imports from Hong Kong were116% of China's gold output. This means China is importing more gold than it produces. To put it briefly, China became a net importer of gold in 2011 and it doesn't look like that will come to an end soon as January and February gold imports are at a record high compared to last year.
We could state that there is a "China put" on the gold price. If gold dips, China will buy it.