Market Recap: The market continued its strength on Thursday in a somewhat peculiar trading day as the market trended higher on the back of mixed data and as confidence grew for "risk-on" trading as bond yields in some of the key worrisome European nations dropped. The interesting part was that after such weakness in the market, we had a very so-so day of headlines. Initial jobless claims came in above expectations at 380K vs. 355K estimates. Additionally, core PPI came in at a 0.3% rise vs. 0.2% expectations. At the same time, continuing claims and trade balance did drop, which were good signs.
We were pretty shocked to see how much strength the market showed today. It was definitely a very positive sign for the market to move in such a strong fashion, but we still believe that some of the issues that are there for the market are not going away. Europe is struggling in some ways, data have been weaker, and the market has made quite a run. We think a neutral approach to the market is a positive way to approach things in Q2, so we will continue to add strong bullish stocks on weakness and weak stocks on strength.

Two Trades
Two stocks we like right now are CF Industries (CF) on the long side and Joy Global (JOYG) is looking good on the downside. We like CF to continue higher from here as the stock broke out from its 50-day MA and tested the top of a price channel and resistance point at 190. The company is one of our favorites as it has high growth and good value. The company has had trouble at 190, and we added them in the AM. We believe that they are looking good to breakout from here and trend higher.
Joy Global (JOY) recently had a death cross and has been very weak since the beginning of March. We do like the company's value, but the company has not had much strength even when Alcoa (AA) was bullish on China, which is a bad side until today. We would be skeptical until the stock retakes the 200-day and 50-day MAs.
Trade #1: CF, Long
Trade #2: JOYG, Short
(Click to enlarge)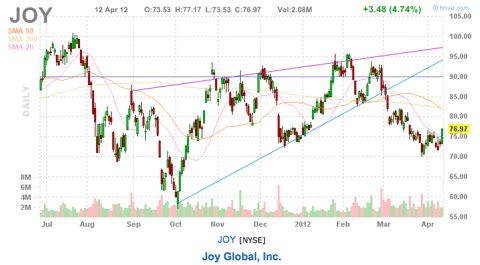 Tomorrow's Outlook
The market got a surprise strength day that we were not expecting, and we believe that the day was definitely a sign that things might not be over just yet. At the same time, the market has to deal with some definite issues. We got pretty strong earnings from Google (GOOG) in after hours that will most likely mean no major downward pressure for the market from them. Additionally, we do have some economic data and more earnings to watch tomorrow morning. JPMorgan (JPM) and Wells Fargo (WFC) do report, which will be pretty important to the financials, which have been quite strong since the beginning of the year. We get the Michigan Consumer Sentiment Index as well as CPI tomorrow. It's a busy day, and the market will see if it can follow through. Don't be fooled though, JPM and WFC could crush today's rally.
Analyst Moves
The interesting move we saw for analysts today was a downgrade of Bed, Bath and Beyond (BBBY) from Canaccord Genuity to Hold from Buy. We believe that BBBY is still one of the most fantastic options in the consumer discretionaries as the home goods industry is very much dominated by the company. They are in a great growth cyclical stage, and we see them having a lot more upside from here.
Commodity Talk
Crude is following market higher, and it will probably stay above $100 until the market drops significantly. Iran continues to keep the price at a premium. For gold, we continue to like a long position here. Gold broke the 50-day MA today, and it looks solid to move higher.
Our Moves:
We had a solid day in the market. We went long CF intraday and gained 1.5% on the position, closing half. We took gains on an Apple (AAPL) 605/600 weekly bull put spread at 0.18 for a 7.5% gain. We took gains on a Google 580/575 Apr20 bull put spread at 0.40 for a 7% gain. We also took gains on Ulta (ULTA) 89/94 bull call spread at 4.00 for a 11% gain. It was a solid day for us overall. We added the long in CF, long options play in Dollar General (DG), and reverse iron condor in Google for earnings play.
We have the following positions. In our Short-Term Equity Portfolio we are long CF, Verisgin (VRSN) and Sempra Energy (SRE). In our Options Portfolio, we are long DG, SPDR Gold (GLD), AAPL, Visa (V), Starbucks (SBUX), Ralph Lauren (RL), Google and IBM (IBM). We are short Apollo Group (APOL) and Johnson Controls (JCI). We have a reverse iron condor in Direxion Financial 3x (FAS). In our Earnings Portfolio, we are long Ace Limited (ACE), Ulta, Canadian Pacific (CP), Ashland (ASH), Coinstar (CSTR) and Goldman Sachs (GS). We are short Amazon.com (AMZN).
Chart courtesy of finviz.com.
Disclosure: I am long CF.