'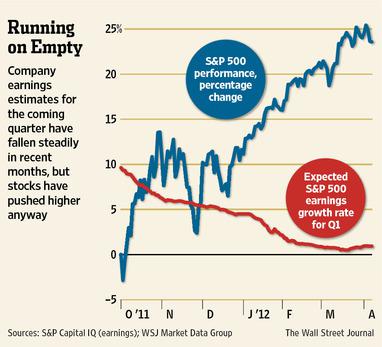 Earnings season kicked off this week with Alcoa beating expectations. In fact out of first reporting day's 81 reports the vast majority hurdled their numbers. Maybe "hurdled" is a bad choice of words considering it implies that they actually had to jump over something. The reality is that with expectations significantly lowered in recent months it is more a question of whether companies can just try to "tread water" this quarter.
The WSJ recently reported this reality:
"Analysts have been lowering expectations for both first-quarter and full-year earnings. They now expect earnings to show average growth of 0.95% over a year earlier in the first quarter.

That would be the lowest rate of year-to-year growth since the end of the financial crisis, and down from expectations of 4.5% in early January, according to S&P Capital IQ. As recently as late September, analysts were looking for 10% growth.

By comparison, S&P 500 earnings rose 8.4% in the fourth quarter and 18% in the third quarter."
The important thing to really understand here is that the earnings story would be VASTLY different if we were still holding onto the initial expectations of 10% growth from last October. However, this is always the game. With the blistering pace set in the 1st quarter 2012 market rally there are a lot of expectations for a "better than expected" earnings season already built in. Should earnings come in below the flat line estimate, or more importantly Apple (AAPL), which makes up most of that small gain in expected S&P 500 (SPY) earnings, misses for any reason - there is real risk to the downside.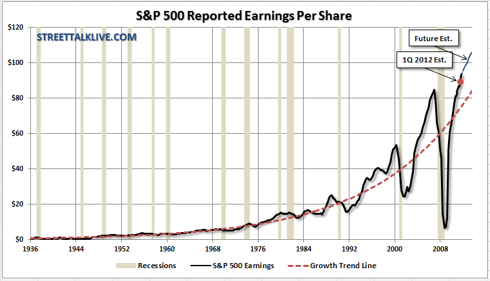 Earnings growth, like the stock market, cannot grow indefinitely. However, this is exactly what is predicted by analysts consistently. Even though earnings are already slowing - analysts still predict that they will reaccelerate in coming quarters ahead. However, like the stock market reversions to the mean happen regularly. What is missed is that not only has the current market advance already priced in lofty expectations - the underlying economic dynamics don't support a reacceleration of earnings. (If they did we wouldn't still be talking about further QE programs).
The consistent problem with mainstream analysts and economists is that they fail to factor in the normal growth and recession cycles, both economic and profit, that occur over time. Unfortunately, we are not in a normal economic cycle. In a balance sheet deleveraging cycle there tend to be more frequent recessionary spats. Given the fact that corporate profit margins are a reflection of the economy it is not surprising that, given the real underlying state of the economy and employment, that earnings growth is now headed towards flat line.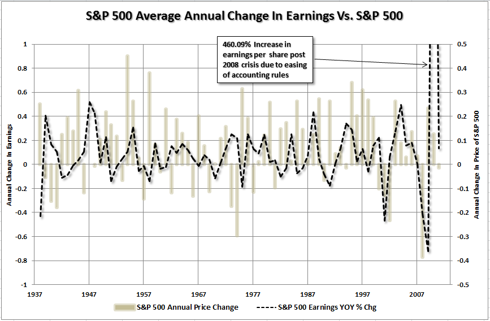 The chart shows the correlation between the year over year change in earnings relative to the year over year change in stock market performance. While the markets have set out on a blistering pace at the beginning of 2012 the sustainability of that advance is called into question as earnings growth slows rapidly. Let me be clear, this doesn't mean that the market is going to "crash" this coming quarter. However, what is important is that when earnings once again revert towards the long term mean growth rate it will negatively impact market performance. This is a major impediment for calls claiming that this is a "generational buying opportunity" in the markets today and the "compelling valuation" argument.
The average cyclical bull market runs about 3.75 years on average. Having just passed the 3rd year of this current bull market cycle it is already getting difficult to expect a continued unabated rise. However, as price rises, without a subsequent increase in earnings, the "valuation" argument becomes much less compelling.
Rising multiple expansions are necessary for secular bull market periods. These periods have only occurred when there has an underlying fundamental story. The last period of multiple expansion occurred in the 80's and 90's and was driven by a strong economic story. That economic story was further back dropped by the technological revolution, falling interest rates and inflation, rising consumer leverage, deregulation and an indulgence in deficit spending all of which contributed to expanding profit margins.
Today, the fundamental backdrop is non-existent. Stock prices have been run up on the back of massive liquidity support by both the Federal Reserve and the ECB. Inflationary pressures are trying to rise and interest rates, already at their lowest levels in history, have little decline left. Corporate profit margins have been supported not by strong underlying sales growth, in many cases, but by accounting gimmicks, massive cost cutting and increased productivity. These temporary measures do not have long term sustainability.
So, while this earnings season is very likely to be "better than expected" the reality is that earnings have most likely already reached their peak for this current bull market cycle and a reversion is much more likely than a reacceleration in the coming quarters ahead.
Disclosure: I have no positions in any stocks mentioned, and no plans to initiate any positions within the next 72 hours.