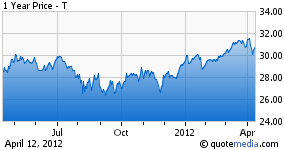 AT&T (T) has a long and rich history. However, the company has had some problems. I want to compare AT&T with competitors and examine how it fares against competition. Finally, I want show where the company is headed in the future.
AT&T stock recently settled around $31 a share. Yet, AT&T lost $6.7 billion dollars in the fourth quarter! This was due from the fees and losses incurred during the failed attempt to acquire T-Mobile. In my opinion AT&T didn't do its homework on this acquisition and it showed up in the losses on the balance sheet. The United States government blocked the deal and the Justice Department wanted to send an anti-trust message to big business and it certainly did at the expense of AT&T. The $39 billion takeover would have helped with data transmission and increased wireless spectrum which is in short supply with the new high speed video demands of smartphones.
A substantial number of customers would have been added and made AT&T the largest carrier in the United States. Unfortunately, AT&T should have talked more to its political connections and talked less to accountants crunching numbers. AT&T will get some wireless spectrum and a small increase in data capacity, but it's still not the full merger. I have to question the AT&T board of directors and CEO. Why continue to pursue T-Mobile once the government sued to block the deal? The Justice Department was going to get its way.
The Obama Administration and the Justice Department had clearly objected to the deal during the summer of 2011, but AT&T continued to press on with the deal until the end of November 2011. Even after the government filed an anti-trust suit, AT&T refused to give up on the merger. Now T-Mobile is weaker having sold some of its spectrum and capacity to AT&T; and T-Mobile has a perception of being a takeover target which may scare customers and cause them to leave. AT&T even suffered from the debacle with $4 billion in losses in the fourth quarter, and the leadership of AT&T lost some credibility. The old traditional landline service, which AT&T was founded on, is in decline and will continue to slide as more people move to cell phone and the internet for their phone service. These services replacing landlines are better deals for residential users because of the quality and price. AT&T will have to decide at some point if the landline service is worth keeping. If AT&T is going to compete, it will need to continue to grow its business in wireless cell service, cable, and internet service.
One of the cellular phone companies in competition with AT&T is Verizon. Verizon (VZ) which is trading around $38 a share has rebounded off last August's low of $33 dollars a share. Verizon has about $106 billion in market cap versus AT&T with $186 billion, but Verizon has been more than able to compete with AT&T. Verizon has been a big hit with consumers over the last year. Verizon expanded its faster 4G network, started selling Apple's iPhone, and the new LTE network is planned for the iPhone in the future as well. Verizon is offering customer friendly service with free sports apps to its 4G customers such as NFL Mobile, NHL Game Center, or ESPN Sports Center.
Verizon is also offering Spanish services for Spanish speaking customers at its stores as well. AT&T customers for awhile could say AT&T was the only wireless company carrying the hugely popular iPhone. That has changed as Verizon inked a deal to start carrying the Apple iPhone in January 2011. Customers that wanted to go with Verizon, but did not because they could not get the iPhone, don't have that limitation now. Verizon beat AT&T in a customer survey that ranked the four largest wireless carriers. Verizon added 1.26 million customers in just one quarter during 2011 while other carriers since 2009 have had trouble keeping customers. Verizon has better customer service than AT&T and better leadership. Verizon is my stock choice over AT&T for those reasons.
AT&T was beaten in the above mentioned Consumer Reports customer satisfaction survey by Sprint (S). Sprint may have been the odd man out if the T-Mobile had been acquired by AT&T. According to management at Verizon, a merger with Sprint was never even considered during the AT&T failed takeover of T-Mobile. Sprint has a better shot of surviving with T-Mobile around than if it's the last mid-size company left with only Verizon and AT&T as its competition. Sprint is still at a disadvantage to AT&T even with great customer service because of its size and smaller customer base.
Sprint rolled out an Apple (NASDAQ:AAPL) iPhone in 2011, but it won't make a profit on the phone until 2015. Sprint will have to pay back over $15 billion if the iPhones don't sell. Add in Sprint's other expensive future plans, such as Wi-Max and LTE to boost data signal speed and range, and there is not a lot of room for error. Should Sprint go bankrupt it probably would not be allowed by the Obama Administration to merge with anyone after what happened to T-Mobile. More than likely Sprint would be sold off in pieces. If I had to pick a stock between Sprint and AT&T, I would not take either one.
When AT&T moved into the Internet and cable TV platform Comcast (CMCSA) became a competitor. Comcast was one the pioneers of cable back in the 70's and been at the cutting edge of high speed cable internet. Comcast started on- demand services when movies were still rented at video stores. When most people were still getting their internet through landline telephone wires Comcast started cable internet.
Comcast created the Xfinity name in 2009 to promote the integration of Comcast cable and internet into TV, phones, tablets, computers and other devices. Comcast realized three years ago people would be getting TV shows on their phone and computer and surfing the internet on tablets and phones. AT&T just has not been very forward thinking recently. The poor service at AT&T extends into cable and internet service. The DSL service and U-verse by AT&T have slower speeds and less data capacity than the cable Comcast uses. Comcast, based on its history of being ahead of trends, has an edge over AT&T in both the cable and internet platforms. Comcast is always looking ahead while AT&T is playing from behind.
Where does AT&T go from here? The telephone landlines, the oldest part of AT&T, are high maintenance and have a shrinking customer base. AT&T will have to sale this segment of its business to prevent future losses. If AT&T continues to lag behind in customer surveys, the company will lose customers. Customer service has to become a priority. I also believe either the board of directors or share holders will eventually fire the CEO and replace some other high level management staff. Leadership is lacking, and I don't see AT&T changing its direction without some changes at the very top. Until a leadership change is made, AT&T will move sideways at best , or at worst, start to hemorrhage customers. I am bearish on AT&T, and recommend you to be as well.
Disclosure: I have no positions in any stocks mentioned, and no plans to initiate any positions within the next 72 hours.