This article continues my series on consistent dividend growth stocks with a low stock turnover ratio. This screening idea comes from research by Robert Ibbotson, a Yale finance professor. He found that illiquid stocks tended to outperform more liquid stocks (Source: "Jackass Investing" by Michael Dever). He offered three explanations for this:
Investors prefer liquid stocks to illiquid stocks; therefore they pay a premium for liquidity, making those stocks overpriced.
As the supply of capital grows, all stocks become more liquid, but the least liquid stocks receive the greatest relative benefit.
More popular stocks attract more interest and attention, which results in less chance to score outsized future price gains.
Illiquidity was defined in relative terms as the average trading volume for a stock divided by its outstanding shares. Therefore it does not just mean small-cap stocks with low floats. I modified this definition by multiplying by 365 to create an annual turnover percentage, which I felt would be easier to understand and compare.
Screening Process
I started with the CCC list of stocks (about 500) and added columns containing the average daily volume and shares outstanding. The annual turnover percentage was calculated as:
Turnover % = (Avg_Vol / Shares_Outstanding) * 365
I proceeded to sort the list from lowest to highest, and then took approximately the top half by setting a cutoff value of 200%. I'm most curious about the stocks with lower percentages, but didn't want to be too exclusive. I then screened out stocks with payout ratios above 60%. This process yielded the following stocks, in order based on Annual Turnover. There were only 7 stocks to choose from, so I have chosen to list all of them, even though some have low dividend growth rates or yields. Typically, I focus on stocks that have double-digit projected earnings and/or dividend growth rates (DGRs) over the 1-yr to 5-yr time periods.
Name
(Yrs of consistent div growth)

Ticker

Annual Turnover

Yield*

Beta*

Payout Ratio

1-YR Est Earnings Growth

1-YR DGR

3-YR DGR

Computer Services, Inc (23)

12%

1.6%

0.47

30%

n/a

14.6%

12.5%

Thomson Reuters (19)

(TRI)

52%

4.5%

0.95

-77%

7.3%

6.9%

4.7%

Cass Information Systems (10)

58%

1.7%

0.55

31%

6.3%

15.0%

10.8%

Communications Systems (10)

(JCS)

62%

5.0%

0.89

56%

14.6%

3.4%

7.7%

IBM (16)

(IBM)

150%

1.5%

0.66

23%

10.3%

16.0%

15.1%

ADP (37)

(ADP)

176%

2.9%

0.68

59%

10.2%

5.9%

7.5%

Jack Henry & Assoc (20)

178%

1.4%

0.69

28%

9.8%

10.5%

11.9%
Data with * from Google Finance as of April 12, 2012. Other data from the March CCC list.
The Stocks
Computer Services, Inc provides information technology solutions and services to financial institutions, including check imaging, cash management, intranets, and internet banking. It also offers internet services (e.g. fiber optic lines) and payment processing applications. CSVI has nearly tripled from its 2009 low of $12, and has a current PE of 19. I was unable to find earnings growth estimates for CSVI, so I can't determine if it is overvalued at this time. CSVI's dividend growth rate has been strong though and with its low payout, that trend can continue. CSVI had the lowest turnover and beta of the group.
Thomson Reuters Corporation provides business intelligence information worldwide, particularly for investment and finance areas. It also offers decision support tools, tax compliance, and accounting software to corporate and government clients. TRI has negative earnings and payout due to a goodwill write-off in February 2012. Annual operating cash flows have easily covered TRI's dividend for the last three years, so the dividend appears to be safe. It was just raised by one cent in February 2012. TRI has lower DGRs, but they are in-line with its projected earnings growth and TRI has a high 4.5% yield, well above the group average. TRI generally mirrored the S&P 500 (SPY) over the last 5 years, but has drastically underperformed it since August 2011. It triggered my -20% gap rule, so it was not purchased for my dividend growth model portfolios.
Cass Information Systems provides payment and information processing services to manufacturing, distribution, and retail firms in the U.S. It also provides commercial banking services through Cass Commercial Bank. Since 2001, CASS has been on a steady upward trajectory, reflected by its low beta, though its growth rate has slowed. With its low payout, CASS can continue to increase its dividend, though the last increase was by only 6.25%. At a current PE of 18, CASS may be a little overvalued in the short term.
Communications Systems, Inc manufactures and sells telecommunications and networking equipment and wiring, and IT solutions and services. Its customers include education, healthcare, enterprise and government markets. Earnings were flat last year, and the stock is off about 40% from its July 2011 high of $20.93. As a result, JCS currently sports a 5.0% yield and a low PE of 11. Insiders have been purchasing the stock since May 2011 at prices ranging from $13.47 to $17.97, so they seem to believe the firm will improve going forward. The latest dividend increase of 6.7% just occurred in March 2012. The firm also has very little debt.
IBM provides information technology products and services worldwide, operating in five segments: Global Technology Services, Global Business Services, Software, Systems and Technology, and Global Financing. It is the most recognizable brand of the stocks on this list, and its stock performance over the last decade has easily beaten the SPY (140% to 25%). With its very low payout ratio and continued earnings and dividend growth, IBM's upward trend should continue. In addition to IBM's strong DGR, the firm has been repurchasing stock with its excess cash flow, spending around $12B in each of the last two years. Also, renowned investor Warren Buffett recently invested over $10B in IBM, showing his interest and confidence in IBM's prospects.
ADP provides business outsourcing solutions in the areas of employer services, dealer services, and organizational services. This includes activities such as benefits administration and payroll processing, 401(k) plan administration, and business management and CRM solutions. ADP has the highest payout ratio of the group, excluding TRI, and it seems a bit pricey at a PE of 20, given that earnings are projected to be flat through June 2012, and then up about 10% for June 2013. ADP has a long history of dividend increases, so it is likely that trend will continue, though I wouldn't expect an increase of more than 6-7%, in line with the recent DGRs.
Jack Henry & Associates, Inc. provides integrated computer systems and data processing services to financial institutions, primarily in the U.S. This includes transaction processing, automating business activities, and information management. The firm has a strategic relationship with IBM. Since around 2003, JKHY's stock price has steadily risen, and bounced back nicely from the financial crisis, delivering a 35% increase in price versus 15% for the SPY over the last two years. While its growth rate has slowed since the 1990s, with its very low payout, JKHY can continue to provide above average dividend increases; it just raised its quarterly payments by 9.5% in February 2012. It may be a little overvalued at its current PE of 20, given a projected 9.8% earnings growth rate.
Low-Yield, Low-Payout
With the exception of TRI and JCS, these CCC stocks have a medium or low yield, based on the cutoffs that I established in my previous payout-yield article, and most fall into the low payout category (<33%). Each firm has a record of consistently raising dividends, with 4 of 7 delivering 10.5% or higher DGR over the 1-YR and 3-YR periods. The low payout ratios suggest safer dividends and continued room for growth. Historically low-yield, low-payout stocks tend to perform very well over the long run.
5-Year Performance (Low-Yielders)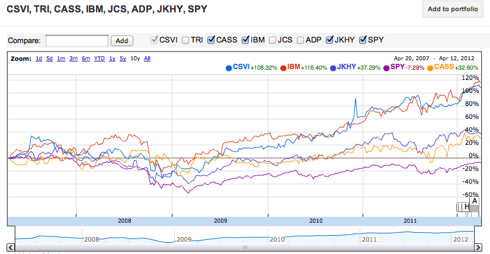 10-Year Performance (Low-Yielders)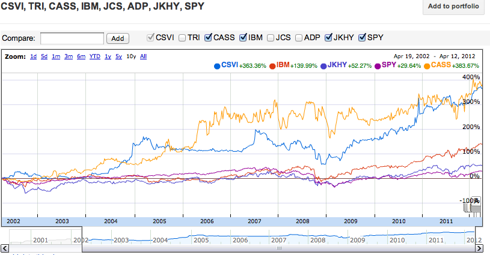 As observed in the above graphs (Source: Google Finance), the low-payout, low-yielders have performed very well versus the SPY over the last 5-year and 10-year periods, with IBM and CSVI leading the charge over both periods. CASS had slower growth in recent years.
The higher-yielders had mixed performance during the 10-year time period, as seen in the graph below. ADP and TRI underperformed the SPY, though not by much in ADP's case.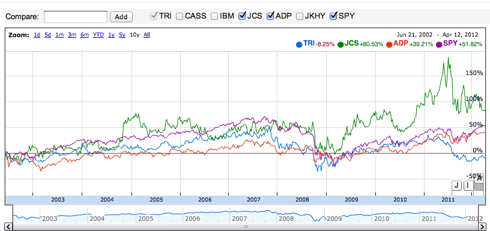 Thoughts
I found this screen to be interesting in that with the exception of JCS, all of these stocks are information service and consulting oriented versus hardware-focused firms, such as Intel (INTC) or Apple (AAPL), which I already own. The low betas suggest that this sub-sector is less volatile than the hardware sub-sector. This process also revealed some lesser-known names that I was unfamiliar with. I will need to do more research before deciding whether they are good investment choices. Of the group, I am partial to IBM given its leadership position and have been wanting to buy-in for a while now. The low payout, strong DGR, stock repurchases, and Warren Buffett's investment provide solid support for an investment. Of the lesser-known stocks, I'm curious to learn more about CASS, though it is really two businesses (bank and IT) and it seems overvalued at the moment. As a more speculative play, JCS might be interesting with its 5% yield and high level of insider buying. Assuming it meets projected earnings of $1.51, the stock could get a boost and the dividend could rise, but longer-term EPS projections were not available and clearly the firm has had some struggles. For now, I remain focused on IBM.

Disclosure: I am long INTC, AAPL.
Disclaimer: This screen is meant to identify some IT stocks with low liquidity and strong dividend growth based on historical information, as a starting point for potential investment. Readers should do their own due diligence before investing in any of these stocks.