Jim Wiandt is right: these ETFs are providing price discovery and testing all those mythical investment claims you here about.
To clarify: I'm not saying these approaches are all bad news. I generally think that market truisms, like clichés, are founded on a grain of truth.
What I was saying yesterday was that the dynamics of the buyback market have changed, in my opinion. In the past, companies bought back stock when stocks were special values. Now, they buyback stocks as a matter of course. And that may have a very real impact on the performance of a buyback strategy.
But I do love to look at these specialized ETFs and see how they are performing, even if the window of real returns is so far too short to draw any conclusions.
My favorite is Value Line. Value Line's Web site claims that its #1 Ranked stocks have outperformed the S&P 500 "by nearly 15 to 1" from 1965 to June 2007.
Truth? Historical bluster? Now we have a way to find out.
The PowerShares Value Line Timeliness Select Portfolio (PIV) launched in December 2005, and holds 50 stocks that rank well on the Value Line system. Since inception, however, it has badly trailed the S&P 500, delivering 8.02% annualized returns through June 30 vs. 13.87% for the S&P 500.
It's narrowed that gap recently, but still trails the index, as shown below (PIV in blue, S&P in red)

The PowerShares Value Line Industry Rotation ETF (NYSEARCA:PYH) has done much better, delivering 13.2% returns vs. 8.8% for the index since inception. Maybe Value Line should be advertising their industry rotation strategy, rather than this whole timeliness idea?

Another topic you hear a lot about is technical analysis. The PowerShares DWA Technical Leaders ETF (NASDAQ:PDP) has squeaked out a win over its index so far, although the timeframe on this one is very short – just a few months.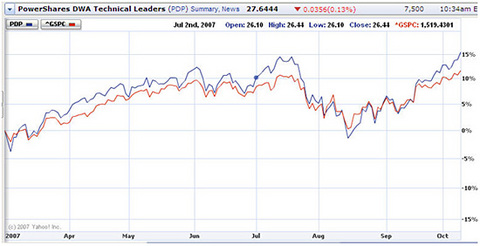 The thematic ETFs have been doing even better. Many think that these ETFs are just hopping on yesterday's big thing, but judging from the performance of two of the first "theme" ETFs, that may not give them the credit they are due.
Here's a chart of the PowerShares Water Resources ETF (NASDAQ:PHO) vs. the S&P 500 since PHO's inception in late-2005.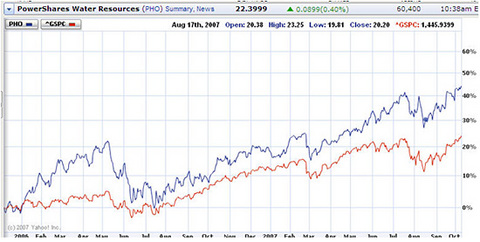 Clean energy has done well, too: here's the PowerShares Clean Energy ETF (NYSEARCA:PBW). Although the performance is strong here, the volatility is intense...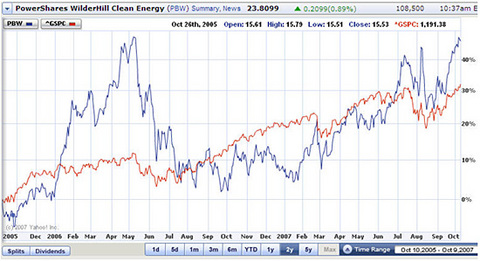 Nanotech? Not so much.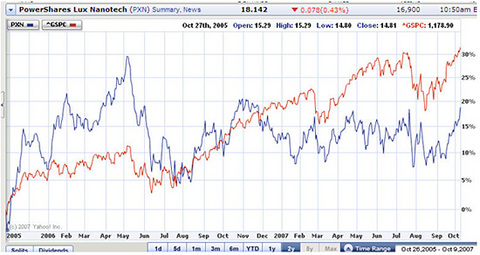 At least these product providers are gutsy enough to put their products out there, and let the chips fall where they may. In a couple of years, we'll start to have enough real, live-dollar data to say for sure if these strategies are worth the effort. For now, it will be fun to watch...
Written by Matthew Hougan