SunPower Corp. (NASDAQ:SPWR) makes solar cells and panels, used to generate electrical power from that giant star the Earth revolves around. The company also sells imaging and infrared detector products that SunPower makes using its thin-wafer manufacturing process for solar cells. Conergy is a leading customer (about 25% of sales), along with Solon AG (25%), GE/Plexus, and Integration Associates. Cypress Semiconductor owns more than half of SunPower; the parent company retains control over SunPower by holding all of the Class B common shares in SunPower, giving Cypress voting rights of around 91%.
SunPower is trading in the stratosphere, sporting a P/E of over 100 based on this year's projected earnings. Investors completely believe. Is that belief warranted?
There are some good reasons. Revenues for the most recent quarter were up 300% from the same period last year. While earnings were less than double, that was due to stock-based compensation costs that were larger than analysts expected. Going forward, some analysts believe sales will average 51% a year growth in the next 5 years. They're not venturing a guess on earnings increases.
Solar panels are in demand, and SPWR makes some of the most efficient. A key ingredient, silicon, is readily available to SPWR because of strong long term contracts and good relations with suppliers. Those contracts should reduce the cost of silicon as new ones become effective. Silicon may be the one constraint that slows production. Without silicon, there are no solar panels. But SPWR isn't resting on its contracts. It's in the lab developing thinner, even more efficient panels so that less and less silicon will be needed.
The company bought PowerLight Corp in January of this year. That gives it exposure to production and installation, eliminates certain redundancies, adds flexibility to its pricing, and allows it to react quicker to market conditions.
Here are numbers that explain some of investors' enthusiasm for the stock: There is little debt on the books (24% of capital). Profit margins are projected to go from 9.2% this year to 12.4% next year to about 14.2% within 3 years. Earnings are jumping from 37 cents a share last year to a forecasted 80 cents a share this year to $1.60 next year. Current assets are more than twice current liabilities with $175 million in cash.
Here is a number to make investors' pause: Price to Earnings ratio is over 100. That means expectations are in the stock that it will grow earnings at a very fast rate. It seems like it will, given eps are forecast to go from 80 cents to $1.60. That's a 100% growth rate. Can it keep that up? Can it deliver another 100% spurt in 2009 to justify this multiple? Maybe.
Demand will only increase for efficient solar powered energy. SunPower is on the leading edge of technology to meet that demand. With solid silicon contracts in place, supply of its most basic material is assured. But when demand is this strong and profit margins are growing, new competitors have a way of entering the field, loooking to grab market share.
This stock has done extremely well in a short period of time. If management can continue to deliver stellar earnings, it will keep right on going. But if there's any slip, for whatever reason, this stock will retrace its quick gains even faster. If you own it, be ready to sell it. If you want to buy it, know that you're getting in at the highs and that any disappointment will be costly.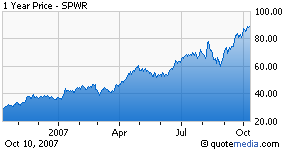 Disclosure: none