Some updates on a trio of international stocks I've followed in the past:
Telefonica (NYSE:TEF):
On 08/24/2007, I sold my Telefonica position for a small 7% gain (~28% annualized). The fact that I sold it so soon after entering the position suggests a mistake on my part but the position was making me increasingly nervous as the weeks crept on and more information became available on the Spanish economy and Telefonica's competitive position. Portfolio positioning as well as market conditions also factored into my decision as I shift away from high-debt companies and take a more defensive stance. You know what they say in sports: defense wins championships.
By some accounts, the Spanish housing bubble is every bit as bad as the now-popped US bubble with an exception: the government has little control over their currency and interest rates. If housing tanks and takes the economy with it, there's little that can be done to economically stimulate growth unless it strikes across the whole Eurozone, forcing the ECB to act.
Second, Telefonica's Latin American position, especially in Brazil, is a bit difficult. Portugal Telecom has resisted selling their Vivo stake for EUR 3 billion. Telefonica already has EUR 50B in debt, hardly a stellar position to spend more money on buyouts. Also, word came that Telefonica purchased Telecom Italia for the purpose of keeping TI's Brazilian assets out of Carlos Slims' hands. Such defensive moves hardly inspire confidence and suggests that America Movil has a competitive edge on Telefonica in Latin America.
Operationally, Telefonica has a huge debt load in a tight credit market, a monster derivatives book with little visibility and possible counterparty risk (I don't even know if it's something to worry about), a potentially weak domestic economy which accounts for two-thirds of operating profit and rabid competition in Europe and Latin America.
That said, Telefonica's 2nd quarter results were pretty good. Ultimately, it was as much a decision on portfolio management as anything. I had set an intrinsic valuation of $78-80 for the ADR and sold at $73.39. In the ensuing weeks, the stock hit my IV but I'll lose no sleep over missing a few points upside. During the recent market slide, better opportunities presented themselves. Going to cash to take advantage of future bargains beats the risk of holding Telefonica for another 7-10% upside with potential downsides short-term due to roiled markets and long-term due to challenging company positioning and competitive environments.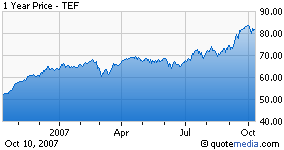 Cemex (NYSE:CX):
Cemex had actually come into our accumulation zone but I ignored it as I no longer view Cemex as an attractive investment. You'll note from the original report that I pointed out Cemex's huge exposure to the Mexican, US and Spanish markets -- 2 of which have massive housing bubbles and you could argue that the third (Mexico) is exposed via proxy. The peso is one of the few currencies not strengthening against the US dollar. Since then, disturbing news has surfaced from Mexico that makes an investment too risky.
Strangely enough, this news doesn't come from housing or construction but rather the oil industry. Mexico may become a net oil importer within 6 to 8 years. While not publicly confirmed, the rapid decline of the Canterell field and statements by experts like Matt Simmons (who was summoned by Pemex, the national oil company, to examine the problems at Canterell) suggests a strong possibility of this occuring. If this were to pass, the Mexican economy as it stands today would be devastated. Tax revenues from Pemex account for 40%(!) of Mexican GDP. The government will struggle mightily to replace these revenues. If the cost of energy spikes up during that time as well, Cemex's domestic market (~40% of operating income) would be shot and it's likely that the US market would face difficulties as well as Pemex sends most of that oil to the US.
Throw in the low ROIC, low margins and dividends paid in stock and I'll pass on CX.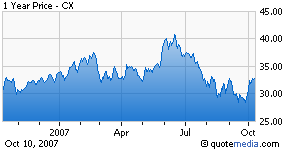 Sasol (NYSE:SSL):
In the original report, I noted the substantials risks to a Sasol position. Since then, some of those risks have crystallized. China announced a pullback in plans to explore building 2 CTL plants there. Here in the US, the energy bill in its latest iteration suggests that clean coal technology still has a bit of work to do to secure enough political support to make it happen.
Also, non-company political news came out that the South African health minister was sacked with the implication that her controversial views on AIDS conflicted with those of the President and other government officials. The deposed minister approached AIDS as a communicable disease with a focus on prevention and education. However, there is a view with sizable mainstream support that AIDS is not a serious disease but more of a hoax, somewhat like alternative views of the Holocaust.
Why does any of this matter? The company estimates a 10-15% infection rate among their workers which will affect productivity, hamper operations, increase labor costs and possibly impede knowledge retention and transfer.
Finally, the only time Sasol has made prominent headlines here in the States in the last few months was with the announcement of the divestment of 10% equity to the black community in South Africa. The Black Economic Empowerment act still imparts a sense of unease generally with the South African business environment.
All that aside, Sasol may still be an attractive investment but it is priced at our estimate of intrinsic value. The issues that led me to demand a higher margin of safety than usual. Those concerns still loom large as ever.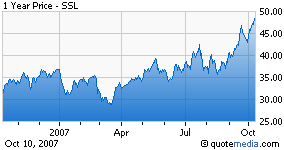 Disclosure: Author has a long position in some of the above-mentioned securities