On Friday morning, April 13, 2012, JPMorgan Chase & Co. (JPM) reported a 3.1 decline in earnings for the first quarter of the year, which was below Wall Street analyst average estimations. Last year, the bank earned its most ever in a quarter. The bank's report notes strength in mortgage revenue and also trading, which nearly doubled compared to Q4 of 2011.
Shares in JPM were down about 2 percent in the morning following their report, but the shares are up about 30 percent so far in 2012. See a recent performance chart below:
Click to enlarge.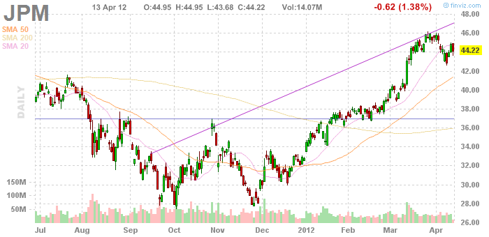 JPMorgan reported net income fell to $5.38 billion, or $1.31 a share, compared to $5.56 billion, or $1.28, in the same quarter last year. At that time there were more shares outstanding, with the reduction due to JPM's buyback plan. Many estimated the bank would earn below $1.20. Much of the increase in earnings is related to mortgage refinancing, which continues to be a popular choice for many U.S. borrowers.
Mortgage and related fee revenue was about $2 billion, compared to a loss of nearly half a billion last year. Despite this current transactional increase, the bank continues to brace itself for mortgage related losses and related expenses.
JPM acquired Washington Mutual and Bear Stearns in 2008, and acquired with them some considerable mortgage risk to add to its own. The bank reserved $2.5 billion more toward its litigation costs during the first quarter, mostly for mortgage-related lawsuits.
Further, in the JPM earnings statement, the bank warns, "We expect to see elevated levels of costs and losses associated with mortgage-related issues for a while."
JPMorgan also noted strong trading results. The bank has recently come under some scrutiny over certain large trades that the bank has been making in commodities and fixed income markets, including recent reports of a London Whale that was moving some relatively illiquid markets on its own. JPMorgan has commented that it makes investments for large institutions, sovereign funds and reserves, and that it must make investments for clients, hedge the clients risks, as requested, and hedge their own risk to holding the client's risk.
Revenue increased 6 percent to $26.7 billion from $25.2 billion during the first quarter of last year. Retail banking, including personal home loans, checking and savings accounts, earned $1.75 billion. The bank also noted that an increased rate of consumers paid their bills on time.
So far for 2012, of the large U.S. banks, only JPMorgan and Wells Fargo & Co. (WFC) have reported Q1 results. WFC also reported strong results for the first quarter. These two banks are also two of the more loved banks by analysts, with the highest projected earnings within the group.
Most large banks have performed exceedingly well thus far in 2012, though the group significantly underperformed the broader market in 2011. Of the remaining large U.S. banks, Citigroup Inc. (C) is scheduled to report on Monday, April 16, with Goldman Sachs Group Inc. (GS) reporting results on April 17. Bank of America (BAC) and Morgan Stanley (MS) report results on April 19.