As shown, all of the commodities we track are above their 50-day moving averages and most are currently overbought (red flags). The new Market Vectors Agribusiness ETF -- MOO -- is the most overbought at 3.13% above the top end of its range. MOO is followed by GLD (a gold ETF) and DBO (an oil ETF).
Commodities have been a top performing asset class throughout this bull market, and we recommend that individuals hold at least a small portion of them in their portfolios. The commodity ETFs listed below are a great way to gain exposure.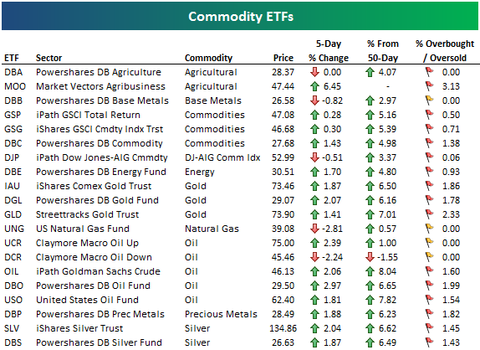 Below we provide historical trading range charts of ten major commodities. When the commodities move to the top of the green shading, they are considered overbought (vice versa for oversold).
As shown, most commodities are currently trading near overbought territory, with gold, platinum and coffee the closest. Since skyrocketing 100% since April, wheat has finally slowed down. Orange juice seems to have worked its way out of its downtrend and has formed a nice base. Could that be the next one to jump?