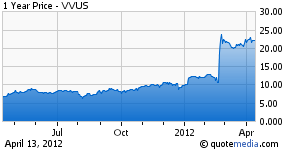 Get ready, because I believe Vivus (VVUS) is set to hit a major upside around mid to late April 2012, which will cause its share price will skyrocket. Vivus is a small company with a rather unexceptional drug pipeline covering diabetes, sleep apnea and erectile dysfunction, which already have many successful treatment courses. Vivus has one drug currently in the NDA phase awaiting FDA approval on the April 17th that could change everything for it. Qnexa is a weight loss drug that finally shows true potential to do what it is advertised to do, and steps away from the weight loss scams and fake treatments currently plaguing the market.
What makes this drug different from other weight loss drugs on the market? Weight loss has always been an elusive achievement in biotech due to the model that industries must follow to get FDA approval for a drug. First there are animal pre-clinical trials where the drug is tested on rats, mice, and rabbits to determine that the drug is not fatal and it does what it is intended to do. Then the drug moves on to human trials. Therein lies the catch, fat is not maintained or controlled in animals the same way as it is in humans.
A common occurrence in weight loss drugs is they work magnificently to decrease obesity in a rabbit, but do absolutely nothing for a human. Qnexa studies have shown that it does in fact work very well in humans. A 52 week study involving 2,487 patients across 93 U.S. sites showed that 48% of patients taking the high dose Qnexa and 37% taking a mid-dose of Qnexa lost greater than 10% of their body weight, and the rest of the patients lost greater than 5% of their body weight. A sequel study of the same patients extended the study another 52 weeks, which showed another average weight loss of 9% more from patients' body weight at the end of the first study. There are no drugs that are this reliable on the market and the only treatment that doctors could recommend before Qnexa was lifestyle change. Obesity has doubled since 1980, and in 2008, 1.5 billion people over 20 years of age were obese. People are tired of the weight loss scams, and are ready for Qnexa, a legitimate and proven weight loss drug. The market for this drug is set to explode.
Vivus projects a 52 week range of $6-$25 and a market capitalization of $2 billion. Its competitor Eli Lilly (LLY) has five competing diabetes drugs on the market. shows a price to earnings ratio of 10.38 and a 52 week range of $34-$41. Eli Lilly's market capitalization is $45 billion. Another competitor of Vivus is in diabetes drug Exubrera by drug company juggernaut Pfizer (PFE), which currently has a 52 week range of $17-$23 and a price to earnings ratio of 17.56. Pfizer's market capitalization is $168 billion. Vivus has one more competitor in GlaxoSmithKline (GSK) which has a 52 week range of $39-$47 and a price to earnings ratio of 27.42. GlaxoSmithKline's market cap is $223.21 billion.
While Vivus is a much smaller company I believe it will stand up to the competition of these other companies. Vivus and Eli Lilly both have drugs for diabetes that will compete on the market, but we cannot predict which drug will stand out in the market until Vivus' diabetes drug finished clinical trial in a few years. Yet, with all of the other diabetes drugs on the market, I doubt it will net much profit for Vivus. Pfizer has a weight loss drug for cats and dogs, but not for humans. Furthermore, Pfizer is developing melanoma weight loss drugs that it says hold great promise, but won't be on the market for a decade. Lastly, Pfizer's diabetes drug Exubera is not living up to its originally intended potential, providing no competition to Vivus.
GlaxoSmithKline is the only other company that has a weight loss drug, named Alli. Statistically, Alli can't stand up to the numbers that Vivus saw in its clinical studies. I believe Qnexa will easily be a more valued product on the market with much higher demand. To recap, aside from Qnexa obesity drug, Vivus' pipeline is not too promising for the next few years. I doubt that there is a company that can compete with its obesity drug. The major upside for Vivus is coming in only a few short days.
Vivus share price has increased 122% since the beginning of January in anticipation for Qnexa to hit the market. The Motley Fool and Seeking Alpha have recently stood behind Vivus and its obesity drug, deeming that it has momentum to keep running with. This positive press is only going to keep coming until we hit April 17th when the drug is expected to be FDA approved. I believe shares will increase accordingly in the near future. I think short term investors would be wise to align themselves with Vivus quickly before it is too late.
Disclosure: I have no positions in any stocks mentioned, and no plans to initiate any positions within the next 72 hours.