If you came to the party late, Thursday wouldn't have been pleasant. Most knew the markets were overbought and a correction could occur at any time. If you're long, the best way for a correction to occur is with some sideways action after the first down move. We got the second part today from tech, the current market leader.
The spark that stampeded the bulls was a combination of nervousness, a sell-off in Chinese internet company Baidu, profit-taking and program trading that kicked-in as the selling intensified.


Volume was heavy on selling Thursday. Did that clean out the weak holders? I don't know, but they shook the tree hard.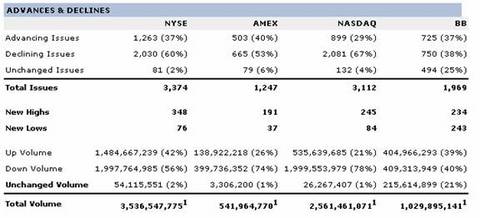 Let's take a trip around the world briefly.




I can't tell you how many days I've seen like this where markets reverse course out of the blue and the day winds up just like today. But that's the way things go sometimes.

Have a pleasant weekend.

Disclaimer: Among other positions the ETF Digest maintains positions in: QQQQ, GLD, UDN, USO, EWZ, RSX, INP and FXI.