Google's (GOOG) quarterly earnings are one of the most crucial in the technology sector, and the company's results often serve as a bellwether for the rest of the sector. After the close of trading on April 12, 2012, Google posted its first quarter earnings.
The company announced revenues of $10.65 billion without TAC, and $8.14 billion when TAC is accounted for. EPS came in at $8.75, representing growth of 58.80% from the previous year (Q1 2011 included a $550 million charge to settle a Justice Department investigation into Google's advertising practices).
Below we delve into the strategic developments of this quarter and the road ahead, we will address the financial standing of the company.
Financial Results: Full Steam Ahead
From a financial standpoint, all seems well at Google. Revenue came in at $8.14 billion, just a hair below consensus estimates of $8.15 billion. Non-GAAP EPS, however, came in at $10.08, beating estimates of $9.65. It seems that the earnings miss that Google had in the last quarter was a one-time event. The company generated $3.694 billion in operating cash flow, posting a 16.46% increase from the previous year. And the balance sheet is growing stronger. Google now has $40.422 billion in net cash, excluding the $12.5 billion that will be paid out for the Motorola Mobility (MMI) acquisition.
Click to enlarge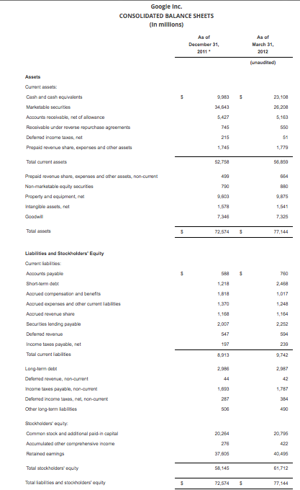 Google reported a 39% increase in the number of paid clicks, consistent with its international expansion and push into mobile. However, the company also reported a 12% year-over-year drop on costs per click, a key advertising metric (and a 6% sequential drop). We will the strategic implications of this later in the article.
From a financial standpoint, it appears that things are going well at Google. The company is expanding internationally, and investing in new businesses. Larry Page is working hard to return Google to its startup roots. But, underneath the financial performance lies a number of questions about Google's strategic positioning and where the company goes from here.
Advertising: A Business in Transition
While Google did not miss earnings estimates this quarter, soothing investor nerves on the front, the quarter did reveal a potentially troubling trend. Costs per click (CPC) declined for the second quarter in a row. In the fourth quarter of 2011, the metric declined for the first time in two years, resurfacing as a major issue for investors.
Many investors are worrying that the transition from desktop to mobile advertising is hurting Google's advertising rates. CFO Patrick Pichette defended the company, arguing on the conference call that the issue is more complex than that. Pichette argued that there were several factors responsible for the decline in CPC, and we break down the crucial ones below.
Foreign exchange: This is something that is outside of Google's control. 54% of Google's revenues come from outside the United States, and though the company has programs in place to hedge against currency fluctuations, it cannot strip all fluctuations out of its results.
Shift to emerging markets: International revenue was 53% of revenues in the fourth quarter in 2011. Google is slowly doing more and more business overseas. And while that business is growing, ad rates in Google's international markets are lower at this time than in developed markets, and as such the company's CPC's are being pressured, even if total paid clicks are growing rapidly.
Shift to mobile: The heart of Google's continued investment in the Android ecosystem is to ensure that there will be a steady increase in the number of "eyeballs" that are exposed to Google's services, and therefore its ads. Android represents Google's best defense against its worst nightmare: that a competitor will block its users from accessing Google services, such as search, Gmail, or other properties. On the conference call, CEO Larry Page argued that in the long run, the CPC metrics for mobile advertising have the potential to be better than that of desktop advertising. His rationale for such a claim is that mobile advertising has the ability to be targeted based on location. Given that the majority of spending occurs at the local level, this allows Google to extract higher profits from local advertising because it can be more useful to advertisers. Whether or not this is true is something that will not be known for at least several years.
In typical Google fashion, Larry Page chided analysts who seemed focused too much on short-term results. He defended Google's results, saying that bidding among advertisers is growing, which bodes well for advertising demand. And according to Google, lower CPC rates are actually beneficial, for they give advertisers a better return on their investment, which helps bring in more advertisers to Google's platform. It will take several more quarters, at a minimum, to get better clarity on where costs per click are truly headed. We now turn to what is perhaps the biggest development surrounding these quarterly results: Google's stock split.
Splitting the Stock: Who Benefits?
In announcing its quarterly results, Google also announced that it will be splitting its stock. But, in keeping with the Google tradition of disregard for Wall Street, this will not be the usual kind of stock split. Rather than simply doubling the number of shares outstanding, thus cutting the share price in half, Google is creating an entirely new class of stock, that will trade separately from its existing shares.
As a reminder, Google currently has a dual class structure. The publicly traded Class A shares entitle holders to one vote per share, while Class B shares, held by Larry Page, Sergey Brin, and Eric Schmidt, entitle holders to 10 votes per share. This structure has allowed for the triumvirate to maintain control of Google, thus freeing the company from the whims of Wall Street. Google rarely bothers to hide its disdain for analysts and those who obsess with the short-term performance of the company. The only reason that Google even has quarterly earnings releases is because they are mandated by the SEC.
Google's share structure allows for Class A holders to receive full economic interests in the company, while having virtually no say in how it conducts its business. While the company's corporate governance in this regard is controversial, it does not appear to be hurting Google. Since its IPO, shares of Google have risen by more than 500%, trouncing the S&P 500's 26% gain.

In the 2012 Founder's Letter, CEO Larry Page framed this move as beneficial to stockholders. He noted that Google investors have long called for a stock split, and this is effectively a stock split, for existing investors will receive one Class C share for every share that they own. The difference will be that these shares will carry no voting power. The reason, in our view, has to do with share-based compensation and the dilution of Page's, Brin's and Schmidt's stakes in the company.
Google has a long history of paying its employees in stock, and many early Google employees became millionaires when the company went public. And Google is not stingy with its compensation. Share-based compensation expense jumped to $556 million in the first quarter, up from $432 million a year ago. That works out to $16,809.26 per employee in just the most recent quarter. Whether or not this is the proper thing for Google to do is not the issue here. What is the issue is what this is doing to Google's share count. Google's share count has been steadily rising for the past several years, as the company ramps up hiring and grants these employees generous stock options.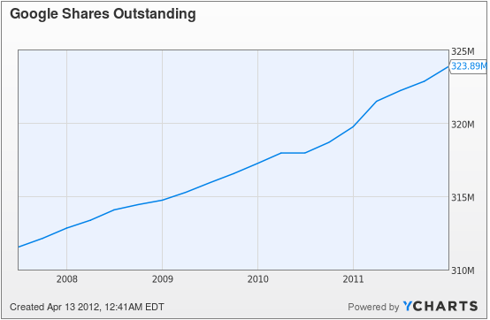 While Google may be paying its employees in Class A stock, which has just one vote per share, over time these shares add up. With the advent of Class C shares, Google can now compensate its employees as it has in the past, but without granting them voting power. Google argues that this move is best for shareholders, for it helps preserve the structure that has made Google so successful since its inception. But corporate governance watchdogs are critical of the move, arguing that it is unnecessarily complex and shows how paranoid Google is about losing control of the company's strategy.
In addition, many existing investors have expressed a desire to see a dividend instead of this stock split, arguing that Google has more than enough domestic cash to return capital to shareholders. And yet, major Google investors such as the Solaris Group have accepted this move, saying that even though such a move may not be ideal, it is not enough to convince them to sell. We agree. Investors in Google have always known that even though they and the founders have the same economic interest per share in the company, it is the founders that control where Google is going. This move is simply serves to further prove that notion, even if it is one of the more bolder moves Google has made to show its disdain for Wall Street. We do not believe that investors should be surprised by this move.
Conclusions
This quarter serves as evidence that Google is a company in transition. The Motorola Mobility deal was not discussed on the conference call, and executives spend much of the call defending the company's performance and strategic initiatives. Clicks are growing, but costs per click are dropping. Google is besieged by competitors on all fronts, from mobile [think Apple (AAPL)] to payments [think eBay (EBAY) and Amazon (AMZN)] to social networking [think Facebook (FB)]. Though Google is holding its own at the moment, the future is far from certain (though the same can be said of any company in this sector).
We believe that a decision on whether or not to invest in Google hinges on whether or not you believe in the strategic vision of Larry Page, Sergey Brin, and Eric Schmidt, for it is these three men who control Google, and will be guiding it for the foreseeable future. So far, they have led the company well. Whether or not they will continue to do so is something that each and Google shareholders, existing or potential, must decide for themselves.
Disclosure: I am long GOOG, AAPL, FB.
Additional disclosure: We are long shares of GOOG via a mutual fund that assigns the company a weight of 2.24%. We are long shares of FB via GSV Capital and the Firsthand Technology Value Fund