Finally. The world is gradually coming to the realization that hedge funds are not the only financial institutions with an occasionally heavy thumb on the illiquid securities valuation scales.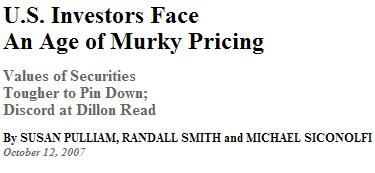 Such pricing problems have become common in some of Wall Street's biggest markets. The burgeoning universe of complex securities based on mortgages and other assets has turned the once-simple task of getting a price quote into a confounding undertaking.

Today, "way less than half" of all securities trade on exchanges with readily available price information, according to Goldman Sachs Group Inc. analyst Daniel Harris. More and more securities are priced by dealers who don't publish quotes.

As a result, money managers can no longer gauge with certainty the value of some assets in mutual funds, hedge funds and other investment vehicles—a process known as marking to market. An official at the Securities and Exchange Commission said recently that some bond mutual funds might be using outdated or unrealistic prices to value their portfolios.
Not to mention the portfolios of certain investment banks that claim to have come clean about their exposures. Excellent reading, if not a lot that's news for anybody who regularly struggles with these challenges. But it offers a telling anecdote of the consequences of trying to mark a portfolio honestly when the paycheck comes with a UBS (NYSE:UBS) logo in the top left-hand corner. Oh, and with all due respect to whoever wrote the headline, it's not just U.S. investors: it's everywhere, and it will get much, much worse.
Stanley O'Neal Kool-Aid drinkers: Your Jonestown charter is boarding now.
US Investors Face An Age of Murky Pricing
By Susan Pulliam, Randall Smith and Michael Siconolfi
The Wall Street Journal Oct. 12 2007