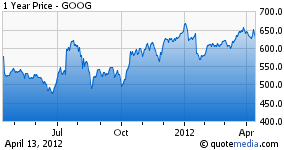 Google (NASDAQ:GOOG) announced a stock dividend of one share of new Google Class C (non-voting) shares for each current share of Class A or Class B held. On the face of it, this appears to be the same as a 2 for 1 stock split. It is not.
When Google went public in 2004 the company sold Class A shares which have one vote per share and trade with the symbol GOOG.
Google insiders have Google Class B shares which do not trade publicly and have 10 votes per share. The Google insiders can control the company with a small percentage ownership because of this difference.
Now, Google is paying a stock dividend in new Class C shares. These shares will have no voting rights.
Why is this happening? Not because Google wants to enrich the public owners. This move will enable the insiders who control the Class B super-voting shares to eventually sell these new shares and not give up any voting power.
Why does this matter to you? I think it will be an overall negative for the Google shares that trade.
1) The new Class C shares will not be worth as much as the current GOOG shares. Not because they are non voting shares, but because they will not be part of the S&P 500 Index and NASDAQ 100 Index. This will reduce the Google representation in these indexes (and others) and funds such as SPY and QQQ will likely sell the new Class C shares.
2) If only the current GOOG shares are counted in the indexes the Google index representation will be reduced by 50%.
3) The most valuable shares will be those that are included in the indexes. When Chipotle (NYSE:CMG) had two classes of shares, the non-voting shares that were in the S&P 500 index consistently traded at a 10% premium to the shares that were not in the index. I would expect the new Google shares to trade at least a 10% discount.
4) This is a move by the Google insiders to have their cake and eat it too. Look at Ford (NYSE:F) which went public in 1956. The Ford family has less than 6% ownership of the company, but with super voting shares they control 40% of the votes which gives them total effective control. It seems that the Google insiders are trying to do the same.
5) Look for a sizable Google secondary offering shortly after the new shares are issued and trading.
Conclusion: The new shares will be less valuable than the current shares, index representation will be reduced by 50%, and share offerings by insiders are expected later this year. All of these would indicate pressure on the share price in the future.
Disclosure: I have no positions in any stocks mentioned, and no plans to initiate any positions within the next 72 hours.