Angie's List (ANGI) suffered a blow Thursday as it wished farewell to outgoing Chief Operating Officer Scott Brenton, who had been with the company since 1999, just four years since its inception in 1995. Leaving to start his own company, Scott's departure appears ill-timed as Angie's List continues to search for ways to control its costs internally and tighten up its ship as the company searches for a way forward towards profitability. The company, whose success has grown with the Internet as a pay-for-service review listing website, operates as a consumer-driven forum for its members to research, evaluate, and ultimately review the professionals they encounter.
Having recently come off their initial public offering in November 2011, the company managed to raise $114 million through its IPO that was managed by Bank of America. The popular market reception for the IPO was more than favorable and investors sent the stock price higher to just shy of $20/share in late March. Yet analysts, including Bank of America's own specialist, took a less than enthusiastic stance on the company's outlook. Bank of America gave the company a neutral rating back in January, as did RBC Capital.
Recent IPO company and review listing peer Yelp (YELP) also came up short recently when it came to the opinions of the analysts. With the expiration of the quiet period, not a single analyst of the four covering Yelp labeled the company with a buy rating, citing concerns over recent valuation. In an interview with CNBC, analyst Jason Helfstein states, "[Yelp is] also at current levels the most expensive stock on an enterprise value to sales within the Internet sector." Despite endorsing the industry's likely positive outlook in the long-term, the general consensus appears to show much restraint in light of the activity being witnessed.
Not too different stands Angie's List, whose shares currently still trade 15% higher than its IPO price despite a recent pullback from $19.85 in late March, a 53% premium over its IPO price. While it stands clear that the market has little concept of a fair valuation for the company in light of the market pricing uncertainty behind social IPOs, the one fact that appears to remain a constant is that the company continues to dig itself into a deeper hole fundamentally as witnessed by the company's filed 10-K.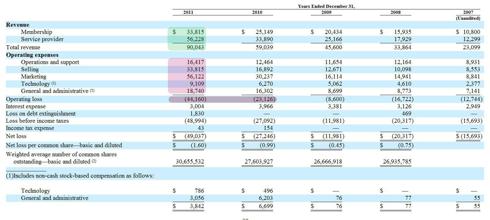 Despite its increasing membership and service provider revenues, the company's operating expenses continue to outpace the sales made by the company. By year's end 2011, the company saw a 63% increase in operating expenses when compared against the 2010 results as expenses grew from $82 million to $134 million. This was in stark contrast to the meager 52.5% increase in revenues over the same time period as revenue growth grew from $59 million to $90 million.
Perhaps the most surprising of these results was the fact that this was not a one-off event. From 2009 to 2010, the company's revenues grew from $46 million to $59 million, a 29% increase. Yet over the same time period, the company's operating expenses outgrew this pace in revenues with growth of its own. From 2009 to 2010, operating expenses rose from $54 million to $82 million, an astonishing 52% growth rate pushing the company ever further into the red ink.
With a net loss of $49 million in 2011, the one thing that remains questionable for Angie's List is whether or not the company will be able to reverse the trend and bring the company into profitability. Even then, investors should consider the time span it would require for the company to do so. Above all, it requires a good thought into how profitable the company can actually be once it does, assuming that it will.
As time progresses, the hype behind these social IPOs appears to be waning. For instance, the much anticipated Groupon (GRPN) initially rose north of $25/share after its IPO and yet now finds its humble place trading at $$13.23 at time of writing. OpenTable (OPEN), the digital application-led restaurant reservation and review site, once sported a share price over $110/share, and yet now finds itself trading at $42.05. The much anticipated Pandora (P) was well received with a share priced that touched the $20/share mark before falling down to its current $8.76 level.
As appears to be the trending case for social IPOs, much of the hype created by the company's own business model based on popularity needs to eventually be supported by tangible results that convey value. In the case of Angie's List, albeit now equipped with additional capital, its recent performance in prior years suggest a very steep hill to climb when it comes to bringing the company back on track. Above all, apart from the hopes of dishing these shares onto another unsuspecting buyer at a higher price, any investor longing to capitalize here needs to really question what it is he's investing in. For a company currently priced with a rough $840 million market price tag, losing $49 million a year and growing, having only $111 million in total assets, and supporting a mere $46 million in shareholder equity isn't exactly a bargain that many might be hoping for. If nothing less, shareholders can almost surely count on the need to raise additional capital in the time to come.