Shorting a common stock is an investment technique were an investor borrows shares to sell in the open market. The investor profits when the value of the shares decrease, because they would be able to buy back the borrowed shares at a cheaper price. In a "naked" short sale, the investor sells the shares but does not borrow or arrange to borrow the shares. This results in the seller failing to deliver securities to a buyer when it comes due, this is known as a "failure to deliver" or "fail."
Many investors fear investing in Chinese firms because they believe the majority of these companies are frauds, so Legitimate and profitable Chinese firms are grouped together with the bad apples. This article is going to look at how Deer Consumer Products (NASDAQ:DEER) is one of the firms that has been discarded due to the fact it's a Chinese RTO. We will show:
Naked short selling is driving the price down
How the company is fighting back
Why the firm will probably go private or trade above $11/share
Naked Short selling is Driving DEER Share Price Down
Although naked short selling is not illegal, the act of creating actual or apparent active trading in a security or to depress the price of a security is illegal under regulation SHO. We tested to see whether or not DEER`s share price is being manipulated by naked short sellers. We compared DEER`s share price and naked short ratio - the ratio of naked shorts (failure to deliver) to volume of trades for the day. to the share price and naked short ratio of 4 other Chinese RTO`s that also had negative articles written about them.
Our theory is that if DEER`s share price was not being manipulated, then their naked short ratio would be the same as the other Chinese RTO`s. The Chinese RTO`s looked at are China MediaExpress Holdings (OTCPK:CCME), RINO International Corporation (OTC:RINO), Duoyuan Global WTR (OTCPK:DGWIY) and Puda Coal Inc (NYSEMKT:PUDA). The reason these firms were chosen are twofold; (1) they had negative reports by bloggers/short sellers, and (2) their share price was driven down after the negative reports.
China MediaExpress Holdings is a firm that sells advertising on passenger buses in the People's Republic of China. On Feb 3rd, 2011, the firm Muddy Watters LLC issued their first negative report on CCME.
Click to enlarge.
This negative report put a lot more scrutiny on CCME. This was followed up by a second negative report on March 2nd, 2011, which eventually caused the stock to be halted by NASDAQ on March 14th and eventually delisted on May 19th, 2011. The blue line on the above graph shows the share price movements of CCME from January 15th 2010 to June 22nd 2011. The red line represents the ratio of naked shorts to share volumes. The above graph shows that even though CCME received tremendous negative attention, there was not a lot of naked shorting.
This same pattern is seen for RINO International Corporation, Duoyuan Global WTR and Puda Coal Inc. The pattern is simple; we see a blog create a negative report about a specific Chinese RTO, then the various exchanges halt trading for that firms shares, and eventually those shares are delisted due to either bad management response or accounting inconsistencies. With these patterns we also noticed that even though the shares of these firms were being shorted, the amount of naked shorting was still very low.
Rino International Corporation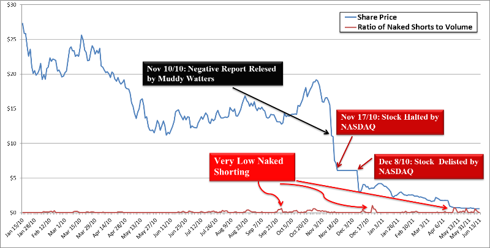 Duoyuan Global WTR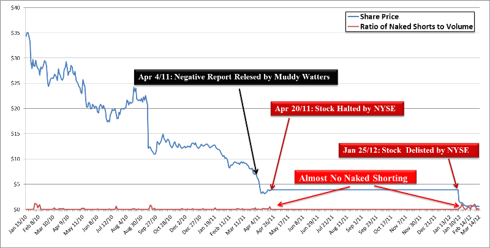 Puda Coal Inc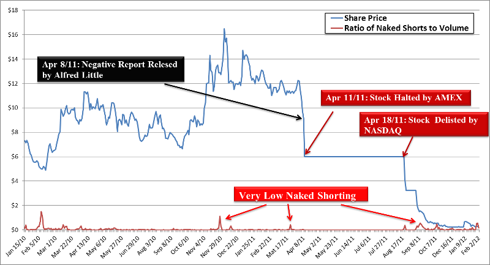 The exception to this was DEER. In DEER`s case we saw that even though it received numerous negative reports from these blogs, the company was not halted from trading or delisted. On the other hand, there was an extremely large amount of naked short selling in the company's shares.
Deer Consumer Products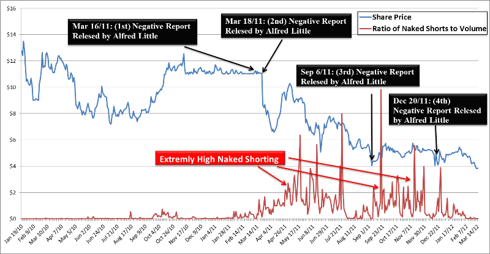 The company is currently fighting back against these short sellers who are allegedly distorting and driving their share price down.
How the company is fighting back
In order to restore investor confidence, DEER responded to the negative reports by posting a rebuttal to all the negative claims made on their website. They also filed legal proceedings in New York State Supreme Court against those parties making allegedly false claims about their business operations. Unlike many other short sellers and bloggers which disclose their identities to their readers, the authors of the negative DEER reports hid their identities from the public because they claimed fear for their lives. This is relatively odd, because most bloggers like Carson Block of Muddy Waters LLC and Majid Soueidan and Dan David of GeoInvesting LLC are proud of uncovering corporate malfeasances in Chinese RTOs.
The company insiders for DEER have also purchased large blocks of shares rather than sell shares, in order to show they are a legitimate company. They have also implemented a Share Lockup provisions that restrict the sale of any share by insiders until 2013. On top of all of this, DEER introduced a special quarterly dividend on March 29, 2011 and has consistently been paying these dividends, which yielded investors 4.77%.
To get a better idea of what was happening to DEER's share price and which groups were creating these negative reports, we delved into the background of these bloggers. Since we were not able to get the identity of Alfred Little, we looked into another blogger who heavily promoted DEER Consumer Products as being a scam.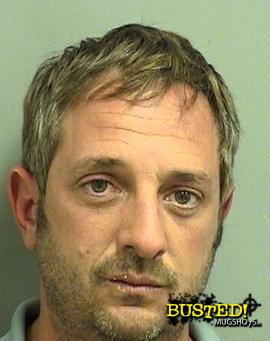 Andrew Left is a popular short seller who runs the website citronresearch.com and he had written many negative reports on DEER. He had also given interviews on financial news networks like Reuters to discuss DEER. His analysis for the firm being a fraud is basically that they didn't sell a lot of their products on a specific Chinese retail website. This can easily be countered by doing a little more research and finding a website where they do sell a lot of products, for instance Tmall.
We believe that one of the reasons DEER`s share price has plummeted is due to the financial media networks not countering any of the claims made by short sellers, or perhaps even looking into the backgrounds of those they interview. When we looked into Mr. Lefts's background we found that he had a history of fraud claims made against him by the National Futures Association, which is a watchdog for the commodities and futures industry. They wrote:
The panel found that Left made false and misleading Misleading statements to cheat, defraud or deceive a customer in violation of NFA compliance rules 2-2(a) and 2-29(a)(1). Left's conduct was inconsistent with just and equitable principles of trade.

Consequently, the panel barred Left from association with and from acting as a principle of any NFA member for three years; ordered him to take an ethics training course; and placed restrictions on his activities for two years which prevent him from supervising any AP and require him to tape records and log all conversations with current and potential customers.
If an investor is to rely on information provided by a short seller who gains on the share price going down, they should also know the credibility of that individual. We are not saying that Mr. Left did anything illegal regarding DEER, but we believe based on his history with his former employer, Universal Commodity Corporation, that investors should have been wary.
We also believe that because of the amount of time and effort it takes to research a company -- especially a Chinese RTO -- is great, investors rely on people like Mr. Left and Alfred Little for their information. And this sometimes causes legitimate Small Cap firms shares to be at the mercy of unscrupulous bloggers.
Why the firm will probably go Private or Trade above $11/share
This will be a big year for Chinese appliance makers, because policy makers in the Peoples Republic of China have introduced a second 4 trillion Yuan ($634 billion) stimulus package. This stimulus was introduced to increase domestic consumption, and a Goldman Sachs report said that "the major beneficiary is mass market consumption as disposable incomes rise faster than wages."
DEER is perfectly positioned relative to their counterparts in this space. They wrote in their current and previous annual reports that with the growing middle class in China there would be an increased demand for small appliance goods, such as blenders, microwaves etc. There is even a video that we were able to find that highlighted the company's strategy. In addition to the video there are multiple reports that show DEER's production facilities, as well as retail locations that carry DEER products.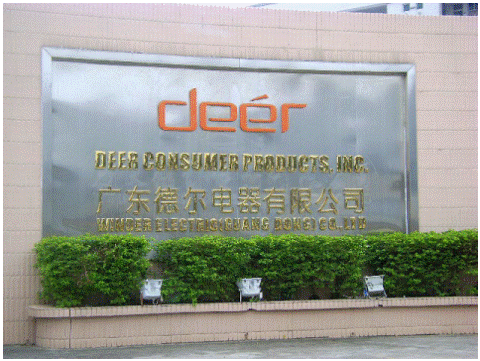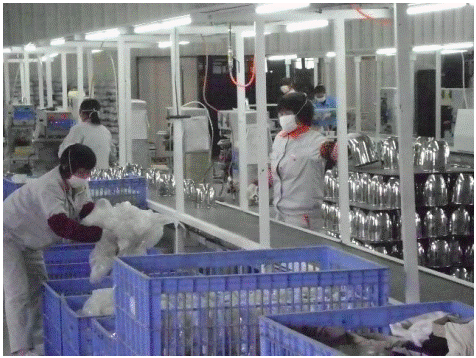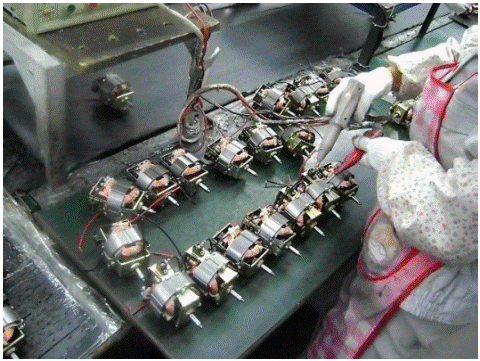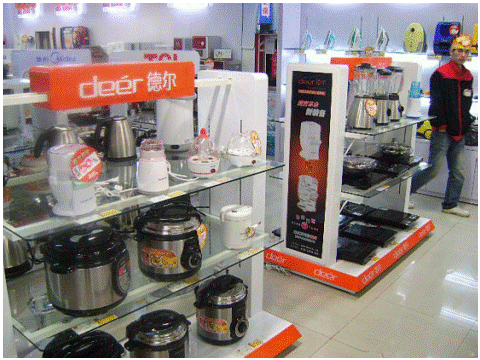 We analyzed DEER's performance relative to its competitors in the Small Electric Appliance space, we found that based on DEER's performance the firm was extremely undervalued. We compared DEER (data from 2011 annual report) with Gd Midea Holding Co Ltd and Hisense Electric Co Ltd. DEER, unlike their competitors, focuses exclusively on small electric appliances, because these have the largest margins. On top of small electric appliances, their competitors also sell larger appliances like refrigerators, washing machines and air conditioners, which have a lower margin. The table below compares not only the P/E(Price Earnings Ratio) of the three firms, but also uses more robust valuation ratios like EV/EBITDA and EV/OP.

The above table shows that on March 20,2012 DEER traded at a P/E that is less than one third of their competitors. When we look at the EV/EBITDA ratio, DEER traded 2.34 times less than Gd Midea Holding and almost 5 times less than Hisense Electric. The EV/OP ration showed the firm traded at 2.47 times less than Gd Midea Holding and 5.23 times less than Hisense Electric. The second table compares the various Returns and turnover levels for the three different firms. We see that DEER has greater returns and shorter turnover compared to their counterparts.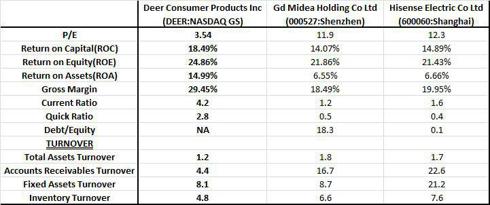 The final table shows that DEER has comparable earnings per share and insider ownership as their competitors, but it's dividend yield is more than 4 times greater.

Through our comprehensive analysis of DEER, we concluded that there is no real legitimate reason this company should be trading at $4.20 or less. It is very likely that there may be some consorted effort to drive the price level down. This is why we believe that the company will most likely either go private, or trade at a comparable P/E as their counterparts. If the Firm were to trade at a P/E of 10 (less than Competitors), the share price of DEER would be anywhere from $11.80 to $13.40 [1.18(EPS for 2011)*10= $11.80, if using projected 1.34(estimated 2012 EPS)*10= $13.40].
The last point we can make about DEER's current growth is to mention that they are expanding. We looked on Monster.com (China version) and found that 188 (as of April 12th 2012) positions were currently available.
Disclosure: I am long DEER.