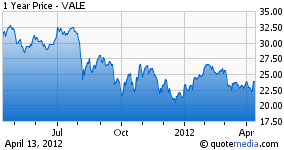 Brazilian iron ore company Vale (VALE) offers an interesting dilemma for investors. The company's financial results have blown up - in the very positive sense - over the past few years. However, the share price has moved downward and currently trades over 30% lower than the share value at the start of 2011. The result is a company whose revenue and profits grew by 30% last year and the share price declined by an equal percentage. The question is then, is the market forecasting a decline in sales and profits for Vale or is it just wrong?
One possible cause for the disparity between financial results and share price results is the overall action of the Brazilian stock market. However, over the same 15 months discussed above, the IBOVSPA - Sao Paulo stock index - has dipped and recovered a major portion of the mid 2011 decline. Another line of thought is that the global markets are just not fans of the large iron ore companies. Both Rio Tinto (RIO) and BHP Billiton (BHP) are down over 20% for the same time period. Vale may be down further than Rio Tinto and BHP due to the Brazilian miners' greater distance from the primary Chinese steel production market. Probably the over-riding reason for weakness in the iron ore miners is the perception that a slowing Chinese economy will result in slowing steel production and iron ore purchases.
The markets and stock analysts believe the iron ore companies will see flat revenues and lower earnings on slow growth from China and competition from new ore sources. The Wall Street consensus estimates predict revenues for Vale will be down 2.5% in 2012 and net income per share will drop by 14%. Here are a few reasons why Vale's results will not fall as much as predicted by the analysts:
Slowing growth means the Chinese economy will only expand by 8.2% in 2012. According to Vale's management, housing construction in China - which consumes a large portion of the country's steel production - will be supported by an increase in social housing construction.
New iron ore projects in places like China have high production costs and low quality ores. These mines need the current, high iron ore prices to be commercially viable. If ore prices stay high, Vale continues to make money, of prices fall, the company loses some competition.
Increasing global auto production will help bolster the demand for iron ore.
Vale has and is developing a global distribution network using the company's new fleet of very large ore carrier ships - Valemax class - to provide low-cost transport to Asia and the Middle East, where the ore is transferred at a Vale owned facility to smaller ships which can navigate local ports.
Vale management expects a tight global demand for iron ore in 2012, and hopefully, they have a good understanding of its markets.
The result of these projections is that there is a high possibility that Vale will significantly exceed estimates in 2012. Just getting close to last year's revenue and earnings numbers could push the stock up 30%. A growth year could mean a 50% gain. Add in a nice dividend - the company paid $1.74 per share last year - and investors could experience a total return of 35% or better for the year.
The Vale share price has not been this low since the fall of 2009. In 2010, Chinese iron imports declined by 10%. That scenario will not be repeated for 2012 and Vale is an attractive value at the current value of just under $24.
Disclosure: I have no positions in any stocks mentioned, and no plans to initiate any positions within the next 72 hours.