Last week we saw a broad-based rally that was led by the SPDR Homebuilders ETF (NYSEARCA:XHB). This week has a more muted upside bias:
In terms of overall advancers versus decliners, 56% of my list is showing a gain while 44% is down. In addition to the slight nod to the advancers, the graph above shows the largest gains outpaced the largest declines. In other words, we have a slight skew to the upside both in terms of how widespread the buying was and the magnitude of it. Click to enlarge: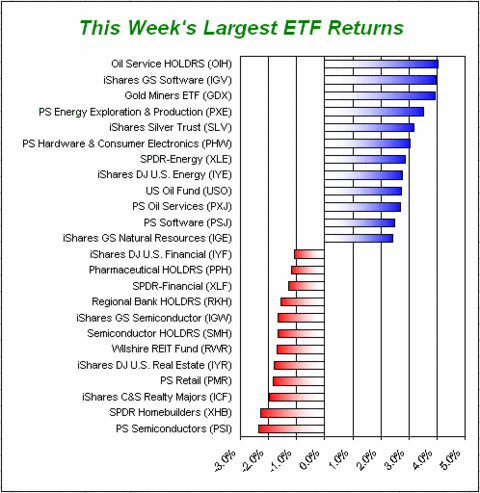 In broad strokes, the strongest groups were related to energy/commodities and select technology. The top of the list was more or less a 3-way tie between the Oil Service HOLDRS (NYSEARCA:OIH), iShares GS Software (BATS:IGV), and Gold Miners ETF (NYSEARCA:GDX). All 3 of these funds are trading near all-time highs. The IGV was given a boost Friday as a bid for BEA Systems (BEAS) by Oracle (NYSE:ORCL) sent BEAS shares surging more than 30%.
A look to the decliners' side of the list shows semiconductors, housing, retail and financials. Last week's column showed the SPDR Homebuilders ETF (XHB) was trying to bounce off its recent lows, but this week's action shows little follow-through. Semiconductors were hit especially hard in Thursday's broad-market reversal, and while they did appear be trying to bounce back Friday, it hasn't been enough to save the week.
Index performance year to date (click to enlarge):