Etruscan Resources Inc. (OTC:ETRUF) reports that construction at its Youga project in Burkina Faso is again accelerating now that the summer rains are receding. Progress is advancing, allowing the Company to schedule their first gold pour in December of 2007 with anticipation of reaching full commercial production by the end of March, 2008. Production from Etruscan's 100% owned Youga project should provide approximately $20 million for exploration of its land position in West Africa, the largest of any mining company, without diluting shareholders.
Figure 1 – Foundations Poured at Youga, December 2006 (before)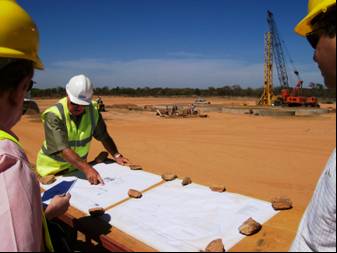 Source: Analyst

When we visited the Youga project last year we were impressed with the level of planning and preparation to complete such a challenging project (Figure 1). The project is located in a land-locked country with very little infrastructure, significant distance to commercial centers, and wet summer months. Based on relative construction experience of Etruscan's peers in West Africa, analysts on the visit to Youga were politely skeptical of the Company's chances for completing the project in 12 months. Etruscan previously completed construction of the Samira project in Niger, a harsher and less hospitable environment, so we were respectfully optimistic.
Figure 2 – View from on Top of Conveyor 6 of the Plant at Youga, September 2007 (after)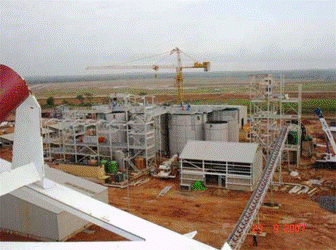 Source: Etruscan
The Youga project remains substantially on schedule and the budget has increased to $67 million from an original budget of $54 million. While the budget and/or schedule increased due to a wetter than anticipated summer, slowing construction and delivery of critical path components, Etruscan also invested in a back up power source - a 10 MVA diesel-fired back up power plant, which should allow commissioning to begin in November until the main power line from Ghana is completed in December.
The 11 km water pipeline and power line to the pumping station on the Volta River (Figure 3) has been completed. While a temporary pumping capacity is in place, the permanent pumping station has not been completed due to high water levels. Interestingly, having visited the project in December, it is now difficult to imagine the river overflowing its banks.
Figure 3 – Site of Youga Pump Station, Volta River, December 2006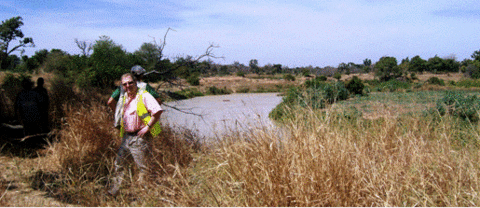 Source: Analyst
The Youga project is substantially complete. The contractors for blasting and mining are mobilized. Overburden has been removed from the ore body of the main pit and the tailings facility is near completion. The mine camp is fully operational. We suspect that activities should accelerate. Most steelwork is complete and a number of important circuits are nearing completion. Commissioning of circuits will go through dry, then wet, and finally ore based commissioning in November, with first gold pour scheduled for December.
We suspect that the same skepticism of Etruscan's ability to build a mine at Youga extends to the project's economics and upside. Etruscan has identified mineable reserves of 6.6 million tonnes, grading 2.7 g/t containing 580,000 ounces of gold. While this will sustain a mine life of only 6.6 years, we strongly suspect that the mine should be in operation for a significantly longer period. Most economic models are constrained by the defined resource without attribution to the resource potential.
Etruscan holds 1,075 km² of contiguous land in the Youga Belt in Burkina Faso, and has identified six mineralized zones within three kilometers of the Youga milling facility. In addition, upon our visit we noted artisanal miners between the plant and the Volta River, evidence of additional near surface mineralization. While additional drilling may upgrade analyst models and NAV calculations, the real impact of Etruscan's success will be providing cash flow for advancing Etruscan's numerous other projects.
Figure 4 – Artisanal Miners near Youga Project, December 2006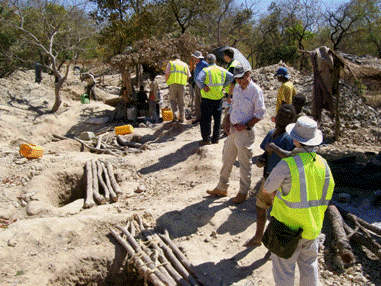 Source: Analyst
Etruscan has completed a gold price protection program to "lock in" cash flow from production at Youga. The Youga project's estimated average cash costs are $345 per ounce ($50 more until connected to the grid). For the period of the program, Etruscan locks in profits up to a gold price of $629 per ounce. Etruscan receives 100% of the price over this amount up to $700 per ounce, and 55% of the benefit over this level. While analysts may prefer complete exposure to higher metal prices, we see the benefit pale in comparison to the upside from a sustained exploration/development of Etruscan's multiple other opportunities. Given Etruscans large and diversified land package and their history and relationships with West African nations, Etruscan has an unappreciated and well mitigated risk profile. We maintain a Strong Buy rating for shares of Etruscan.
Note: Etruscan also recently announced closing the acquisition of the Tirisano Mine in South Africa by Etruscan Diamonds. Etruscan has a 53.7% interest in Etruscan Diamonds. We believe that with additional development of diamond resources over the next 12 months, an investment opportunity may appear on par to Etruscan's gold exploration properties in West Africa.
Disclosure: The author is long ETRUF.PK and an affiliate of the author's employer provides corporate advisory services to ETRUF.PK.